Environmental Security: an Academic Discussion on Some of the Challenges of the COP26
About this event
On the occasion of COP26, which will take place from 31 October to 12 November 2021 in Glasgow, the Security Distillery is organising an expert panel on environmental security. The panel brings together three researchers specialising in three different branches of environmental security - maritime governance, indigenous rights and water security - to address the different challenges posed by climate change from an academic perspective. The experts will also bring regional expertise (Baltic Sea, Brazil and Middle East-North Africa) to the event. Participants will be given a presentation explaining the main issues and there will be time for questions and answers.
The three experts for this panel are Dr. Johanna Yliskylä-Peuralahti, Project Manager at Brahea Centre at the University of Turku, Rafaela Carvalho, Research Fellow and Teaching Assistant at FGV's International Relations School, São Paulo and Tobias von Lossow, Research Fellow at Netherlands Institute of International Relations Clingendael.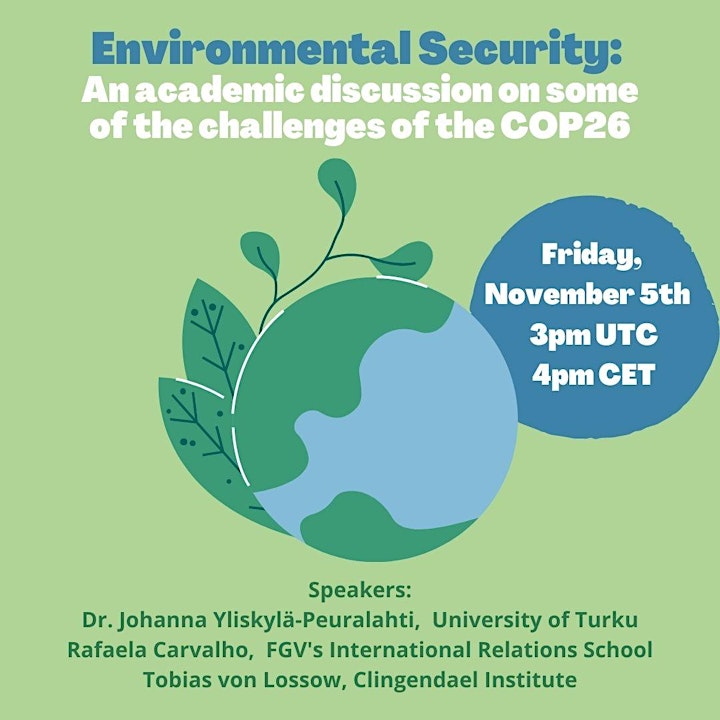 Organizer of Environmental Security: Discussing Some Challenges of the COP26
Subscribe to our newsletter for more event updates.