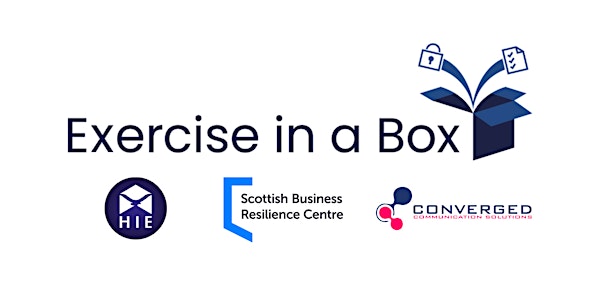 Exercise in a Box Session Highlands and Islands - 17th November
This event involves the practical application of Exercise in a Box to your company.
About this event
ONLY ONE POINT OF CONTACT FOR EACH ORGANISATION SHOULD REGISTER HERE.
Once you're registered we will contact you with the Zoom link for you and your colleagues to register for the main session.
There are max 7 companies joining per session.
This edition will be specifically catered to Highlands and Islands based companies.
Exercise in a Box is an online tool from the NCSC which helps organisations test and practise their response to a cyber-attack.
It is completely free, and you don't have to be an expert to use it. The service provides exercises, based around the main cyber threats, which your organisation can do in your own time, in a safe environment, as many times as you want. It includes everything you need for setting up, planning, delivery, and post-exercise activity, all in one place.
SBRC has been tasked with facilitating Exercise in a Box with companies from all over Scotland. This will play host to one of those sessions.
Organiser of Exercise in a Box Session Highlands and Islands - 17th November
The Scottish Business Resilience Centre (SBRC) exists to create a secure environment where businesses can trade securely, regardless of size and sector.