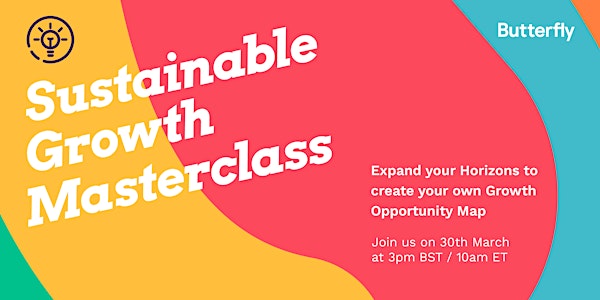 Expand your Horizons to create your own Growth Opp
Our step-by-step masterclass on the 30th March will offer your brand the chance to create its very own growth opportunity map.
About this event
This season, our series of masterclasses will focus on how you can drive Sustainable Growth in FY22. They are an opportunity to stop and reframe the question of 'what does my business do' to 'what business am I in' – with this perspective, more growth opportunities open up.
Our first interactive Masterclass session on Innovation - 'Expand your Horizons to create your own Growth Opportunity Map' will inspire and guide you to create your own growth opportunity map to help you achieve Sustainable Growth. We will walk you through how to redefine the business you're in and identify the biggest trends and societal shifts, and their implications on your growth, leaving you with an expanded vision for your innovation goals.
We will be joined on our virtual sofa with three innovation powerhouses, who will share how they are redefining the business that they are in with stretch and breakthrough innovation:
Floris Cobelens, Director of Global Strategy & Innovation, Heineken
Koen Burghouts, Vice President & General Manager, PepsiCo
Thomas Fenger, Senior Director and Head of Product, LEGO IPs
We will share our model of thinking to help you to expand your horizons to achieve Sustainable Growth. Some of the main talking points include:
Utilising the 70/20/10 pyramid to prioritise the right innovation to drive sustainable growth
How redefining your market from what your product does to 'what business you're in' drives more ownable opportunities to innovate
Why small progress trumps total business transformation
Join us on 30th March at 3 pm BST / 10 am ET.