Expression of Interest: Immerse UK Speed Networking - in partnership with Jack Morton

Wednesday, 23 January 2019 from 10:00 to 14:00 (GMT)
Event Details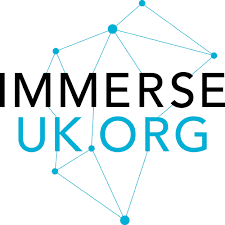 Immerse UK Speed Networking - in partnership with Jack Morton.
Are you an SME working in the world of immersive technology?

Join us to discuss your ideas, technologies and solutions with cutting edge companies at our frenetic and fun speed networking session in partnership with Jack Morton on 23rd January 2019.

We have been working with Jack Morton to set a variety of innovation challenges.  You will spend the morning working around the room and pitching your ideas in response to the challenges set.  If you want the opportunity to meet these leading companies, please register your interest now and save the date for a chance to be selected.
Successful SME applicants will be contacted in plenty of time to prepare for the event with further information.
Please read the briefing document in detail and ensure you answer our questions as fully as possible.
WHAT WE NEED
Jack Morton is a leading brand experience agency with the strength and capabilities to make extraordinary things happen. We create experiences that connect brands to the people that matter most to them. Our innovation practice is currently focusing on innovation in content, technology and data, and true to our mantra of Invent Together, we are looking to partner with a team or individual keen to make a positive difference in the way things are done in our industry. We are eager to invest time, energy and potentially funding in a worthy idea that's going to further secure our position as the number one brand experience agency, as we enter the era of what's being dubbed the Fourth Industrial Revolution (4IR).
FOUR INNOVATION AREAS
IMMERSIVE
The 'immersive economy' encompasses several emerging technologies – such as AR, VR and MR – changing the way we tell stories. The real and digital worlds are increasingly blurred, and we're looking for innovations that will enhance brand storytelling and the experience of attendees in event spaces. We're also seeking experts in multisensory design; those harnessing research in sight, touch, sound, movement etc. to enhance the ways we engage with, and personalise, multisensory experiences in live and digital environments.
RESPONSIVE
Measuring effectiveness has been a long-standing challenge in our industry, but now experiences are becoming smart-spaces that sense, measure and react. We're looking for ways to harness sensors, analytics, IoT (and more), to create big-picture understandings of how people behave, and how brands make them feel. We are seeking emerging technologies that allow us to test, evaluate and optimise experiences using algorithms, AI & MR – that is, before the spaces have even been built.
CURATED
'Curated' is about responsibly harnessing data to create ultra-personalised experiences. We're looking for new ways to use AI and machine learning to help us create better and more bespoke learning experiences, as well as transform the way people engage with content. Using it to anticipate people's needs in a physical environment is another important area. We're also interested in proposals from innovators specialising in the development of voice apps which could help guide people to locations and content. Lastly, we're looking for tech solutions on how to help people navigate indoors using AR.
CONNECTED
'Connected' is focused on creating new platforms and services that innovate around the existing customer journey. We're looking for tech that will enable us to reach audiences in new places, or in different ways. Technology that pioneers in removing barriers created by distance allowing for remote participation via VR. Or, innovative platforms that allow people to access high-definition content anytime, anywhere
 
YOUR APPROACH
Think differently
Every industry is being transformed by innovation, but there's always one disruptor driving change. We're looking for something that changes the way brand experiences are designed and delivered. We want to raise the bar and reposition the way things are done. What has no one thought of yet?
Remove the barriers
We're looking for a solution with the purpose of eliminating the barriers in any part of a brand experience. How can we make things smoother, easier, better for people? Seamlessness goes far in the experience industry. Cutting through the clutter and removing as many layers as possible creates simplicity people want and love.
Hide in plain sight
The most respected and in our opinion, best, innovators are the ones who deeply engage with the people they are trying to help. Sincerity in doing this means they're addressing the real needs of humans, as opposed to thoughtlessly "disrupting" established systems already in place. Further to this, technology should be non-intrusive and invisible, focusing on the people's needs first and then creating technology fueled solutions to meet these needs. Good solutions are often invisible.
Put your mark on it
We are a global powerhouse with the capabilities to bring your ideas to life. We're looking for an innovative, ownable and proprietary solution we can develop with and share the success of with you. This means we need to be able to license it, so including this research in your proposal is essential.
When & Where

London

London
United Kingdom


Wednesday, 23 January 2019 from 10:00 to 14:00 (GMT)
Add to my calendar
Organiser
The Knowledge Transfer Network is the UK's innovation network. We bring together business, entrepreneurs, academics and funders to develop new products, processes and services.
We can help you develop ideas, expertise and technologies, that have the potential to be world-beating products. Central to what we do is the initiation and building of collaborations.
View our privacy policy here.