Sales Have Ended
Registrations are closed
We have finished taking online registrations for this workshop so that we can organise the refreshments and other materials that we need to run the workshop. If you would like to come then please email jandp@dioceseofleeds.org.uk and we will try and confirm back to you if there are any places
Sales Have Ended
Registrations are closed
We have finished taking online registrations for this workshop so that we can organise the refreshments and other materials that we need to run the workshop. If you would like to come then please email jandp@dioceseofleeds.org.uk and we will try and confirm back to you if there are any places
Description
SHOULD I COME ALONG TO THIS WORKSHOP?
This workshop is for all Christians - young or old - who want to promote family life and are concerned by one of the biggest threats to it today - FAMILY POVERTY.
We particularly welcome families to this event. There will be a separate programme of activities for children aged 7-12 and a creche for children aged between 2 and 6. Places are limited so please register as soon as you can.
WHAT WILL HAPPEN AT THIS WORKSHOP?
This lively event will mainly involve working in small groups and listening to short presentations and video clips examining and discussing questions like:
What is poverty? Why are so many families falling below the poverty line?
What can we, as Christians, do about it? - and does it need to be more than prayer and 'charity'?
Come along and engage with us in our exploration of these issues.
HOW MUCH DOES IT COST?
This event is FREE to attend but registration is essential. There will be a voluntary collection at some point.

Refreshments are provided but, if possible, please bring along some (finger) food that can be shared at lunchtime.

GETTING THERE

The Kala Sangam Centre is in central Bradford - just opposite Marks & Spencers in the Broadway Shopping Centre and the back of the centre faces onto Bradford Cathedral. It's five minutes walk from Forster Square station and less than ten minutes walk from Bradford Interchange. If you come by car then parking in the Broadway Shopping Centre car park is relatively cheap.

WHAT PEOPLE SAID ABOUT OUR LAST WORKSHOP (Towards a Listening Church)
These are just some of the comments made about our last big event - and this one will follow a similar format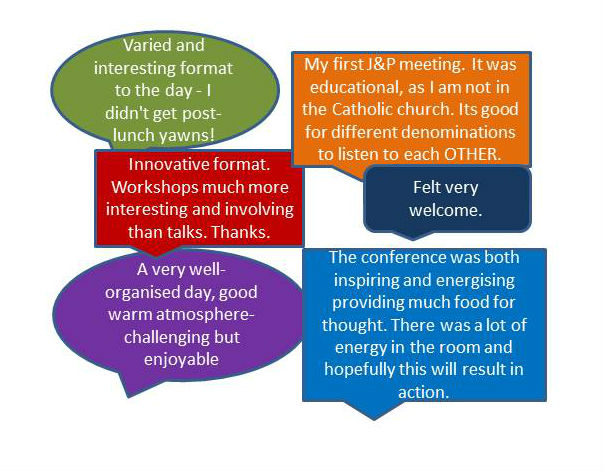 Organiser of Family Poverty: From Awareness to Action
What do the Gospels tell us about how we live out our vocation as Christians in the 21st Century?
We raise awareness, promote discussion  and encourage action among Catholics throughout the Leeds diocese about the 'Just' Gospel response to the key social justice issues of today.
We base our work on the rich Social Teaching of the Catholic Church.