Description
Felt is a non woven textile that is made by compressing and matting natural fibres together until they connect to form a sturdy fabric. Felt is the oldest form of cloth known and has been used by many cultures to make clothes, footwear, rugs and even shelters such as the Yurt.
Today, felting is a popular craft that is highly versatile, and once mastered, one can create an array of wonderful flat cloths or 3D sculptures.
In our one day workshop at Inkwell you will learn the two most popular felting techniques: wet felting and needle felting. The class will teach you how to create sculptures and beautiful flat textiles from wool with experienced wool artist Natalia Sauvignon.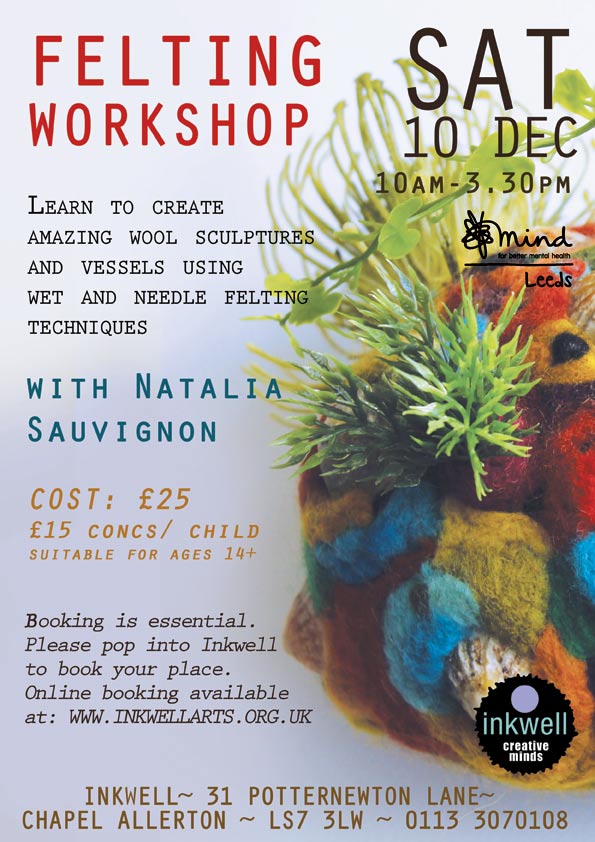 ABOUT NATALIA
Natalia is an experienced and self trained wool artist who has exhibited widely in West Yorkshire. Her magnificent felted jewellery and sculptures play with enlarged, tactile compositions and lively colours. Natalia's work blurs the lines between fine arts and craftwork. In this workshop she will share with you her hints and tips to help you create beautiful woolen pieces yourself. The workshop will give you the opportunity to make unique handfelted decorations, vessles, sculptures and creatures.
COST
£25 per person
£15 Concessions ( people on benefits/ OAP/ Children)
SUITABLE FOR CHILDREN AGES 14+
*Please note: Inkwell has the right to cancel the workshop if insufficient bookings are taken. All attendees will be notified 3 days prior to the workshop start date and a full refund given.
INKWELL CAFE
Our cafe will be open serving fresh homeade vegetarian food and freshly baked cakes. Our Espresso Bar has a full range of coffees and teas.
ACCESS AND PARKING
The cafe and workshop have full disabled access.
There is a car park to the side of the building. No dogs are allowed on site.