Description

Is immersive technology a game changer for the creative, media and digital sectors? What will it mean for future story forms, business models and audiences? How can we innovate and thrive in the new landscape?
At StoryFutures we believe that the stories of tomorrow will reach audiences in new ways, fuelled by virtual and augmented reality, personalisation, smart devices and artificial intelligence.
The sector is in its early stages - but the opportunities it can untap are unprecedented.
Join us for a day of learning, discussion and exploration of next generation storytelling:
Hear from pioneering practitioners working on cutting edge immersive projects

Get expert input on your ideas and questions on next generation storytelling

Meet potential collaborators, partners and funders

Find out about innovation funding and support available at StoryFutures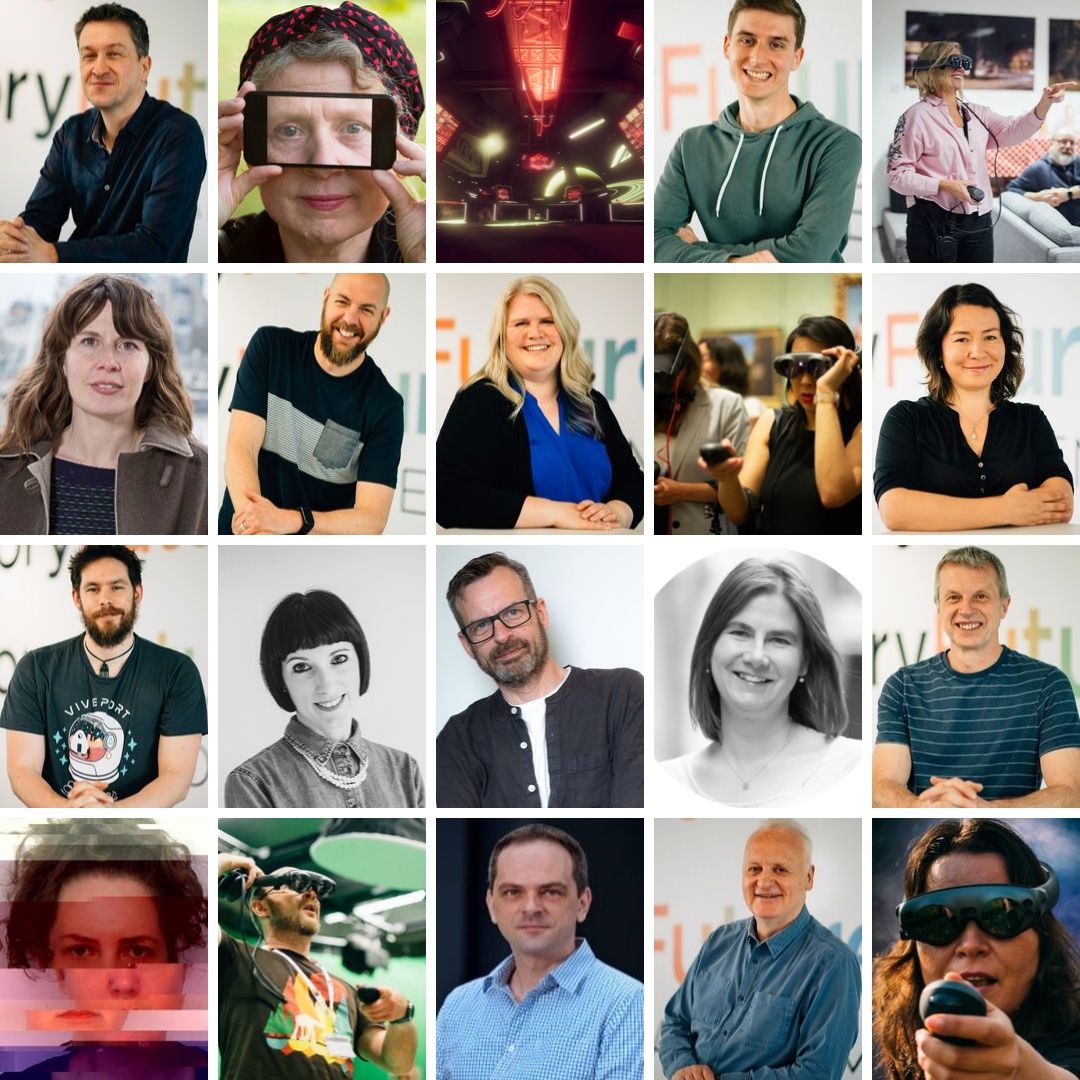 StoryFutures' mission is to fuel innovation and growth in immersive through exciting collaborations, funding and support. We bring together leading organisations, academic experts and innovative businesses in the Gateway Cluster to the west of London to work on new ideas and prototypes.
Whether you're starting your immersive journey or are an experienced practitioner, this event will offer new ideas, connections and opportunities.
Agenda
Morning: 11:00am - 13:30, followed by lunch
Immersive Demos
Experience pioneering VR productions: Doctor Who: The Edge of Time by Maze Theory, Common Ground by award-winner Darren Emerson, and The National Gallery's Virtual Veronese by Focal Point.
How to Make The Virtual, A Reality
Will Saunders, award-winning producer and Chief Creative Officer at the National Centre for Immersive Storytelling and StoryFutures
Will's talk will consider what immersive technologies offer the Creative Sector, how best to get involved during the immersive pre-market economy phase we still inhabit, and why we need great stories and great storytellers now more than ever before.
The Journey to Doctor Who and Peaky Blinders in VR
Russ Harding, Executive Producer/Creative Director, Maze Theory
Claire Boissiere, games producer/writer, BAFTA Committee, VC The BGI/NVM.
Russ and Claire will discuss their journey in combining technology, games and storytelling to make engaging immersive experiences, including VR games for Doctor Who and Peaky Blinders. How did their previous experience translate into VR production? What are the challenges in building immersive stories - and how is this different from television, animation or games? They will cover how to balance the original story, characters, and gameplay, and how this impacts the writers and creative teams?
VR and the Power of Story
Victoria Mapplebeck, Bafta award winning writer, artist and director.
Victoria has been experimenting with the frontiers of documentary and creative technology for the last two decades. This talk will reflect on her experience of using VR alongside traditional film and the creative possibilities this combination offers for storytelling. It focuses on The Waiting Room, the film and VR project that explores each step of her journey from diagnosis of breast cancer to recovery.
Immersive animation: from site-specific installation to VR
Birgitta Hosea, award-winning artist, curator, Reader in Moving Image, University of Creative Arts
Drawing from over twenty years of making animated spatial experiences, this talk will explore a number of different strategies used by artists to immerse the viewer in both physical and VR spaces. Birgitta is an artist, curator and former theatre designer working internationally in site-specific and expanded animation. Prior to joining the UCA, she was Head of Animation at the Royal College of Art, Course Director of MA Character Animation and Research Leader in Performance at Central Saint Martins.
Lunch and immersive demos at 13:30
Afternoon 14:00 - 16:30, followed by drinks and canapes
StoryFutures Can Help You Innovate
James Bennett, Director of StoryFutures and Professor of Television and Digital Culture at Royal Holloway, University of London
James will outline how StoryFutures - the R&D partnership bringing together creative SMEs, industry players like the BBC, the National Gallery and Heathrow Airport, and university researchers, can help you innovate. We offer access to collaborations, expertise, financial support and business advice to companies based in the Gateway Cluster area to the West of London.
R&D On Demand and How to Get Involved
Kristina Glushkova, Business Impact Lead at StoryFutures
Mark Lycett, Business Models Lead at StoryFutures and Professor of Information Management at Royal Holloway, University of London
Our R&D on Demand programme offers creative businesses based in the Gateway Cluster access to leading expertise and up to £3,000 in grant support to tackle storytelling innovation challenges. We help businesses develop their commercial strategies, experiment with story form, test prototypes with audiences and much more. Find out what's on offer and how you can get involved!
The Experts: Audiences, Story Forms, Business Models and Technologies
Find out about latest trends and expertise available at StoryFutures, in the areas of:
Next generation business models and funding opportunities

Techniques, technologies and skills for immersive storytelling

Emerging story forms and creative environments

Understanding next-generation audiences
Challenges and Solutions: Ideas and Support Session
Bring an idea, question or challenge in relation and get advice and ideas from our experts and other creative and digital practitioners. This is a unique opportunity to get expert input and connect with other innovators working in the region.
Drinks and canapes
Immersive demos
Experience pioneering VR productions, including Maze Theory's Doctor Who: The Edge of Time, Darren Emerson's Common Ground and The National Gallery's Virtual Veronese.
About StoryFutures – (please include a picture of our Gateway Cluster)
StoryFutures works with businesses in the Gateway Cluster (please see the map below) to support and fund innovation in next generation storytelling experiences, formats and technologies. We share cutting-edge research with creative SMEs, and foster collaborations between world-leading institutions, creative industries and sources of funding.
Photography and Video Consent: Photography and filming will be taking place in the course of this event. The materials will be retained and may be used by StoryFutures and or its partners for marketing, research and evaluation purposes. Please contact us at StoryFutures@Rhul.ac.uk if this is an issue.

Contact Details
Email: storyfutures@rhul.ac.uk
Twitter: @StoryFutures
Hashtag: #StoryFuturesFoDD
Organiser of Festival of Digital Disruption - The Future of Storytelling: A Mixed Reality
Digital Gum, bringing digital skills to life – from social media marketing, app design and coding through to VR and 3D printing. Digital Gum was originally launched to help apprentices and re-launchers into digital careers. During the pilots we identified a number of businesses who felt that the gap in their digital knowledge was holding back their business. Which is why we also added digital skills for business to our portfolio.