Description
Financing the Future:
Accelerating investment in inclusive, sustainable energy systems
We will be using Slido on the day to collect questions from the audience and to conduct polls throughout the day. Please use the code #U064 to join in and submit questions to the panel.
Many of the barriers to financing sustainable energy, and particularly off-grid access, are widely recognised. Decentralised solutions receive just 1% of energy access finance that is being tracked. Lender requirements and transaction costs, along with the lack of local currency financing and challenging policy environments remain key obstacles. Barriers to finance are even great for women entrepreneurs.
This year's Conference will shine a light on those pushing the agenda forwards; on innovative financing solutions being pioneered within the sector and the opportunities that Ashden winners, and others, present to the finance community. These examples will be used as a starting point to discuss how to scale up such approaches and dismantle the barriers to thriving, inclusive sustainable energy systems globally.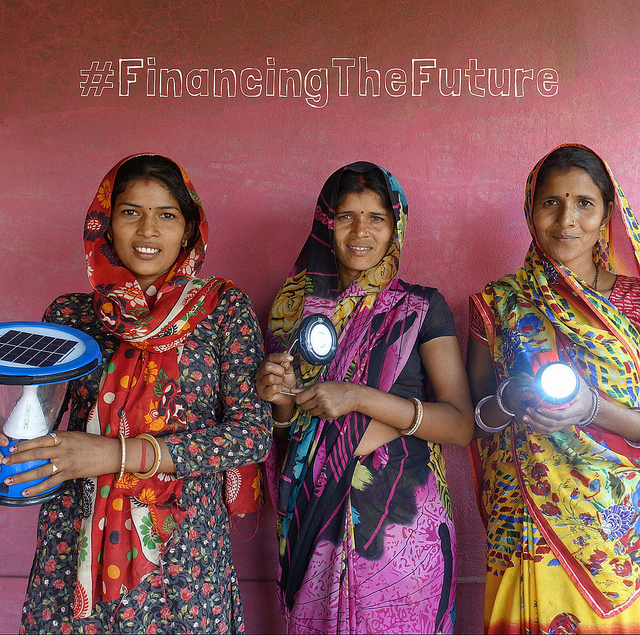 Join us to discuss and debate how the finance and policy sector can help to address the lack of financing options available.
Panels will include representatives from innovative business models, case studies of successful sector-wide approaches and discussion on how energy access is key to increased productivity and enterprise.
The day will be hosted by Roger Harrabin, BBC Environment Analyst and will consist of four panel discussions and debates, showcasing the work of the 2018 Ashden Award winners and other industry leaders.
Confirmed Speakers
Lucie Klarsfeld-McGrath, Project Director, Hystra
Nico Tyabji, Director of Strategic Partnerships, SunFunder
Leslie Labruto, Global Energy Lead, Acumen
Surabhi Rajagopal, Principal Analyst, SELCO Foundation

Abyd Karmali, Climate Finance Executive, Bank of America Merrill Lynch
Lucy Stevens, Senior Policy and Practice Advisor, Energy and Urban Services, Practical Action
Dario Traum, Senior Associate, Bloomberg New Energy Finance
Ameya Upadhyay, Principal, Investments, Omidyar Network
Emma Hawkins, Investment Executive, CDC
Jem Pocaro, Senior Director for Energy Access, UN Foundation
Richard Gomes, Director – Market Development, Shell Foundation
Angus McCrone, Chief Editor, Bloomberg New Energy Finance
Eleonore Lazat, Analyst, Bloomberg New Energy Finance
Agenda
09:30: Registration opens, refreshments.
10:15: Conference starts, Introduction from Chair, BBC Environment Analyst, Roger Harrabin
10:20: Setting the scene: Angus McCrone, Chief Editor at Bloomberg New Energy Finance
10:30: Ashden winner case studies and panel one: Collaboration for impact: Bottom-up, integrated approaches to financing energy access and community services
Panel 1: Collaboration for impact: Bottom-up, integrated approaches to financing energy access and community services
We start with a systemic look at financing needs for sustainable energy, including the importance of cross-sector planning and collaboration informed by community needs. This will draw on recent research from our partners and will be brought to life by delving deeper into winner case studies on multi-stakeholder collaborations to improve community healthcare services in India and Rwanda through solar electrification and sustainable buildings.
11:35 Break
12:00 Ashden winner case studies
Panel 2: Digital innovation: Using data to understand customer behaviour and mitigate financial risk
This panel will bring together organisations using digital innovation to better understand customer behaviour in the field of sustainable energy and transportation, along with others tackling these issues at a sector-level. It will explore how this data can be used to address investment risk, build trust in the sector and increase flows of finance at both enterprise- and ecosystem-level.
13:05 Lunch
14:35 Introduction to the afternoon
Panel 3: Unlocking blended finance: Catalysing investment for universal access to energy
Scaling investment in the off-grid energy sector requires fresh financial structures and tools. Blending finance from public, private and philanthropic sources is essential to catalyse this and encourage much greater institutional and commercial lending to follow. Hear from organisations who are pioneering blended approaches on the opportunities and barriers to unlocking this at scale.
15:50 Ashden winner case studies
Panel 4: Leaving no-one behind: Financing approaches for reaching the last mile
Hundreds of millions of low-income families, representing the 'last mile' of energy access, are not yet being reached by current business models and approaches to financing. This panel will look at how sustainable energy providers are tackling the challenge of reaching the poorest customers. It will also look at how innovative financial mechanisms and partnerships can unlock local consumer credit and help finance flow to a broader range of stakeholders.
16:55 Closing remarks from Roger Harrabin and Ashden Founder-Director, Sarah Butler-Sloss
Ashden Impact Film 2018
17:10 Ends
The Ashden Conference is run in partnership with and supported by