Description
'A detailed and often witty journey through the online areas where Muslims congregate … Kesvani delivers a tableau of British Muslims wrestling with subjects ranging from clean eating and marriage to LGBT and gender rights.'
— The Observer
'Follow Me, Akhi provides an important first case study into the struggles of British Islamic identity, exploring how a new generation of young Muslims are using the internet to determine identity on their own terms.'
— i-D
What does it mean to be Muslim in Britain today? If the media is anything to go by, it has something to do with mosques, community leaders, whether you wear a veil, and your views on religious extremists. But as all our lives become increasingly entwined with our online presence, British Islam has evolved into a multidimensional cultural identity that goes well beyond the confines of the mosque.
Entering a world of memes and influencers, Muslim dating apps, and alt-right Islamophobes, Hussein Kesvani reveals how a new generation of young Muslims who have grown up with the internet are using social media to determine their religious identity on their own terms—something that could change the course of 'British Islam' forever.
Kesvani will be at Asia House to delve into the many identities of British Muslims today and to recount the multi-faceted stories that he uncovered during his research for the book.
This event will include an audience Q&A and book signing.
About Hussein Kesvani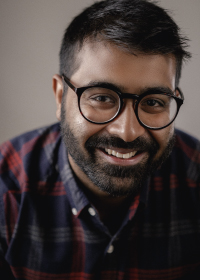 Hussein Kesvani is a journalist, editor and producer based in London. He is the Europe editor of MEL Magazine, and has written for BuzzFeed, Vice, The Guardian, the New Statesman and The Spectator, among others.
Image courtesy of Jamie Drew




---

This event is part of the Asia House Bagri Foundation Literature Festival 2019. Back for its 13th year running, the Festival is bringing some of the biggest names and rising stars from the written word together for a celebration of Asian literature.
Taking place from September to November 2019, the UK's only pan-Asian literature festival presents words, stories and ideas from Asia and the diaspora. From live performances to public talks and animated discussions, the festival will celebrate Asia – a region that we define as running from Turkey to Tokyo – in all its glory.
Sign up to our mailing list for all the latest on this year's Festival events, and visit our Eventbrite profile to book more tickets!
Organiser of Follow Me Akhi: The Online World of British Muslims
Asia House is a centre of expertise on trade, investment and public policy. We drive political, economic and commercial engagement between Asia and Europe.
Asia House supports a vibrant Arts and Learning programme – a creative hub for Asian arts and culture. It is completely unique in the UK in presenting a thought-provoking, pan-Asian artistic and cultural programme.
Our mission is to inspire and engage diverse audiences by encouraging dialogue aimed at finding common ground amongst different schools of thought on how to look at Asia's historical and cultural development. This is done through a dynamic series of live events; from panel discussions to music, dance, performance, visual art, film, food, fashion and literature.
Working closely with arts practitioners, educational specialists and cultural partners we aim to encourage a platform for meaningful cultural engagement with our audiences.
Asia House is a UK registered charity. Charity number: 1072696