Our final session of #FoTDigitalisationWeek will discussing why we need to embrace digitalisation to save our engineering industry.
About this Event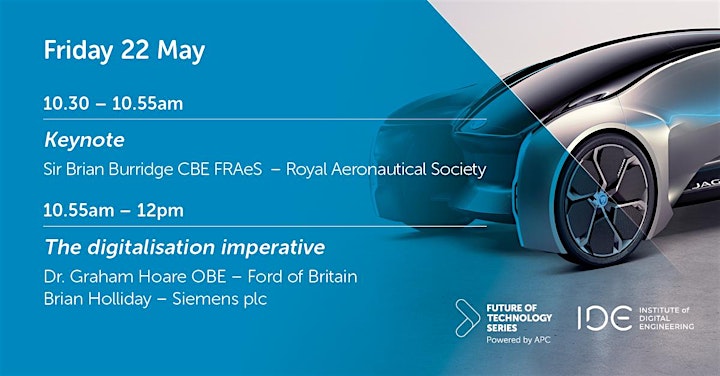 The Digitalisation Imperative.
Is the digitalisation of our engineering capability the change the UK automotive industry urgently needs to stay globally relevant? In our final Future of Technology Digitalisation session we will be hearing from automotive OEM's about what they think the future of digitalisation looks like. Is the need for digitalisation hype or is it a necessity?
Digitalisation: the transformation of engineering.
We're excited to announce that the Future of Technology Series is virtually back!
In partnership with the Institute of Digital Engineering, we're taking the Future of Technology Series online to host a week of short webinars.
We'll be covering the use of digital engineering in the automotive industry as part of our #FoTDigitalisationWeek, 'Digitalisation: The Transformation of Engineering'.
Starting on Monday 18th May 2020, every day between 10:30 - 12:00 we will invite experts to cover a variety of hot-topics within the digitisation of automotive industry agenda.
To sign up for the other sessions please follow the links below:
Monday 18th May - Is the automotive industry in the slow lane?
Tuesday 19th May - Simulations: would you trust them with your life?
Wednesday 20th May - Machine learning or learning from machines?
Thursday 21st May - Immersive technology: tool or toy?
Friday 22nd May - The digitalisation imperative