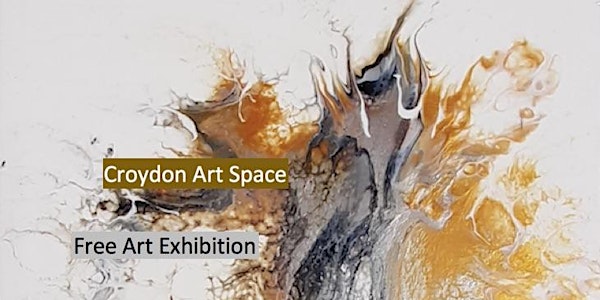 Free Art Exhibition at Croydon Art Space
Location
CR0 6PQ
41 Lower Addiscombe Road
Croydon
CR0 6PQ
United Kingdom
Harmony Exhibition: Explore new and contemporary artworks created by artists over the past two years.
About this event
Free Art Exhibition at Croydon Art Space
Harmony Exhibition - 27th September to 31st December 2022
The harmony exhibition is a range of new and contemporary artworks created by artists over the past two years. Artworks include; paintings, jewellery, glassworks, graphic design, and ceramics.
The exhibition features artworks by Monica Mardare, Tracy Nicholls, Ema Mano Epps, Jyoti Bharwani, Martin Masterson, Audrey Beharie-McGee, Natasha Dovey, Gillian Fielden, Matthew Kolakowski, Barbara Gorton, Drew Peach, Yasmin Dias, Marwa Rahman, Sabrina Pun, Praise Dominic and Julia Shyu
Entry Requirements: Croydon Art Space is a small independent gallery. The exhibition is free to visit. To ensure your visit is as safe as possible, please book a ticket so we can monitor visitor numbers and make sure that there are not too many people in the exhibition space at the same time. it is possible to obtain a ticket on the day (up to one hour before closing).
Ticket numbers are limited to allow for social distancing. Therefore, management reserves the right to refuse entry to anyone that has not booked an exhibition ticket.
General Information: For more information on Croydon Art Space, and a downloadable travel map, please see our website: www.croydonartspace.com
Curator and exhibition organiser, Paul Hall reserves the right to cancel exhibitions. In these circumstances ticket holders will be contacted and an alternative exhibition date will be arranged.
Updated Covid-19 Safety Measures: Please do not attend exhibitions if you think you have symptoms of Covid-19 or have been in close contact with someone who has tested positive.
We ask all visitors to maintain social distancing at all times. Face masks are optional and hand sanitiser is available.
Should Covid-19 restrictions prevent exhibitions from taking place or prevents your attendance, please email croydonartspace@gmail.com for more information.