Location
Statens Værksteder for Kunst
27 b Strandgade
1401 København
Denmark
As part of artist Jeannette Ehlers' forthcoming show at Kunsthal Charlottenborg you are warmly invited to free hair braiding workshops!
About this event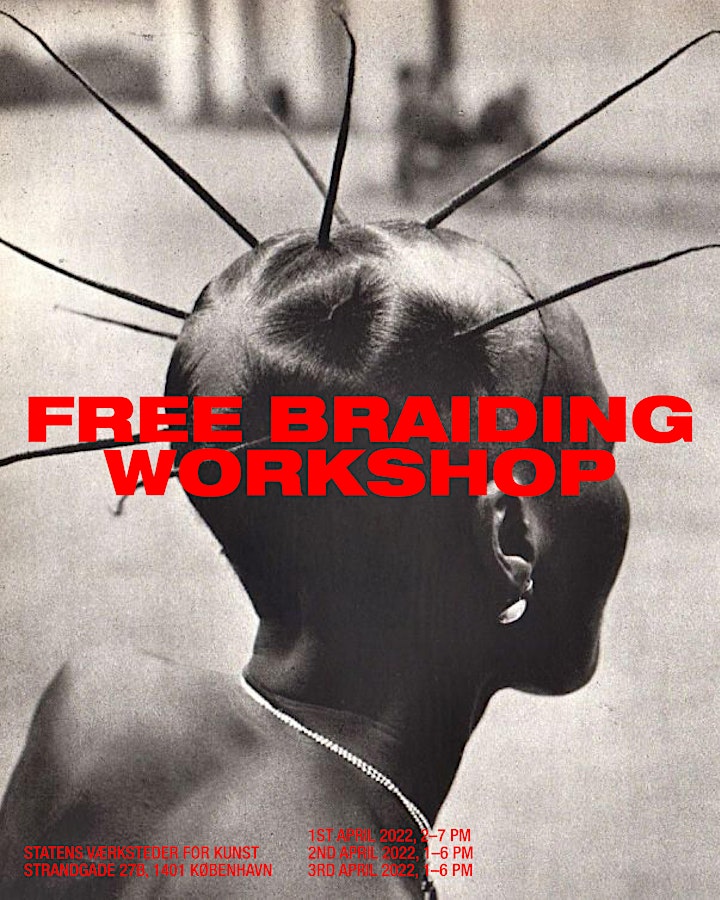 English
Dear friends,
As part of artist Jeannette Ehlers' forthcoming solo-show at Kunsthal Charlottenborg (11 June – 7 August 2022 ) you are warmly invited to take part in free hair braiding workshops led by hairdressers Damata and Evangeline at:
Address: Statens Værksteder for Kunst, Strandgade 27b, 1401 CPH
Time:
1 April 2022, 2–7 pm
2 April 2022, 1–6 pm
3 April 2022, 1–6 pm
Ehlers' multifaceted practice has taken a central role on the Danish contemporary art scene reflecting on overlooked chapters of Danish history, and centralising counter readings of its memories, intimacies, and relations that conjoins our collective past and present. The traces and joining of kinship, solidarity, and healing will be central to this exhibition, focusing particularly on Afro-Caribbean histories in further reflection of the representations and borders of Blackness.
This gathering is in vain of this and the spirit of collaboration to both embody and share the traditions of Black hair and its care. You are warmly invited to join us and become part of the process of creating and moulding extensive braids! The resulting braids will be used for two new installations which will remain on view at Kunsthal Charlottenborg for the duration of Ehlers' solo exhibition.
Please note due to the framework of this space it is open to POCS only.
If interested please book a free ticket for your desired date no later than 31 March, 2022.
Dansk
Kære venner
Som en del af kunstneren Jeannette Ehlers solo-show på Kunsthal Charlottenborg (11. juni – 7. august 2022) er i velkommen til at deltage i gratis hårflette workshops ledet af frisørerne Damata og Evangeline på:
Adresse: Statens Værksteder for Kunst, Strandgade 27b, 1401 København
Tid:
1. april 2022 kl. 14 –19
2. april 2022 kl. 13–18
3. april 2022 kl. 13–18
Ehlers multidisciplinære praksis har indtaget en central rolle på den danske kunstscene ved at reflektere over oversete kapitler af dansk historie, og centralisere modlæsninger af de erindringer, intimiteter og relationer der forbinder vores kollektive fortid og nutid. Sporene og sammenføjningen af ​​slægtskab, solidaritet og helbredelse vil være centralt for denne udstilling med specielt fokus på afro-caribiske historier i yderligere afspejling af sorthedens repræsentationer og grænser.
Denne sammenkomst er i tråd med dette og samarbejdsånden for både at legemliggøre og dele traditionerne for sort hår og dens pleje. I er hjerteligt velkommen til at være med og blive en del af processen ved at skabe og støbe omfattende fletninger! De resulterende fletninger skal bruges til nye installationer som er en del af Ehlers soloudstilling på Kunsthal Charlottenborg.
Bemærk venligst på grund af rammerne for dette rum at det kun er åbent for POCS.
Gratis billeter til din ønskede dato skal bestilles senest den 31. marts 2022