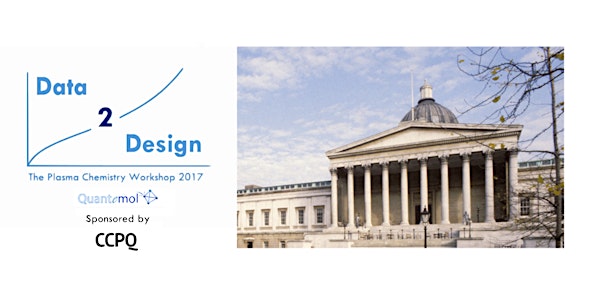 From Chemistry Data to Plasma Design - The Plasma Chemistry Workshop 2017
Location
University College London
Gower Street
London
WC1E 6BT
United Kingdom
Description
From Chemistry Data to Plasma Design
15th September 2017
University College London
Quantemol has the pleasure of inviting you to the Data 2 Design 2017 Workshop. We are hosting a workshop for fellow professionals in the world of plasma science, and our aim is to make the process of moving from chemistry data to plasma chemistry design and plasma modelling as smooth as possible. This will be achieved through talks by developers and users of the Quantemol database (QDB) along with renowned plasma modelling and plasma chemistry experts on the morning of the workshop. We will also be showcasing QDB in the afternoon with demonstrations and a hands-on session for all workshop attendees to ensure users are getting the most out of the database.
Our 2017 Data 2 Design workshop builds on previous successful events held by Quantemol where academic and industrial researchers have gathered. This is an opportunity for fellow plasma scientists to come together, learn about our plasma chemistry project QDB, network, and explore new opportunities to advance their research. The attendance is FREE!
Agenda
09:00-12:30 Talks given from respected plasma research scientists from across the globe (coffee breaks included)
12:30-13:30 Lunch
13:30-17:00 Demonstrations and hands-on session in a computer cluster with the Quantemol Database (QDB)
Confirmed Speakers
Dr Annarita Laricchiuta (Researcher, PLASMI Lab at CNR NANOTEC Bari, Italy)

Dr Gianpiero Colonna (Researcher, PLASMI Lab at CNR NANOTEC Bari, Italy)

Dr Andrew Gibson (Postdoctoral Researcher at Ecole Polytechnique/University of York)
Dr Annemie Bogaerts (Professor of Chemistry, Research group PLASMANT University of Antwerp , Belgium)
Dr Christian Hill (Senior Scientist and developer of QDB)
Dr Sebastian Mohr (Plasma Physicist and Specialist in HPEM at Quantemol)
Confirmed Talks
'Kinetic simulation of N2/H2 with QDB chemical model' – Dr A. Laricchuita and Dr G. Colonna
'QDB, the Quantemol Database of Plasma Processes: Current Status and Recent Development' – Dr C. Hill
'Particle-surface interactions in industrial plasmas: influence on plasma properties and data requirements' – Dr A. Gibson
'Modelling plasma-based CO2 conversion' – Dr A. Bogaerts
'QVT, the plasma simulation system: Current Status and Recent Development' – Dr S. Mohr
Venue, Travel and Accommodation
Central London location, easily accessible from any of the 6 airports, and within a walking distance from Eurostar train stations and many others.
More details here: http://www.quantemol.com/2017/05/02/how-to-get-here/
Contact Us
For more information, you can contact the Quantemol team at info@quantemol.com or call us on +44 203 549 58 41