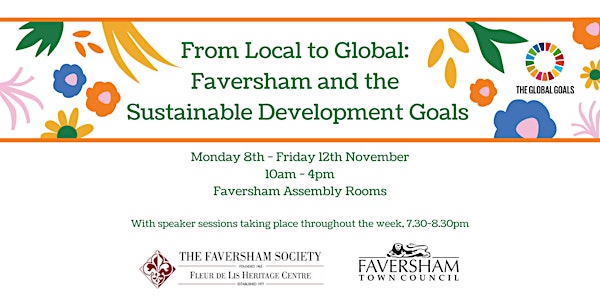 From Local to Global: Faversham and the Sustainable Development Goals
Location
Faversham Assembly Rooms
63-64 Preston Street
Faversham
ME13 8PG
United Kingdom
A week-long exhibition and series of talks, showcasing the work of local groups and organisations, and their contribution to the SDGs!
About this event
During the first two weeks of November, the UK is hosting the most important meeting of the UN Climate Change Convention that has ever taken place – COP 26. It's no exaggeration to say that the future of our planet depends on a successful outcome. Events are being planned all around the UK to highlight the implications of global climate change for communities like Faversham.
The exhibition and speaker sessions here in Faversham will explore the local relevance, not only of climate change, but of the entire suite of UN Sustainable Development Goals (https://sdgs.un.org/goals), conceived to be relevant globally. These events have been generously sponsored by Faversham Town Council Climate and Biodiversity Group and Faversham Society, and supported by Faversham for Fairness.
The main exhibition will include stalls, information and resources from local groups and organisations working on issues relevant to the goals. Topics include climate, environment, wildlife and nature; refugees and migration; human rights; poverty and inequality (both locally and globally), and much more.
Where: Faversham Assembly Rooms
When: Monday 8th November – Friday 12th November
The exhibition is open from 10am – 4pm every day and is free to visit.
The speaker sessions are also taking place in the Assembly Rooms, from 7.30-8.30pm, on the dates included below. Booking is required for all sessions.
Monday 8th November, 7.30pm - Faversham and the Sustainable Development Goals: an introduction
Tuesday 9th November, 7.30pm – Climate Migration and Refugees
Wednesday 10th November, 7.30pm – Faversham and Climate Change
Thursday 11th November, 7.30pm – Sustainable Development: Vision or Pipedream? Bob Geldof in conversation with Matthew Hatchwell
PLEASE NOTE: We are encouraging attendees to follow measures such as social distancing and mask-wearing while inside the venue. There will be hand sanitiser available and a one-way system in place for moving around the exhibition. Seating for the speaker sessions will be socially distanced.