Location
CF10 5HB
St Mary's Church
North Church street
Cardiff
CF10 5HB
United Kingdom
A festival day of faith and prayer inspired by Pilgrimage to the Shrine of Our Lady of Walsingham from 10am to 4pm, indoors and outdoors!
About this event
Beginning at 10 am, you can stay the whole day or simply drop in for parts of it. With an opportunity to explore the Scriptures in our 'Back to Nazareth' Bible Study, relax in our gardens and outdoor space, gather for Mass (two have been scheduled so that we can be flexible in being able to fulfil COVID regulations), pray the rosary, or gather before the Blessed Sacrament in a time of adoration and blessing, our festival day will make the most of our indoor and outdoor space to give people a taste of the Shrine of Our Lady of Walsingham, and draw us closer to Jesus.
Please note that all activities are organised according to COVID regulations in place at the time, and according to weather conditions. We hope for sunshine, and so some of our activities may take place outdoors.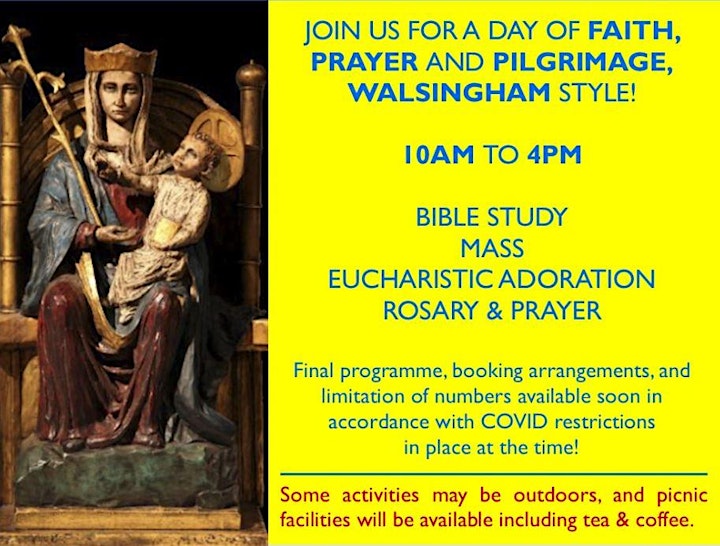 10am: 'Back to Nazareth' - Fr Dean guides us through a pilgrimage of Jesus, Mary and Joseph as told in the gospel according to Luke to discover some hidden treasures!
'Elevenses' - Enjoy a coffee, catch up with fellow pilgrims, explore our gardens, take the QR Code Trail around our Wild Side, or follow your own Stations of the Cross through the garden using our web link (booklets will also available)
12 noon - Mass this is the main Mass scheduled for the day, but an additional Mass has also been scheduled for 1pm so that we can accommodate as many people as possible in a safe and responsible way. Preacher at 12 noon: Fr Ben Rabjohns, SSC
(Bring a picnic lunch! There will be space in our gardens on Bute Street, and a courtyard will also be created on the other side of the church at the car park)
2.30 pm Eucharistic Adoration (in the gardens, weather permitting)
330pm Rosary and Prayer (in the gardens, weather permitting)