Refund policy
Contact the organiser to request a refund.
Eventbrite's fee is nonrefundable.
Short talks and networking for the Scottish games industry.
About this event
NB: Dundee now SOLD OUT (except to staff of sponsoring companies). Tickets remain listed at £100 to prevent additional new sales, whilst still keeping places for employees of studios that have sponsored the evening.
A series of short talks interspersed with general networking / drinks to encourage collaboration and communication between local developers, and networking with visiting guests.
We're delighted to announce our keynote speaker for each day is Rami Ismail; Rami is a Dutch-Egyptian industry ambassador & independent games developer with over 20 titles across PC, console, web, and mobile. His development of tools like the industry-standard dopresskit.com, his prolific & popular public speaking, and highly-regarded consultancy and insights have helped shape industry opportunities for game communities & independent game developers of any kind, in any situation, and anywhere.

The in-person speakers are :
Rami Ismail, indie champion :) (E/D/G)
Garnett Lee, Game Scout/Producer, publisher Raw Fury (E/D/G)
Stephen Hey, scout for publisher Merge Games, and Marketing Consultant (E/D/G)
Anna Mansi, Head of Certification at the British Film Institute (E/D/G)
Cécile Fléchon, Publishing Coordinator at publisher Focus Entertainment (E/D/G)
Imre Jele, co-founder of developer Bossa Studios (E/D/G)
Ian McGregor, Head of Publishing, Green Man Gaming (E/D/G)
Mark McCready, Scottish Liaison Officer at British Esports Association (E/D/G)
Phil Scott, European Director of Developer Relations, chip manufacturer NVIDIA (E/D/G)
Ken Gordon, Regional Ambassador at the European Space Agency (E/D/G)
Tom Methven, aka developer Amicable Animal (E/D/G)
Brian Baglow, Director, Scottish Games Network(E/D/G)
Ron Ashtiani, founder of art studio Atomhawk and co-founder production house Big Thursday Creative (E)
Paul Farley, Founder/CEO at publisher Firestoke Games (D)
Max Scott-Slade, Game Director of developer Glitchers (E/D/G)
Niamh Loughran, Producer at developer Hyperluminal Games (D)
Gary McCartan, CEO of developer Pocket Sized Hands (D)
Kyle Banks, developer of Farewell North (E)
Simon Meek, director at developer Stacking Chairs (G)
The events run over three days, one in each of Scotland's games hubs of Edinburgh, Dundee and Glasgow (E/D/G after each speaker signifies if they're speaking at all cities, or just one or two). The dates are:
- Tues 8th March; Edinburgh (4pm till late, at The Liquid Room, 9c Victoria Street, Edinburgh EH1 2HE)
- Weds 9th March; Dundee (4pm till late at Beat Generator, 70 North Lindsay St, Dundee DD1 1PS )
- Thurs 10th March; Glasgow (4pm till late at Revolution, 84 Mitchell St, Glasgow G1 3NA)
The talks will be streamed live on YouTube if you're unable to attend in person; link available by signing up for a (free) livestream ticket, but there aren't hybrid meeting opportunities for those watching virtually.
Some Scottish studios have kindly sponsored the event, in which case all their staff are entitled to a free ticket. Anyone buying a ticket that works for a studio that subsequently sponsors the event can get a full refund.
Each evening will have an array of further speakers from local developers, visiting publishers and others to be announced nearer the time. Speaking sessions will be interspersed with networking breaks to encourage everyone to get to know as many people as possible and foster potential future collaborations.
The golden rule of the event is there should be no recruitment activity - even from companies that are kindly sponsoring / speaking.
For examples of the sorts of speakers the pre-Covid version of these events featured, see here.
The event schedule for each night is: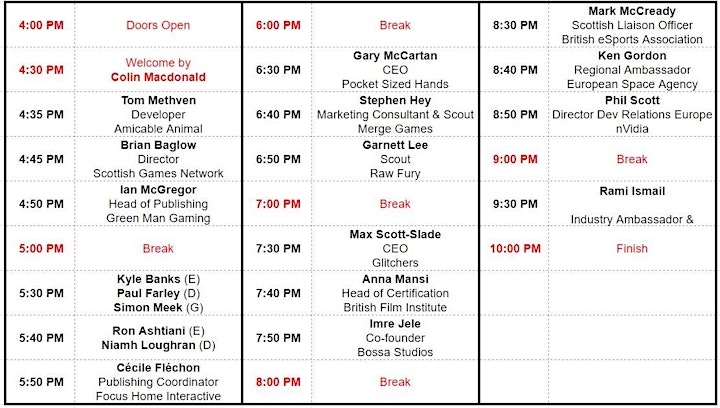 Arranged with the kind support of:










Past Testimonials:
- Paul Durrant of the UK Games Fund; "A fantastic blend of speakers in a slick and short schedule around a common theme that kept the audience engaged. It was great to talk to the many old and new contacts that came along on the night"
- Mark Hogarth, Partner at Techstart Ventures; "A great networking opportunity for everyone involved; bringing together a unique group of developers and speakers that would otherwise be hard to find"
- Matt Tester of Universal Music; "An excellent and insightful event, attracting a range of talent from the gaming industry. Universal Production Music were proud to support the inaugural event and benefitted from the superb networking opportunities"
- Philip & Andrew Oliver, Game Dragons; "A brilliant excuse to travel up to Scotland to meet many brilliant Scottish developers. We had a fantastic time, learnt loads, and met with so many great people. I expect we'll be visiting again soon."
- Bobby Wertheim, Head of Content, Sega Searchlight "If you are looking to meet with talented and experienced indies, this is an event that should be added to your schedule. A friendly, and cosy atmosphere, perfect for networking with local talent as well as having a platform to talk about what you are passionate about to a receptive audience!"
And thanks to our partner organisations: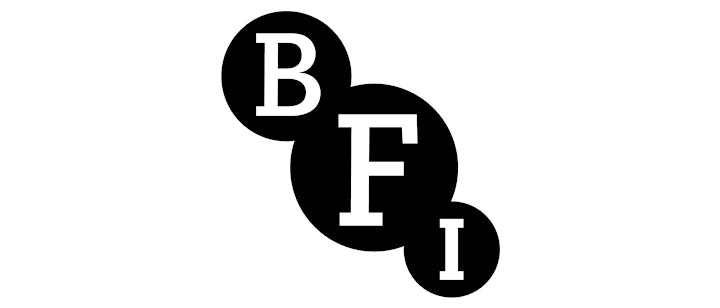 There will also be a raffle to raise money for the Ukrainian Red Cross. Tickets are £5 each, so for every £5 of a donation we'll allocate a ticket to you. But you *must* make sure to ensure your name is visible in the JustGiving donation, otherwise we can't assign tickets to you.
Donate here.

FAQs
For anything not covered below, please email: colin@indiechampions.com
What's the Covid policy?
All speakers and attendees should be fully vaccinated (including booster if 2nd shot was >3 months ago), and will be required to show proof of that on the door. This requirement remains despite Scottish Government advice regarding Covid passports changing as of 28th Feb, this is because of the number of people that bought tickets prior to the guidance change, and on the understanding everyone would be fully vaxxed. You can prove your vaccination status either via the NHS Scotland app, or by printing a copy of your vaccine status via NHS Scotland website.
When inside each venue, current Scottish Government Covid guidance must be followed - which is expected to include wearing a mask when moving about the venue. We'd also encourage everyone to do an LFT test before travelling to the events.
I have a promo code, where do I enter it?
On the screen where you select the number of tickets ie before the checkout page.
Is there food/drink?
There will be a bar, whether there's any complimentary drinks depends on whether the event attracts drinks sponsorship. Food is available to purchase as an addon to the ticket, until all the specifics are set we don't know what the food will be. But you can purchase a topup food voucher nearer the time, or if you buy it now and decide nearer the time you don't want it, you can cancel.
What are the talk topics?
Talk subjects can be very wide ranging; essentially anything that's likely to be of interest to the majority of the audience. There must be no talk of recruiting or recruitment activity at the events though.
Can you recommend reasonable nearby hotels for each city?
- Edinburgh; www.grassmarkethotel.co.uk
- Dundee; www.hilton.com/en/hotels/dndhxhx-hampton-dundee-city-centre or www.sleeperz.com/dundee
- Glasgow; www.citizenm.com/nav-redirect/glasgow or www.thezhotels.com/hotels/glasgow
Can I help somehow? Of course - if you'd like to do a talk / encourage someone else to do a talk, get in touch. Otherwise, if you could help check folk in on the door / sell charity raffle tickets / take photos / run social media / otherwise help on the night, let me know! And of course, please help spread the word about the events!
Something about the format/location/other of the event doesn't work for me, could you change it? Let me know, but if not, here's an article I wrote to help others run their own online events if that helps encourage you to do it exactly how you'd like to see it: https://www.gamedeveloper.com/disciplines/how-to-host-a-gamesdev-event-online-on-a-shoestring-and-raise-thousands-for-charity-in-the-process