Come and meet the investors. We've gathered a panel of investors to share their knowledge with you, and give you the chance to pitch live.
About this event
For every £1 of VC investment in the UK, female-founded start ups get less than 1p, yet women generate twice the revenues as their male counterparts.
Here at The Bigger Pie we're looking to change those statistics, and we're not alone.
MEET/PITCH YOUR BUSINESS TO THESE INVESTORS - BOOK YOUR PLACE NOW
Is this you?
You're a founder who is passionate and has good communication skills and you're looking for £50-200k
Your core business activity addresses one of the twin challenges of climate change or resource scarcity and you're pre-seed looking for £75k-150k
You're post-product, post-revenue, looking for funding provided for 18-month runway
You're pre-seed/pre-revenue looking for £500k-£5m (UK based)
You're seed looking for €500k - 3m size.
You're enterprise and consumer focused, investing in areas where Europe has an advantage, including financial services, industry 4.0, food tech, gaming, music and fashion.
You're equity pre-seed, with a strong tech team, and have something unique for market
You're looking to funds through debt rather than equity and you're looking for purchase order based lending for any company
You're Seed to series A, revenue generative in Advertising technology | Media technology | Big data | AI | Automation (Uk based)
You're Pre Series A/Series A, Deeptech | Sustainability, with a diverse founding team
You're Pre Seed looking for £20k-£50k ticket sizes
You're Seed/Series A looking for £500k – £2M
You're not ready for funding yet, but you will be in the future and want to start networking and learning now.
Meet, network and pitch in front of investors who are in the room. Cheque books open, happy to meet and talk with you.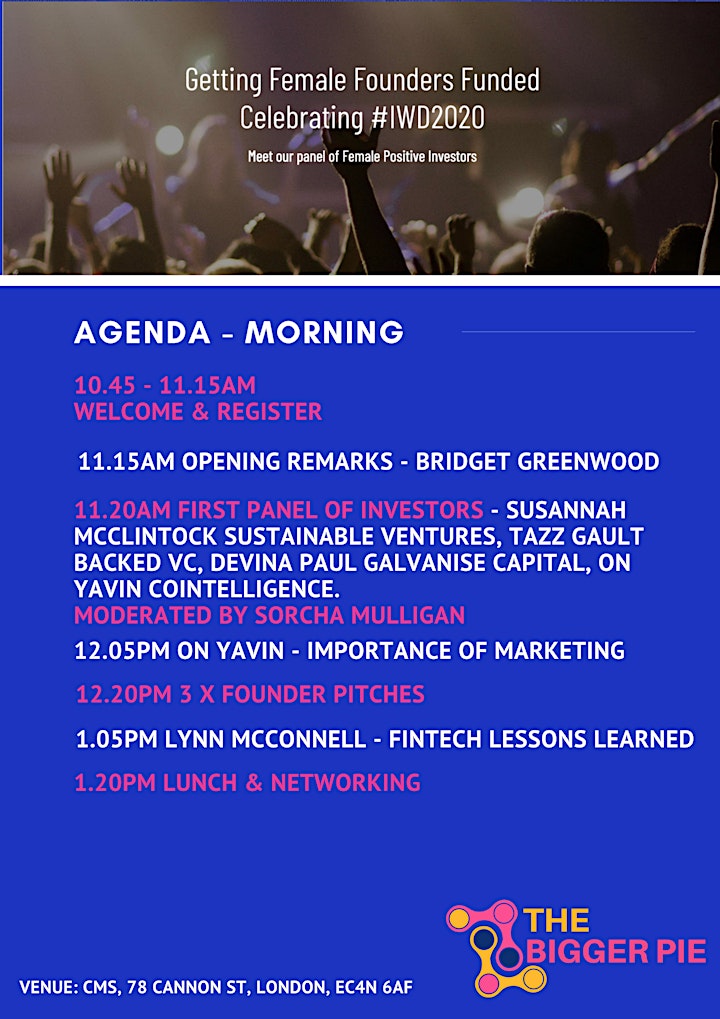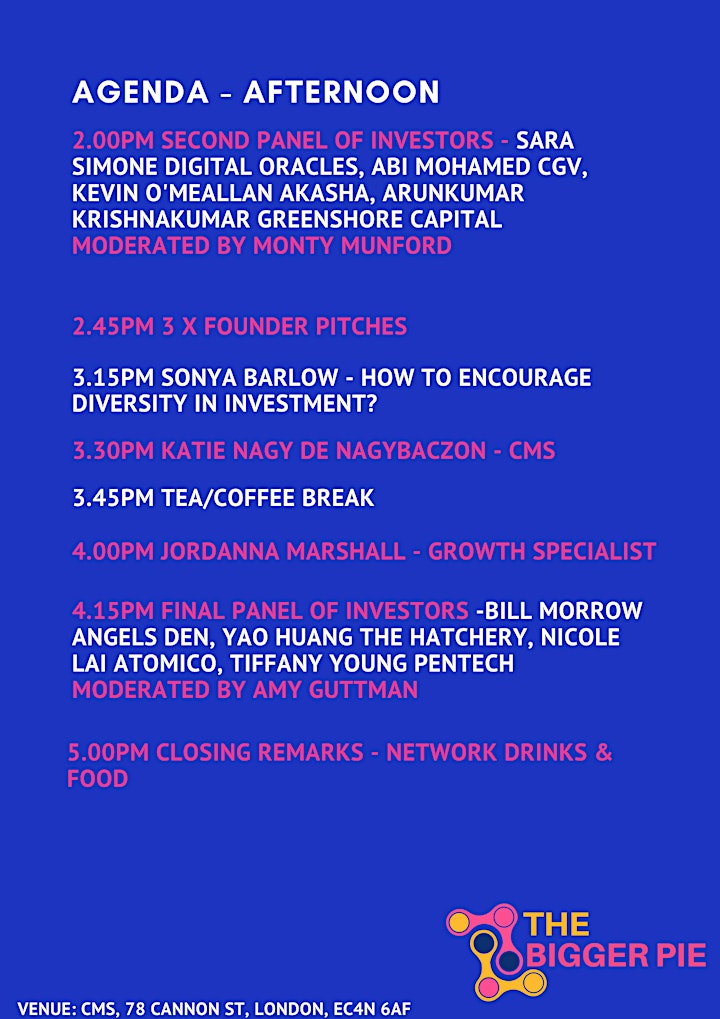 Hosted at the fantastic CMS offices, come and meet and learn from our panel of female positive investors, from pre seed through angel and VC.
We've got an impressive line up of investors which include: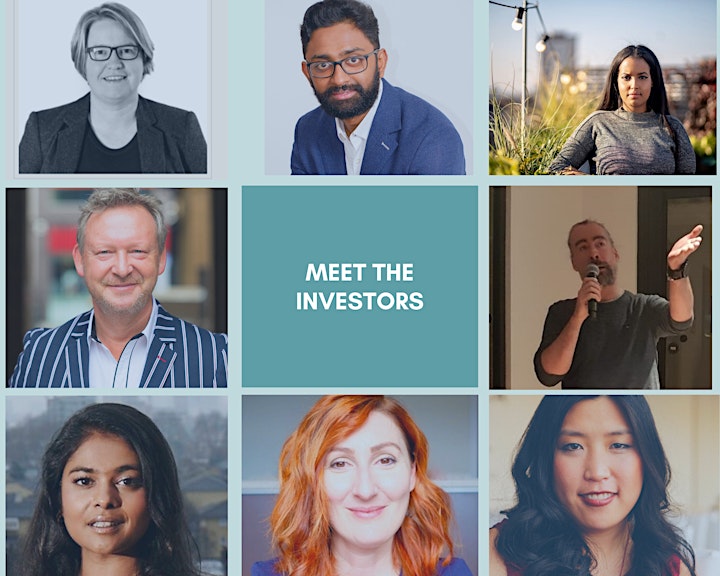 Susannah McClintock from Sustainable Ventures.
Susannah leads investment and accelerator activities for early-early stage start-ups. She holds more than 20 years' experience in start-up growth and finance and is passionate about business models which aim to maximise their use of funds and resources to create sustainable enterprises that achieve specific environmental or social outcomes.
She holds Board and Trustee positions for both start-ups and charities focussed on environmental and social outcomes. She leads the Finance initiatives for the Mayor of London's Women in Cleantech.
Bill Morrow from Angel's Den.
Bill set up Angels Den in 2007 with some bright people and has been named the most influential figure in Alternative Funding by City AM. More importantly, 92% of all the businesses funded since that fateful day are still growing. He now runs a Family Office fund, investing around $5m pa.
Abi Mohamed at CGV and Scout for Backed VC
We (at CGV) invests in underrepresented entrepreneurs looking to change the world and communities they operate in. CGV offers a number of services including advisory (ranging from tech, marketing, and business strategy) and pre-seed funding.
In the two years since launching Backed.vc they have backed 25 rapidly scaling companies, building products loved by the millennial generation or solving deeply technical problems faced by the next generation. Over ninety percent of the companies they backed more than 9 months ago have already secured follow-on funding at an average valuation markup of 3x, raising from the best investors in Europe such as Index Ventures, and in the US such as Founders Fund.
Arunkumar Krishnakuma from Green Shores Capital.
Arun is a Venture capital investor, podcast host and a writer with particular interest in Deep technology solutions with a sustainability angle.
He has invested, advised and mentored startups and is passionate about purposeful innovation. His investments usually have an emerging markets angle to them, with business models serving the underserved and tapping the untapped.
Yao Huang from The Hatchery
Yao is the Founder of The Hatchery, an organisation instrumental in developing the New York technology ecosystem. She leads up the enterprise incubator in innovating products with corporate partners -- from ideation, development, sales, funding to exit.
She is advisor and deal maker to the governments of 10 countries throughout North America, Europe, and Asia to assist foreign technology companies in their expansion to the U.S. market. Funding women is a mission for her, leading to the launch of Diana Capital with $1b for women businesses using a more accessible approach to capital.
Yao was named by Forbes as one of 11 women at the centre of New York's digital scene and TechWeek's 100 most influential people in tech.
Devina Paul from Galvanise Capital
Devina Paul is an early stage investor and co founder of angel investment syndicate, Galvanise Capital. She is also CFO of Zumo Money - a secure digital wallet challenging traditional banks and democratising crypto currencies. With multiple exits over the past few years, she now works with founders to get their businesses ready for investment, scale and sale.
Sara Simeone from Digital Oracles
Enabling Early Stage Investors and Business Angel Networks to discover the most promising emerging technology companies in Europe and beyond. Digital Oracles provides additional insights to investors trying to identify the most disruptive and promising startups and increase the overall level of education in Emerging Technologies.
Kevin O'Mellean from Akasha Innovation Hub
Kevin is COO of the AKASHA Innovation Hub in Dublin, Ireland. Advisor for the AKASHA Foundation in Zug, Switzerland. Experienced Finance Director in fintech and media with business focus on operational performance, growth management and strategy implementation.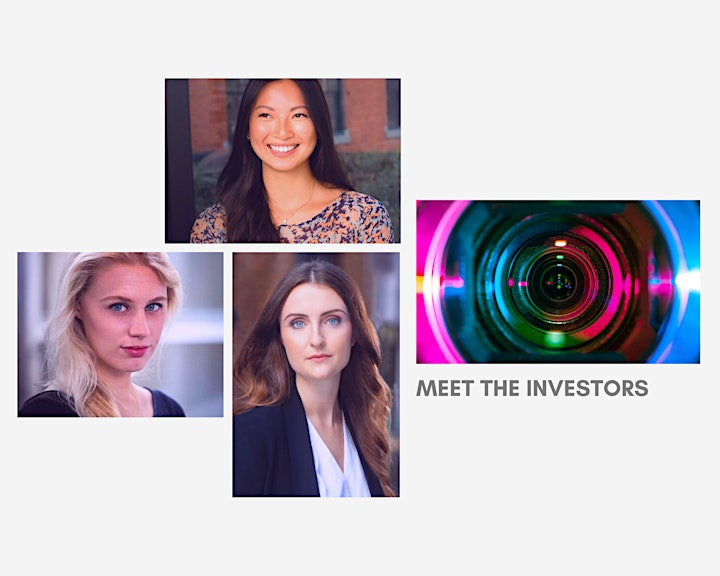 Thrilled to announce 3 more VCs
Tiffany Young from Pentech
Tiffany is an Investment Associate at Pentech, an early stage software venture capital fund. Now onto its' £90m fund III, Pentech invests at seed and seed + stage across the UK and has recently invested in PrimaryBid, Causaly, nPlan and TravelNest.
Prior to joining Pentech, Tiffany was part of the founding investment team at AllBright, a funding, education and support network for female founders. She has also worked in the investment team at BGF and on the trading floor in equity sales at Citi Bank. She is a member of Founders of the Future, born out of Founders Forum and is an alumnus of the New Entrepreneurs Foundation.
Tiffany is passionate about elevating women in business and founded the blog Breakfast with Tiffany which profiles inspiring female founders and investors in a series of interviews www.breakfastwithtiffany.co.uk. Tiffany holds a first-class BA in Economics from Durham University.
Tazz Gault from Invest Well
Tazz is an entrepreneur, angel investor, Marketing Director and ex-journalist, working as a Venture Scout for Backed VC, and heading up marketing strategy at humanity-led agency, Digital Detox. With three businesses under her belt, most notably as Co-Founder of the leading blockchain for business accelerator, StateZero Labs, she has spent half her career in startups, and the other half supporting and investing in them.
As an advocate for showing vulnerability, she is also the Founder of InvestWell; a group of leading VCs committed to putting humanity back into investment when it comes to mental health.
Nicole Lai from Atomico
Before joining Atomico, Nicole was an Associate at Real Ventures, an early-stage VC firm based in Montreal, Canada, where she worked with entrepreneurs from Algolux, BIOS, Clean.io, Swift Medical, and many more. Prior to that she worked as the Scientific Project Lead at Moonshot Health, a developer of scientifically validated digital biomarkers. Nicole started her career as an Innovation Associate at McGill University where she helped develop entrepreneurship programs for students and researchers in partnership with the Tech Transfer Office.
Nicole holds a BSc in Cognitive Science and MSc in Neuroscience from McGill University. She speaks English, Cantonese, enough French to get around a city, and communicates with her deaf pup, Winston, through sign language.
They're willing to share their knowledge with you, help you get investment ready, and you get to pitch your business to these investors.
Not only that - but we're giving you the opportunity to let us review your pitch deck before the event, so you have the chance to make any edits offered to you from our panel of investors before you pitch for real!
We'll be intelligently matching founders to investors so you can have a chance to meet on the day, even if you're not part of the public pitches.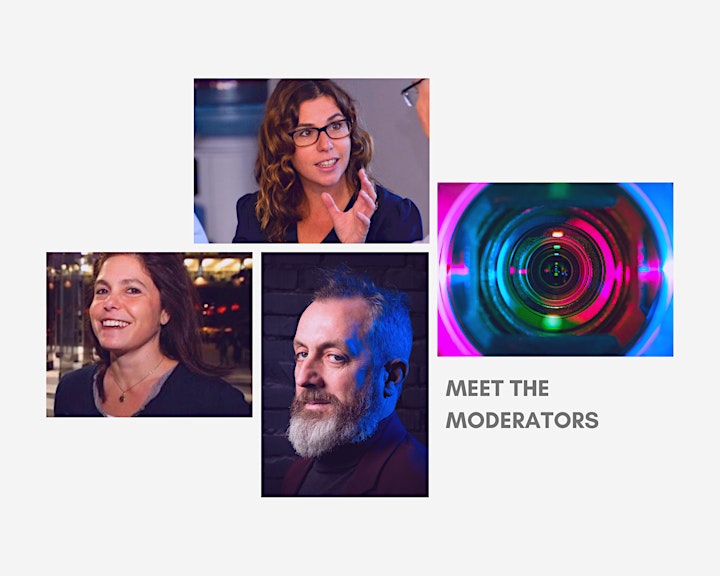 Our panel of investors will be moderated by the talented:
Amy Guttman, Speaker | Moderator | Producer & Correspondent: PBS Newshour | BBC | Forbes' Entrepreneurs | Fast Company | OZY
Amy is a freelance journalist, broadcaster and producer with 20 + years of experience, mostly in network TV, radio and digital news covering everything from current affairs and investigative, to business, food/travel and design.
She also designs and delivers workshops helping startups and other businesses identify and position their story with the goal of attracting press coverage and consistent messaging.
Monty Munford from 7bc
Monty is a keynote speaker/emcee/moderator/interviewer at prestigious events around the world, focusing on technology change, good and bad, current or emerging.
He has interviewed on stage leading icons such as Kim Kardashian, Steve Wozniak, Gary Vaynerchuk, John McAfee, Brock Pierce, Brian Solis and many others. He has spoken at more than 200 global events.
Sorcha Mulligan, SME | Supply Chain | FinTech | Blockchain | Technology | Futurist
Sorcha supports FinTech & Blockchain Supply Chain & Trade Finance Platforms who are seeking to achieve growth through Investment, Joint Venture Partnerships & direct Client Acquisition in EU & UK markets. Essentially, matching people with people who can work together to achieve a combined, aligned objective in their field. EQ with IQ is the wining formula.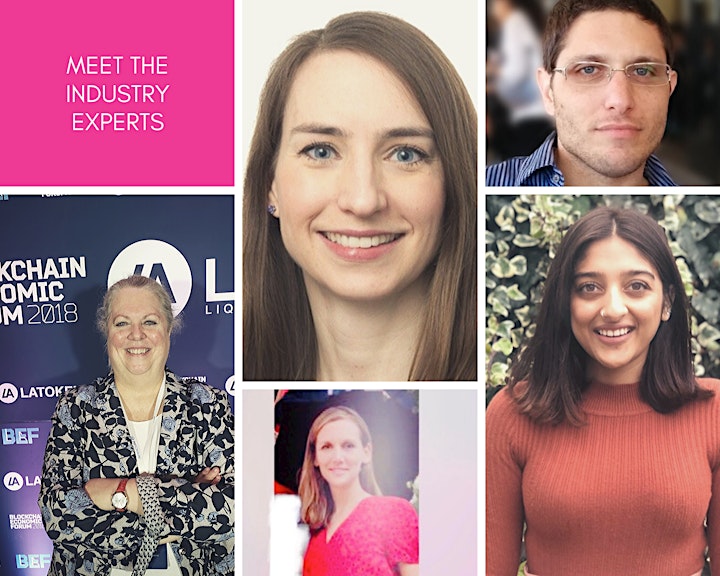 Industry Experts
We've also gathered industry experts from legal to consultancy to offer their advice on the most successful ways to get your business ready for investment and how to avoid the pitfalls, including giving away too much equity too soon.
Katie Nagy de Nagybaczon from CMS
Katie helps clients in the consumer, technology and media sectors deliver their strategy by advising on the whole lifecycle of business, from start-up, raising money through investment, growth through acquisition and joint venture, and successful exit.
She advises on all aspects of corporate law, including private company and business acquisitions and disposals, public takeovers, investments and IPOs, joint ventures and reorganisations. Katie is recommended by The UK Legal 500 for M&A: upper mid-market and premium deals, £250m+.
On Yavin from Cointelligence
On has extensive experience as a serial entrepreneur and an angel investor, as well as more than 20 years of experience in the tech industry. On uses his deep hands-on experience and knowledge of online marketing to create winning strategies for crypto, and blockchain companies. Having earned the reputation of crypto expert, On continues to contribute to this industry in ways that advance cryptocurrencies and blockchain technologies. On has a law degree (LLB) and is also a certified Advocate by the Israeli Bar Association.
Jordanna Marshall, Senior management consultant l Digital and Sustainability strategist l Social entrepreneur
Jordanna is an experienced management consultant with an entrepreneurial mindset. Extensive corporate experience attained to date in financial services, with developed skills in business development, operations, corporate finance, sustainability and systems change - and proven experience of leading and delivering multiple projects on time and within budget. She's currently advising start up's in a COO capacity.
Lynn McConnell from Custody Digital Group
Lynn McConnell is the CFO and a founding member of Custody Digital Group, a new digital custodian focused on institutional clients. She was previously CFO at an environmental Fin Tech in San Francisco and spent 11 years in Compliance and Regulatory Affairs in the UK, at Barclays, RBS and Citibank. Lynn also served as a UK regulator during the financial crisis and has a strong background in US and UK regulation, investment banking and capital markets.Lynn holds and MBA from the University of Chicago in Finance and pursued graduate studies as a Fullbright Scholar at the University of Warsaw.
Sonya Barlow from Like Minded Females
Sonya is the founder of Like Minded Females (LMF), a diversity network & consultancy changing the narrative of inclusion through life skills workshops, community building and corporate training. Within the first year, LMF has engaged with over 12,000 people and grown to a social following of 9,000+.
Sonya is proud to be a woman of colour in technology and has been recognised as a Rising Star (2017) and UK Tech Business Woman of the Year Finalist (2018). Alongside running her enterprise, Sonya is a public speaker, TEDxSpeaker and workshop facilitator. She is passionate about changing the narrative of inclusion, empowering through life skills workshops and representing the masses.
This is a must attend event for all female founders who are looking either right now, or in the future to raise funds. Grab your place now.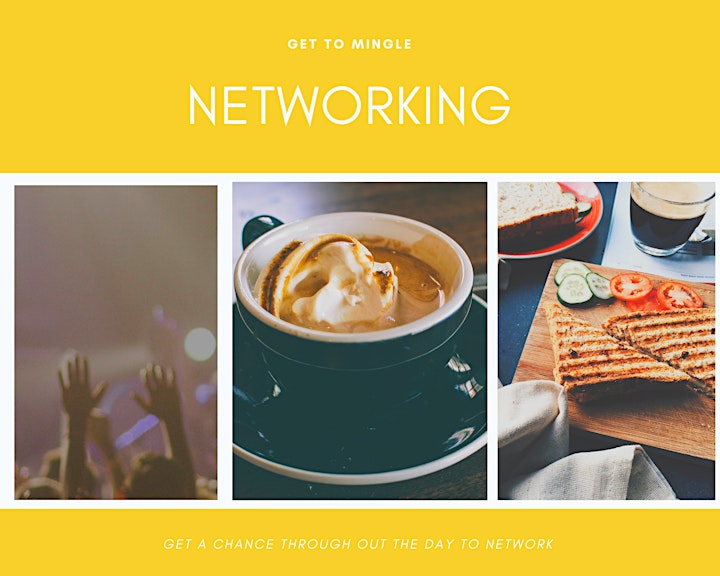 Networking
You'll also be treated to lunch, refreshments with a chance to network and then drinks and canapes to network further after the event. All thanks to CMS.
If you're interested in being able to pitch to the investors, please email bridget@thebiggerpie.io once you've booked your ticket to find out more.