Description
Join our creative technologist Lily for a day-long workshop exploring the potential of the prototyping platform Arduino. This course is designed for complete beginners and is open to adult and children over 12.
The workshop will cover the basics of Arduino programming and electronics so you can start making your own projects right away.
Arduino is a platform for building electronics projects. It consists of both a physical programmable circuit board and a piece of software that runs on your computer. With these you can build almost anything: a plant watering system, a mood light, a biking jacket, a whiteboard clock,

The workshop takes place at the London Hackspace in Hackney and is organised by London Arduino and Lily Madar. Lily is a Creative Technologist who spends her free time playing with Arduino and other physical devices, always adding crazy ideas to her ever-growing to-do list.

If you don't own an Arduino kit, it can be provided on the day. You'll only need to bring a laptop with you.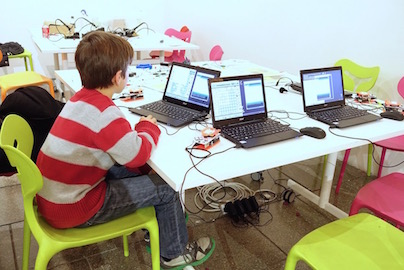 Who can attend?

The course is open to anyone over 12. Under 18 must be accompanied by an adult.
How to get there
The London Hackspace is a community workshop where people come to share tools and knowledge.
Address: London Hackspace 447 Hackney Road London E2 9DY
Directions: Google maps directions, OpenStreetMap, TFL Journey Planner, TFL Bus Map
Bus: 26, 48, 55 are right next to the entrance on Hackney Road.
Tube/Train: 12-minute walk from Bethnal Green (Central line), 15 min from Hoxton Overground

Refund policy
When booking your ticket, please note that we can only provide a full refund for cancellations made more than 7 days before the start date. For any other cancellations there will be no refunds unless your place can be filled from a waiting list, in which case we will refund the fee provided 72 hours or more notice from the start of the workshop is given.
Here is the programme of the day

10:00 - 10:30:
- Workshop introduction and round table introductions

10: 30 13:00:
- Learn about the breadboard and the various components in your kit, how to wire and program them through the Arduino interface.

13:00-14:00:
- Lunch break (please bring a packed lunch, shops are also available around the corner)

14:00-16:00:
- Apply your knowledge to build a small game
- Troubleshooting, Q&A.

16:00:
- Cup of tea and chat: what will you build next?
We have more courses planned, if you would like to be notified about future events please join our newsletter.

Organiser of Getting started with Arduino
London Arduino is for all Arduino, Raspberry Pi, hardware and design or digital making enthusiasts meeting every month for social and training events.

Machines Room is an east London maker space open to the public and businesses to come and fabricate their ideas. We have a full range of machines for processes such as laser & vinyl cutting, 3d printing to CNC. At our centre is a 2000 sq ft space that hosts events and exhibitions (available for hire). During the day, the area functions as an open to all co-making and co-working space.