Getting Started with Wordpress with John Fitzgerald
About this Event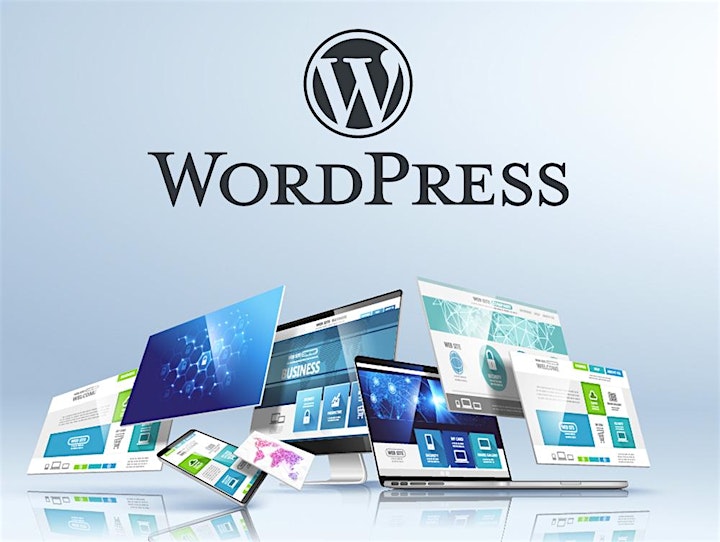 Getting Started with WordPress.
A complete overview of Wordpress from 'What is WordPress' to choosing a theme and laying out pages that will work on a desktop as well as on mobile devices too.
What is WordPress
We will explain how 'WordPress' is the most used 'Content Management System' globally from large conglomerate companies to sole traders. It is a fully scaleable solution. We will quite clearly explain all the parts of a website and where WordPress sits and works within that. Which can be easily edited and changed.
Hosting and Domain Names
We will explain clearly where to start with Wordpress, where to source hosting and how to link your domain name (web address) to your website.
A Teeny Weeny bit of HTML & CSS
I've always thought it would be such a good idea to teach just a little HTML and CSS which are the underlying building blocks for the front end of a website. A little knowledge can go a long way... but don't worry it's only 5 mins.
A Tail of Two Cities
Just to save on confusion we will explain the difference between 'Wordpress.com' and 'Wordpress.org'. One you can download and do virtually anything with (Our favourite option) and the other one is where it's done all online for your. There you go clear as mud! Don't worry we will explain.
Choose from 1000's of Amazing Layouts (Themes)
WordPress automatically starts you off with their standard page layout design. Theses page layouts are called 'Themes'. Wordpress has there basic one. To be honest the basic one is pretty amazing and we will use this as our template to go through and explain how to layout your website.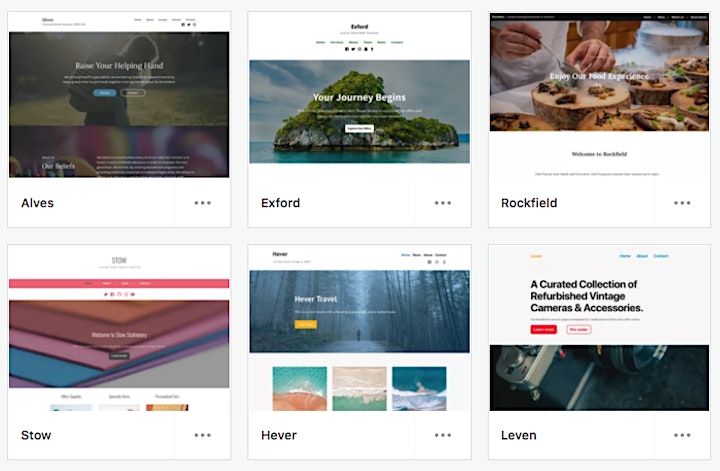 WordPress Dashboard Overview
We will explain all the areas of the 'Dashboard'. This is where you have complete control over the structure and content of your website. Their's quite a few so buckle up and make sure you've got your pencil sharp for taking notes. We will give an overview of the following elements:
Posts - Blog posts (The actually reason WordPress was built for.)
Media - All your pictures images and logos
Pages - Homepage, About, Services, Blog and contact us for a start
Themes - Lots and lots of Amazing Layouts
Customise - Change your fonts, background colours, logos etc etc
Plugins - Bolt ons for your site: Shopping Trolleys, etc
Users - Who can edit and who can not
Settings - Under the bonnet.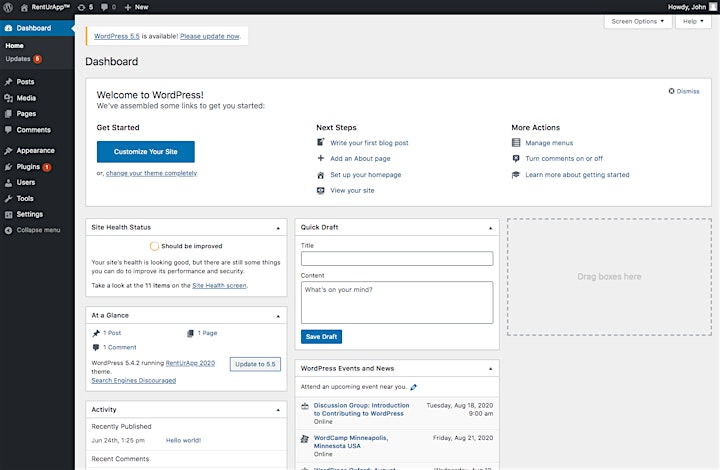 Backups
The most important part of the day. An introduction to 'UpDraft Plus'. This will stop you from having to go through one of the toughest lessons. Allways remember to set up a backup. I sadly learnt the hard way and spent a whole weekend putting a website back together from scratch because I thought I just didn't have the time to install a backup mechanism.
Conclusion
So its only four hours long and their's a lot to get through. But hopefully by the end of the Workshop you should have a far better understanding on what WordPress is and how you can go about starting to use it to promote your business. I'm pretty sure WordPress is doing something right as there is now 455Million Wordpress website out there as we speak.
So BOOK NOW and lets 'Get Started with WordPress' together.
We look forward seeing you on the 15th September!
Who are these sessions suitable for?
Our sessions are aimed at clients who are considering starting a business or those that have been trading less than twelve months. The workshops are designed to lead on from each other, but please feel free to book into whichever you feel are appropriate for you.
You will need a pen and paper to take notes during the sessions
You will receive a joining link in your Eventbrite confirmation email, keep this safe as it is how you will access the session.