Seminars from Women in STEM to inspire 11-16 year old girls to pursue a career in science, technology, engineering and maths.
About this event
An Hour in the Life of a Woman in STEM
Ever wondered what it would be like to make electricity from the sun, work for NASA or research Astrobiology?
We've got seven inspiring women in STEM who want to talk to you about their jobs and how they got them! Each speaker will discuss their career, take you on a tour of their workplace and answer any questions you have about their jobs. Who knows, you could be working with them in the future...
Register with your class for a fun, after-school club or join yourself from home.
Event Speaker:
Sarah-Jane Potts - Technology Transfer Fellow, SPECIFIC, Swansea University
How can you power your home using only the sun? Sarah-Jane Potts is a Postdoctural Research Engineer at SPECIFIC in Swansea University.
She works on designing and making printed electronics, including printed heaters and printed solar cells. The aim of her work is to create solar-powered buildings by using the energy and heat from the sun, storing it, and using it to power household items and even cars. This is a much more environmentally-friendly way to live than using fossil fuels.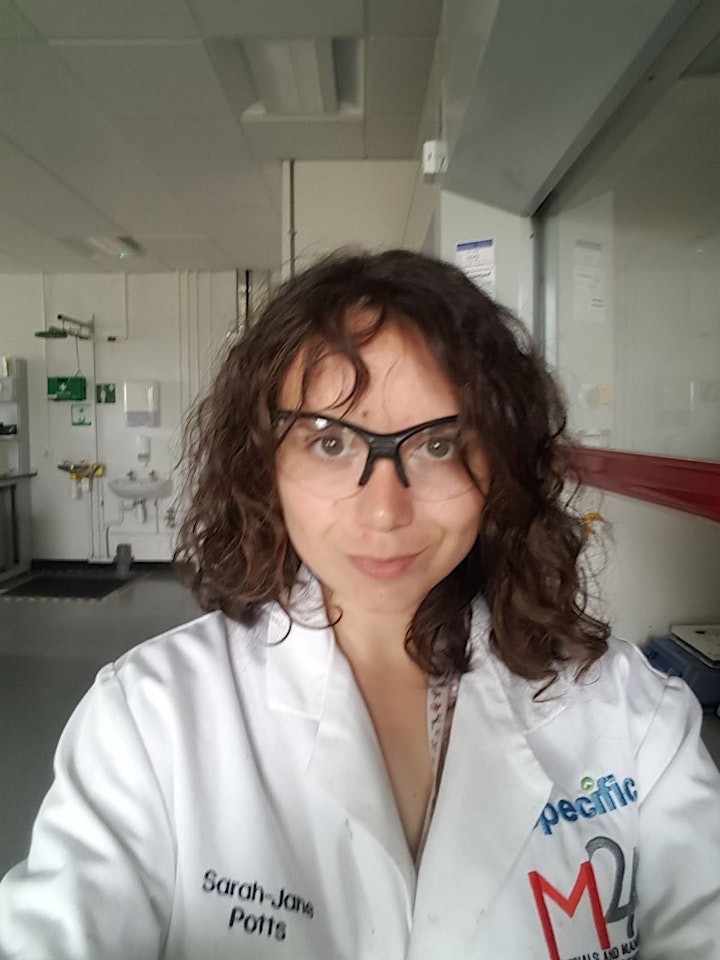 Our future GiST Seminar dates:
May 24, 2021
June 28, 2021
Save the dates!
Awr Mewn Bywyd Menyw Mewn STEM
Ydych chi erioed wedi ystyried gwneud trydan o'r haul, gweithio yn NASA neu ymchwilio Astrobioleg?
Mae gennym saith menyw ysbrydoledig mewn STEM sydd eisiau siarad â chi am eu swyddi a sut y cawsant nhw! Bydd pob un yn siarad am ei yrfa, yn eich tywys o amgylch eu gweithle ac yn ateb unrhyw gwestiynau sydd gennych chi am eu swydd. Pwy a ŵyr, fe allech chi fod yn gweithio gyda nhw yn y dyfodol ...
Bydd y sesiynau'n rhedeg rhwng 3-4pm ac wedi'u hanelu at ddisgyblion 11-16 oed. Cofrestrwch gyda'ch dosbarth a dewch ar ôl ysgol, neu ymunwch eich hun o'ch cartref.
Sarah-Jane Potts - Cymrawd Trosglwyddo Technoleg, SPECIFIC, Prifysgol Abertawe
Sut allwn ni bweru ein cartrefi gan ddefyddio'r haul yn unig? Mae Sarah-Jane Potts yn Beiriannydd Ymchwil Ôl-ddoethurol gyda SPECIFIC ym Mhrifysgol Abertawe.
Mae'n gweithio ar ddylunio a chreu electroneg printiedig, gan gynnwys gwresogyddion printiedig a chelloedd solar printiedig. Bwriad ei gwaith yw creu adeiladau sy'n cael eu pweru gan ynni a gwres o'r haul, ei storio, a'i defnyddio i bweru eitemau'r tŷ a cheir. Mae hwn yn ffordd mwy eco-gyfeillgar o fyw na defnyddio tanwyddau ffosil.