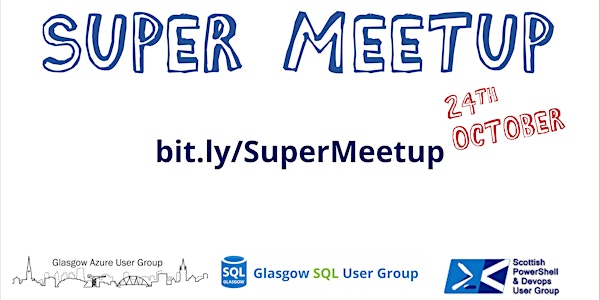 Location
Incremental Group
10 Montrose Street
Glasgow
G1 1RE
United Kingdom
Description
The year is getting on. Summer is almost over. Xmas is coming into view, and a fantastic evening event is coming to you soon! Three Glasgow user groups are lining up to provide a joint meetup cross all 3 subject areas:
* Glasgow Azure User Group
* Scottish PowerShell & DevOps User Group
This isn't only a great opporunity to network across different tech disciplines...
We'll have a 5-minute introduction from each group, explaining the content they cover and when they meet.
We'll also have a collection of 10-minute lightning talks, giving everyone snippets of the usual fantastic technical content from each group as well as a chance to hear something new.
18:30 - 19:00: Registration

19:00 - Introduction to Glasgow Azure User Group
19:05 - Introduction to Glasgow SQL User Group
19:10 - Introduction to Scottish PowerShell & DevOps User Group

19:15 - TBC

19:30 - Archiving infrequently accessed SQL Tables to AWS S3 and Athena by John McCormack
In the demo based session, I'll show how you can archive your old infrequently accessed SQL Server Tables to flat files, hosted in cheap cloud storage (AWS S3) and still query them ad hoc using SQL queries (AWS Athena).

19:45 - TBC

20:00 - 20:30: Break

20:30 - Azure SQL Database Best Practices by Thomas Sykes
In this quick talk we'll dicsuss some of the best pratices to use for the Azure PaaS solution Azure SQL Database.

20:45 - Reports with Style Using PowerShell and HTML by Tony Roud
Learn to how you can use PowerShell to produce multi-section, well-formed HTML reports.

21:00 - Azure Active Directory: Unsung hero of the multi cloud by Kenny Lowe
Azure Active Directory has the power to surround, penetrate and bind all aspects of your multi-cloud environment together in a secure and ever-evolving blanket of comfort and management joy. Despite this, it's often talked about as just the 'users and groups' management component of Office 365 or Azure. In this lightning session we'll very rapidly showcase Azure AD's place in identity, security, and cloud management scenarios, and put firmly into context how you can start using it more effectively today.

21:30 - Finish
There's the usual beer and pizza too!