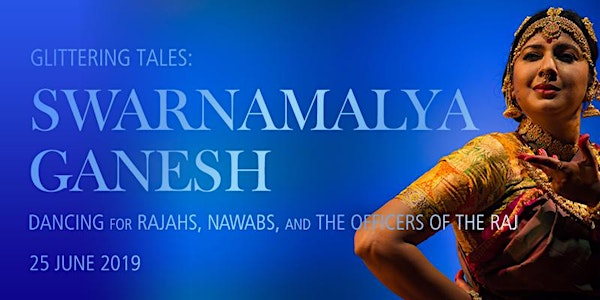 Glittering Tales: Dancing for Rajahs, Nawabs, and the Officers of The Raj
Location
Asia House
63 New Cavendish Street
London
W1G 7LP
United Kingdom
Description
Glittering Tales: Dancing for Rajahs, Nawabs, and the Officers of The Raj
#AsiaHouseArts
#Akademiat40
FREE FOR STUDENTS!
Join prominent artists Dr Swarnamalya Ganesh and Chitra Sundaram as they explore Sadir, the historic precursor to the classical Indian dance style of Bharatanatyam.
Asia House is delighted to collaborate with Akademi as it launches the first of its dance dialogue series with Dr Swarnamalya Ganesh and her debut to a London audience. The noted Bharatanatyam artist and actor will be joined by Chitra Sundaram, a prominent figure in the UK dance community, as curator of the evening. They will explore the narratives, the women, and the repertoire of 'Sadir Āttam': the command performance of the 17th to the early 20th century that was presented in durbars and salons for royalty, aristocracy and officers of The Raj.
This event presents the her-story of the Sadir dancer; her repertoire and her reputation as an articulate, charming and sophisticated performer. Swarnamalya will share the experiences of seeking out hereditary dancers; piecing together closely guarded anecdotes and repertoire pieces. Nearly eighty-five years after Sadir disappearing into Bharatanatyam, we begin to embrace both, joining the discourse of multiple histories. The discussion and demonstration will both trace and move beyond the narratives of erasure and caste politics behind present-day Bharatanatyam.
Speakers:
Dr Swarnamalya Ganesh is a trained Bharatanatyam dancer, an Indian actress and TV anchor. Over the years, she has anchored several shows, acted in films across various languages and performed on many stages all over the world. She has a Masters in Bharatanatyam and PhD in Dance History from Madras University.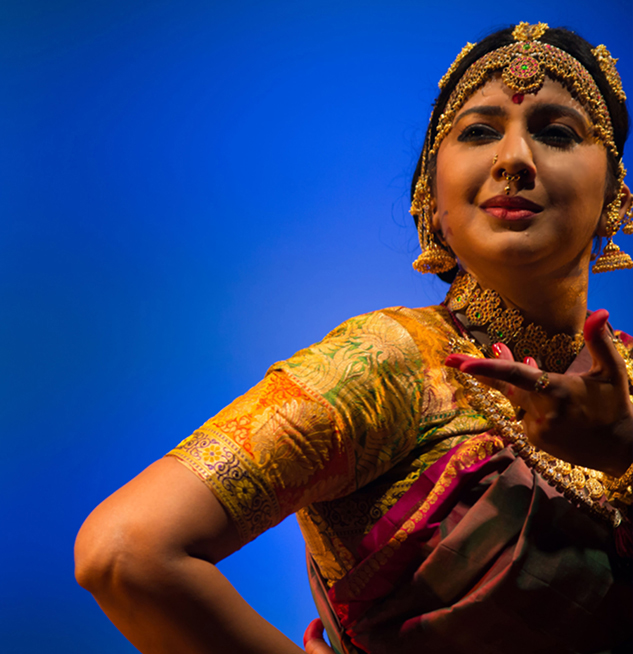 Chitra Sundaram is a dance/theatre choreographer, Bharatanatyam performer, mentor and educator. Her research and teaching interests include the problems and potential of classical forms in cross-cultural and intergenerational transmission of narratives. Chitra was the trustee of Akademi, and currently sits on the board of the Imperial Society of Teachers of Dancing. Chitra is an Associate Lecturer in Theatre &Performance at Goldsmiths College, and a Fellow of the Royal Society of the Arts.
Musical accompaniment:
Guru Bharadwaaj, Mridangam
Trained under Maestro Karaikudi Mani, Guru is a performer, composer with a deep interest in innovation. His precise fingering technique and fine balance of sound makes him a sought after mridangist for dance. He has worked as a lecturer at Kalakshetra for a few years and is now persuing his Ph.D in music.
Srikrishnan Balasubramanian, Harmonium
Srikrishnan is a disciple of Carnatic and Hindustani musical traditions. The fourth- generation musician from his family, he performs with prominent artists in India and abroad. He plays both the Harmonium and the violin. Srikrishnan has been accompanying Dr. Swarnamalya Ganesh for over a decade.
(Mysore) Sangeetha Sudhir, Vocalist
Sangeetha is an award-winning vocal artist in carnatic music, singing for prominent senior dance artists. She is also a violinist, in the Parur style, performing in duet with her husband K.J. Dileep. In 2017, Sangeetha represented India in Uganda, Tanzania and South Africa and performed as an Indian Cultural Delegate.
Producer: This talk is presented by Asia House and produced by Akademi, UK's leading South Asian Dance organisation, as part of their 40th anniversary celebrations. Akademi works to encourage excellence in the practice and appreciation of South Asian dance across contemporary artistic, social and educational contexts in the UK.
Akademi is a dynamic and future facing organisation, a unique creative interface between Indian and British performing arts, with a reputation for innovation in South Asian dance.

This event is part of the Asia House 2019 Spring Arts and Learning Programme, a completely unique initiative in the UK in presenting a pan-Asian artistic and cultural programme with a scope of more than 40 countries in the region. Through our programme of events on arts, culture and education we act as a catalyst for the discovery of the diverse arts and cultures of Asia and the Asian diaspora, and serve as a bridge of understanding between the UK and Asia.
Sign up to our mailing list for all the latest on this year's events, and visit our Eventbrite profile to book more tickets!