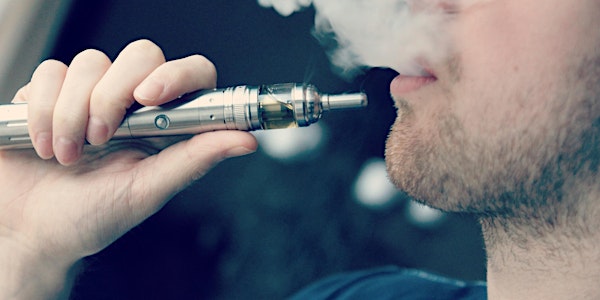 Global Health Film Screening: "Beyond the cloud" - the story of ecigs
Location
University College London
Roberts Building, Room 106
Torrington Place
London
WC1E 7JE
United Kingdom
Description
What are electronic cigarettes (ecigs), where did they come from, and who uses them?
Do ecigs help people stop smoking and improve their health?
Are ecigs a secret ploy by tobacco companies to get more of us hooked on their products?
What should the public health response to ecigs be?
Tobacco causes millions of premature deaths each year and can lead to non-communicable diseases (NCDs) including cancer and heart disease. Reducing smoking has been a top public health goal for decades, primarily through public awareness campaigns and tobacco control measures like taxation, marketing restrictions and the creation of smoke free environments.

In the last five years, tobacco free nicotine containing electronic cigarettes have burst onto the scene and provided millions of smokers with a harm reduction option. Switching from smoking to vaping reduces health risks, although heated debate in public health means that ecigs are not yet universally accepted as a weapon in the war against smoking related ill-health and death.

The UCL Grand Challenge of Global Health in collaboration with the UCL Centre for Behaviour Change are holding a film screening of the electronic cigarette documentary "Beyond the Cloud" on Wednesday 22 March from 18.00-20.00.
Filmmakers Ghyslain Armand and Sébastien Duijndam made "Beyond the cloud" to tell the story of ecigs in both a scientific and political context. The filmmakers spoke to smokers, vapers, and international experts across the world including in France, the UK, Switzerland, Poland, the USA and China.
Professor Robert West of the UCL Centre for Behaviour Change is a Professor of Health Psychology and Director of Tobacco Studies whose research covers tobacco addiction and smoking cessation and has in recent years also addressed ecigs.
Come along to see the documentary, hear from the filmmakers and Professor West, and get a chance to ask questions about ecigs, tobacco, public health and public policy.
The screening will be followed by a drinks reception (soft drinks and popcorn) until 20.30.

Image: "E-Cigarette/Electronic Cigarette/E-Cigs/E-Liquid/Vaping/Cloud Chasing" by Vaping360 is licensed under CC BY 2.0.