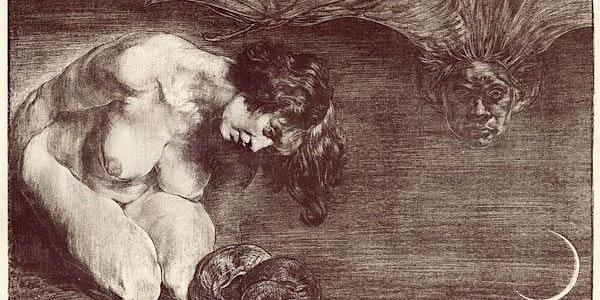 Kenneth Grant and Austin Osman Spare by Michael Staley on zoom
Event Information
Refund policy
Refunds up to 1 day before event
In this illustrated talk, Michael Staley discusses Kenneth Grant's presentation of Austin Osman Spare
About this event
a recording will be emailed to ticketholders after the event
Austin Osman Spare and Kenneth Grant
Kenneth Grant first encountered the work of Austin Osman Spare in 1941 when he came across The Book of Pleasure. He was captivated by it, and by the time he met Spare in 1949 he had thoroughly steeped himself in Spare's published work. Spare was then writing another book, and soon Grant was typing drafts for him, editing, and collaborating on some of the material. When Spare died in 1956, he left his manuscripts and papers to Grant. The material was eventually collated and edited in the early 1990s, and published by Fulgur in 1998 as Zos Speaks! by Kenneth and Steffi Grant. Drawing on unpublished typescripts and diary entries, Michael discusses Grant's growing understanding and presentation of Spare across the decades, and the influence of Spare on Grant's own work.
Austin Osman Spare (1886-1956) was an artist and occultist who over the course of more than fifty years produced a body of art of extraordinary variety. Kenneth Grant (1924-2011) was an English occultist who, from a host of influences catalysed through his mystical and magical experience, distilled a series of books known as the Typhonian Trilogies.
Speaker Bio:
Michael Staley lives in north-west London, and has been immersed in the works of both Grant and Spare for many years now. A colleague of Grant's from the mid 1970s until his death in 2011, he works through Starfire Publishing to keep Grant's work in print. In 2011 he published two early bookworks by Spare as Two Grimoires, and is planning the future publication of a number of Spare's sketchbooks from the 1950s. Michael has a life-long interest in the occult, and is particularly interested in how the work of Grant, Spare and others work resonates with a variety of mystical and magical traditions.
Date and time
Location
Refund policy
Refunds up to 1 day before event