Description
Growth hacking's "enfant terrible" is back for one final Secret Sauce Conference with support from a UK entrepreneur of the year!
Legendary marketer Vin Clancy is returning to London, and is hosting an unmissable behind the scenes look at everything he has learned in 2017!
If you're an entrepreneur or a startup founder who wants to have a MASSIVE 2018, you NEED to be at this event.
This year has been an absolute rollercoaster:
- Expanding multiple six-figure businesses from his new base in L.A.
- Building out a personal brand that successfully self-booked an 100-date international speaking tour.
- Establishing Traffic & Copy, an 18,000 strong Facebook community of growth hackers and marketers.
- Growing the 'Secret Sauce: A step-by-step guide to growth hacking' book to over $150,000 with zero paid adspend or influencers.
The learning curve was steep but damn was it worth it!

So, to help others achieve better results in 2018 without the burnout, heartbreak and late nights, Vin Clancy is offering a full insight into EVERYTHING he has learned in what has been his most profitable year to date, as well as mixing with some of the biggest companies in the world in Los Angeles, San Francisco, and New York.
There's a lot of terrible information in the social media/online marketing/growth marketing space.
This leads promising entrepreneurs down blind alleys and money wasting ventures.
This talk intends to deliver, in real-time, real value to attendants; including how to quickly grow a community online, form a substantial pre-launch strategy, how to ensure your emails and tweets get seen/answered, creating easy workflows, content marketing and user/customer acquisition.

Enabling you to supercharge your business ready for 2018, (your best year yet).

Attendants will leave with many practical methods that will be useful in executing a personal growth and sales strategy (free) applicable to many industries, actionable immediately. This session will uncover the tips and tricks the big startups have used, as well as secret hacks Vin has used with clients he has worked with at his agency.

Here's a little taste of what you'll be getting on the night:
- The 10 ALL-NEW powerful pieces of growth hacking software that almost no-one knows about
- How can Crypto investing be used to support your cashflow for your startup?
- Which growth hacks died and will no longer be working in 2018?
If you're looking to increase your users/traffic/revenue, you'll love this early christmas present.
So click attending, find some friends who will also benefit, get tickets from there, and we shall see you there!
Tickets will be limited (as of restrictions of venue) and free for the first 100 people who signup.
There will also be an INCREDIBLE opening speaker to be announced!
Let's end 2017 on a high and celebrate another amazing year for London's startup and entrepreneur scene
Expect the usual amount of free booze and party fun (please note this event is 18+ only)
6pm Event begins - Networking, great decorations, booze, awesome music
6.30pm Opening talk to be confirmed
6.50pm Dan Murray from Grabble - Former UK Entrepreneur of the year talks about hustle, humour, and growing a business
7.10pm Vin Clancy live - Everything you need to know about growth hacking in 2018
8.10pm Q and A
8.30pm Afterparty with DJ Trix - grab a ticket here: https://www.eventbrite.com/e/vin-clancys-big-xmas-afterparty-london-tickets-40890139508
Thanks!
Team Secret Sauce Conference
p.s. This was a previous event - Good looking crowd hey? ;) We always pack 'em in!
p.p.s. support@vinclancy.com if you have any questions!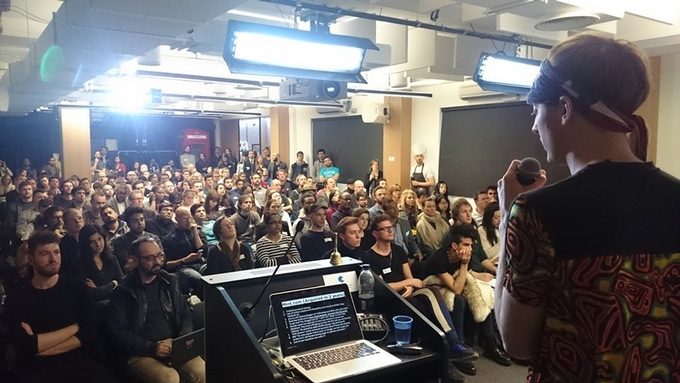 By signing up, you agree that Vin Clancy or WeWork may contact you again. Your details will never be passed on to third parties.