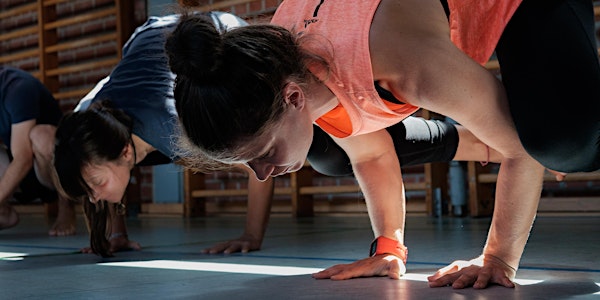 Handstand 101. A workshop sharing the basics of balancing on your hands.
Location
CrossFit Murrayfield
Sauchiebank
Edinburgh
EH11 2NN
United Kingdom
Sales Have Ended
Ticket sales have ended
I'm sorry we have sold out. I like to keep spaces low so I can offer hands on feedback. Please view my webpage for other workshops - www.invertedg.com
Focusing on the basics giving you the knowledge & understanding of how to begin balancing on your hands & how to continue to make progress.
About this event
This workshop is for all levels and will cover the foundations that will enable you to progress step by step, safely and competently into practicing handbalancing as an adult.
If you are a complete beginner then you will learn the fundamental steps to get you started and the knowledge of how to progress.
If you are already handbalancing then there will be drills and exercises encouraging you to revisit the building blocks and identify weak areas making your practice even stronger.
Get more in tune with your body and feel how wonderful it is when it all works as a team.
I've spent the last year in lockdown refining my own skills and coaching online groups. This will be my best hanstand workshop yet!
*** Handstands make you better at everything! ***
Wrists and hands –
Your balance base. Learn how to build strength and flexibility allowing greater control and the ability to practice with no pain or potential for injury.
Arm strength.
The necessary steps required to build the strength in your arms. After all, that's what's holding you up!
Scapular health and strength.
Healthy shoulder movement requires pain free range of motion and ease of movement throughout the whole scapular area.
Learn what you can do to make your shoulders feel and perform the best they ever have.
Core and Back.
Your power source. Get in tune with your core. Learn the difference between engaging your core and actually using your core. A new whole world of strength opens up!
Alignment.
I will explain why it's important to find alignment in a handstand for healthy joints, muscles, ligaments and tendons. It's not just about the aesthetics.
Legs.
Top to toe connection throughout the whole body. Learn to use your whole body as a team.
Body awareness.
Going upside down is scary; especially if it's something you've never tried before.
Learn how to connect more to your body and gain spatial awareness giving you the confidence to experiment, explore and progress.
Body positioning/proprioception.
Learn where each and every part of your body should be giving you the best chance to balance.
Balancing on your hands.
Learn how to feel and adjust balance and create a mindful connection throughout the body.
Bailing.
Learn how to safely come down from a handstand without fear of injury; allowing you to practice more. Freedom!
Different entry to handstand.
I'll show you many ways to get into a handstand. There is no one size fits all. I'll help you identify the one for you to get you started.
Flexibility/Cooldown.
If you cannot attain a position you'd like, then you need to find a way to get to that range of motion. I'll show you methods of working on your flexibility to get the results you desire.
Q and A
This workshop is designed to give you all the knowledge and understanding you need to start ypur handstand journey and continue to make progress.
There will be many different exercises and drills that can help you identify areas you need to work on and can be looked upon again and again to keep refining your skills.
BRING A NOTEPAD AND PEN, youll want to take notes, trust me! :)
About me:
www.instagram.com/inverted_g
www.invertedg.com
Legal
The event host (Gayle Pocock and Crossfit Murrayfield) assumes no responsibility for anyone attending this event. The event host will not be held responsible for any accident, injury or loss occurring as a result of any event or in connection with travel to such event, however caused.
By participating in this event, you indicate that you accept these conditions and accept that the event host in the event of accident or injury, however caused, accepts no legal liability.
I understand that at this event I may be photographed and filmed. I agree to allow my photo, video, or film to be used for any promotional purpose by the event holder.
By purchasing a ticket to this event you certify that you are physically fit and have not been advised not to take part by a medical professional.
REFUNDS
Refunds will only be offered if the event has to be cancelled due to Covid restrictions / lockdown in Edinburgh.