Description
It's Dyslexia Awareness Week from the 7th of October!

And what better way is there to honour our dyslexic journey than to go in owning our fullness the day before?

Rather than feeling the fear and doing it anyway, how about healing the fear and living your way, through healing our parental wounds!

What is the Parental Wound?

Our Parental Wounds are traumas that pass down from generation to generation that have a profound impact on our lives. When left unresolved, we pass on the Wounds that our parents and grandparents before us failed to heal. These wounds consist of toxic and oppressive beliefs, ideals, perceptions and choices. Finally, our children repeat the cycle, harming their own children, and their children's children with centuries of unresolved pain.

If you suffer from the Parental Wound you will experience the following problems:

* (For females) constantly comparing yourself with, and competing against, other females
* Sabotaging yourself when you experience happiness or success
* Possessing weak boundaries and an inability to say "no"
* Self-blaming and low self-esteem that manifests itself as the core belief: "There is something wrong with me"
* Co-dependency in relationships
* Minimising yourself to be likeable and accepted
* The inability to speak up authentically and express your emotions fully
* Sacrificing your dreams and desires for other people unnecessarily

Healing the Parental Wound: Dyslexia Edition™ is about, leaning into the suffering of our childhood, our school trauma, our relationship with people in our lives that have impacted who we are today.

These are the steps we will be following throughout the day to heal this wound...

1. Separating our parents from the ideal parent archetype
2. Letting go of what our parents/adults in our life should have been
3. Giving ourselves unapologetic unconditional love & acceptance

At the end of this day, you would have learnt to forgive, be more authentically you because you will be free from any unconscious old stories from the past that may have you self-sabotaging your present.

This event will help you to connect to your true power so you can live in your fullness!

What else is Included:

* How to nourish your soul with neurodiverse meditations, Yoga Nidra & emotional freedom techniques so you can finally elevate your energy even if others aren't managing their own energy!

* How to Nourish your body with neurodiverse soul food and learn quick ways to stay energised!

Neurodiverse food and drink is available with your ticket


EARLY BIRD PRICING IS AVAILABLE NOW

The work you will be doing in this session on yourself will help heal your past, present and future generations, it's time to heal the Parental Wound!
Your Facilitators:
Ruth Danquah
Ruth-Ellen Danquah is a Professional Speaker, Hypnotherapist, NLP Master Practitioner, Healer, accredited trainer, certified life, business & spiritual coach who has been on a mission for the last 7 years (since discovering she was dyslexic and dyspraxic and her son was Autistic) to help the neurodiverse community lead a celebrated life not just a tolerated life. She is the founder of Celebrated Hub the 600 strong peer to peer network which helps people with dyslexia/neurodiversity be equipped, empowered and enlightened about their brilliance.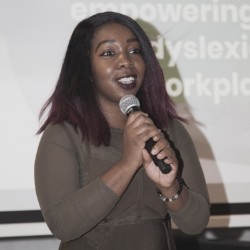 Marcia Brisset-Baily
Marcia Brisset-Baily has a BSc (Hons) Information science, Post-grad in career guidance, and an MA Special Educational Needs. She was diagnosed with dyslexia at College, her mum is dyslexic and her daughter is also dyslexic. Marcia's mission is to empower children, young people and parents with positive role models/images within disability, promoting awareness removing stigma associated with dyslexia and neurodiversity, break the silence/taboo and to tackle the disclosure in the workplace especially within the BME community.