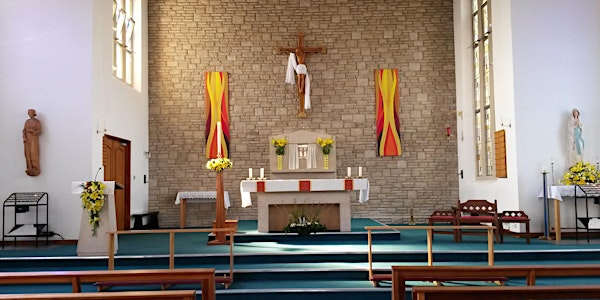 Attendance at Holy Mass - please choose any service to attend as, currently, the Sunday obligation has been suspended.
About this event
St Augustine's are delighted to welcome you back for Holy Mass.
Please only arrive a short while before the start of Mass so we can limit the amount of time people are 'indoors' for added safety.
In line with social distance measures the building can accommodate a maximum of 55 people subject to variation according to families/social bubbles, using the 1metre+ rule - please bring your own face mask/covering with you and keep it on whilst inside the Church.
Conditions
By registering to attend Mass you confirm the following conditions are met:
1. You currently show no symptoms for Coronavirus;
2. Should you develop symptoms prior to the service you will NOT attend;
3. You agree to wear a suitable face-mask and use hand-sanitiser as a condition of entry.
It should further be noted that at this time there will be no toilet facilities available.
There are no communal items being used so please provide your own missals and if you normally make your offerings to the church using loose change or envelopes there will be a basket as you arrive into church to place them into.
Please accept our apologies for any inconvenience or distress these new measures cause, however we make these conditions in line with government and diocesan guidelines to protect the health of the parish community. If you are still vulnerable due to health reasons or shielding we recommend you continue to fulfil your obligations by joining Mass online, remembering that the Sunday obligation is currently suspended and that we are invited to be part of spiritual communion during these difficult times.
God bless you all. Canon Frank.