Description
Be part of the global street paper movement!
This is your chance to be part of a powerful movement for social change. Come along, hear from street paper innovators and experience a inspirational presentation by entrepreneur Kyle Kesterson.
In June, street paper journalists, entrepreneurs and activists from around the world will descend upon Seattle for the Global Street Paper Summit. The summit is run by INSP – a nonprofit that supports 115 street newspapers all over the world, including Seattle's Real Change. Street papers are independent media that reach a unique worldwide audience of 6 million readers per edition, while helping 14,000 homeless and unemployed vendors to get back on their feet.
INSP is opening some highlights of the programme to the wider Seattle community, including our final keynote event.
Kyle Kesterson: keynote address
Growing up, Kyle and his family hit the lowest of lows moving in and out of homeless shelters and standing in line at food and clothing banks. It led to frequently moving, attending 14 different schools, becoming one of the worst kids in the school district and finally dropping out after being told by teachers that he'll "most likely end up flipping burgers, in jail, or dead."
Discovering art and creative expression saved his life and put him on a path towards carving his own path and ultimately creating positive impact around him.
Most of Kyle's work is focused around youth, poverty, creativity, community, inspiration, and entrepreneurship. He is the Founder and Chief Freak of Freak'n Genius, is a 2x TechStars alum, Startup Weekend Global Facilitator, and was the Co-Founder and Chief Creative Officer of Haiku Deck.
Kyle has spoken at TEDxSeattle, Ignite, Steve Jobs legacy conference - DENT the Future, Spark Bootcamp, and Consero's Startup Acceleration Forum. He coaches and mentors youth and early stage founders through Startup NEXT, TechStars, Startup Weekend, StudentRND, Girls Who Code, and YouthCare.
He expresses himself creatively as an artist, illustrator, designer, animator, toy developer and photographer. Kyle is also the Vice Curator of the World Economic Forum's Global Shaper initiative in Seattle, and member of the Young Entrepreneur Council, Young Entrepreneur Social, and Sandbox HQ - all global communities of 'Young Change-Makers'.
At this event, Kyle will talk about his own amazing story and the lessons he has learned about harnessing momentum to bring change.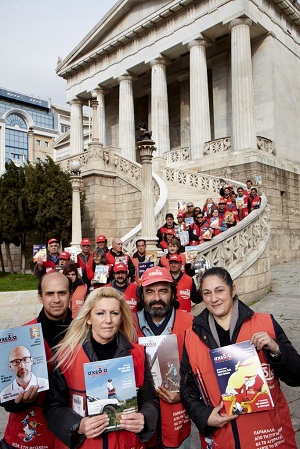 Kyle's talk will be preceded by a series of short presentations by street paper innovators. They will include:
1. Homeless Street Tours: A network innovation – Paola Gallo (Surprise, Switzerland; INSP)
2. Upcycling – Chris Alefantis (Shedia, Greece)
3. A Fairy-tale on Homelessness – (Nota Bene, Slovakia); & Street Paper for Children – Frank Dries (Straatnieuws, Netherlands)
4. Speak Up Zine – Matt Shaw (Speak Up, USA)
5. Homeless luggage porters – (Nota Bene, Slovakia)
Organizer of Homeless to CEO: A Journey Through Fear, Momentum, Mentorship & Creativity
INSP supports and develops 110 street papers in 35 countries, like the UK's The Big Issue. 
Street papers are independent newspapers and magazines operating on a social enterprise and self-help model to reduce homelessness and unemployment. Street paper vendors buy copies of their local street paper and become micro entrepreneurs, selling their product on the streets. Street papers also provide vendors with access to social support and training.
Since INSP was established in 1994, almost 300,000 vendors around the world have changed their lives through selling street papers. INSP street papers are also an important independent media resource, with a combined global readership of over 5.8 million (per edition).
All profits from INSP events go towards supporting street papers.