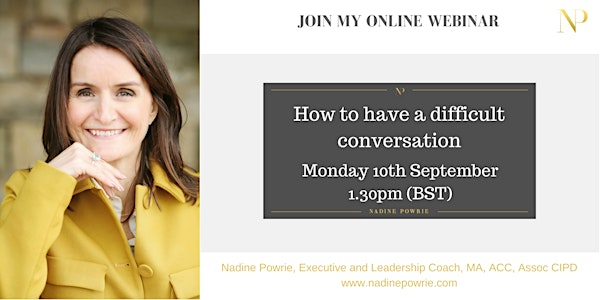 How to have a difficult conversation
Description
Are you a leader managing teams and planning to have a difficult conversation soon?
You know the 'why' you need to have that conversation but you are unsure about the 'how'. You want to avoid conflict and confrontation. You don't want to upset your colleague. You fear experiencing a mixture of pain, disappointment, shame, failure, becoming vulnerable yourself in your attempt to engage in a difficult discussion.
So if this is you and you want to learn how a well-planned conversation that is robust, strong and powerful can go a long way in improving engagement, attitude, and performance, you may like to know that I am running a free webinar in a few weeks that is just for you. The sign up link is in the comments.
Key takeaways
You will develop the skills to manage difficult conversations so that you can enhance your ability to lead change and enrich relationships with your teams.
On this webinar, I will be covering:
How you are making the difficult conversation even harder before you event start

Common mistakes almost everyone makes going into difficult conversations

How to transform your fear of difficult conversations into becoming a confident communicator
I will be using Zoom.
I very much look forward to seeing you there.
Nadine Powrie