Description
Shaun Dellenty, an award-winning education trainer who work to positively prevent LGBT+ and identity-based prejudice in the UK education system, will present a talk on his multi-award winning programme, Inclusion for All, and its aims to foster positive LGBT+ inclusion in UK schools from nursery upwards.
Inclusion for All is a programme of training and teaching strategies developed by Shaun that aims to foster positive LGBT+ inclusion in schools, homes and communities, and thus significantly reduce incidents of prejudice-related bullying and language.
Rooted in schools and training, Inclusion for All empowers schools to develop cognitive empathy from the outset, to represent the diversity of family life in the 21st century without assumption or judgement and to take great joy in celebrating heritage and diversity in authentic individuals and whole school communities from the very first day in nursery.
Shaun has also trained teachers on the Amnesty Teacher Programme for the past five years on positive LGBT+ inclusion and activism.
Please join us for this inspiring and enlightening talk on education and LGBT+ inclusion. The Human Rights Action Centre will be open for an hour after the event for further discussion and networking.
For queries, please contact Kieran Aldred at kieran.aldred@amnesty.org.uk
SPEAKER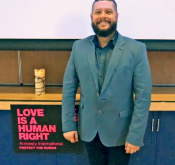 A highle experienced ex-school leader, Shaun Dellenty has trained teachers, parents, school governors, school leadership teams and non-teaching staff in hundreds of primary and secondary schools, including faith schools, around the UK. Shaun has also lectured at many initial teacher training faculties in the UK and abroad. He has advised the Government on education policy and his work has featured on television and in the national press.

Shaun was awarded the designation 'Point of Light' by Prime Minister David Cameron in 2016. He was awarded the 'Education Champion Award' at Excellence in Diversity Awards in 2016, and his work was recently officially recognised by the Three Faiths Forum.
Shaun Dellenty developed and piloted the programme Inclusion for All.
Twitter: @ShaunDellenty