Description
Game Changers, CENSIS and the National Physical Laboratory invite you to join us for the fourth and final challenge-led innovation event for 2017.
Innovation in Condition Monitoring and Inspection - Supporting Sellafield's Nuclear Decommissioning Mission will take place on Wednesday 6th December at the Technology & Innovation Centre, Glasgow G1 1RD.

_________________________________________________________
The challenge for our event will focus on the various cans, drums and mostly boxes (collectively known as 'packages') filled with various wastes and which are placed in secure stores above ground across the Sellafield site. Over the course of the next few decades, there could conceivably be more than 150,000 packages that will be sent to such stores.
The wastes could be dry, grouted (cement), water covered, heat generating, gas generating, vitrified or any combination of these, but in all cases, it is expected that some degree of corrosion of the packages will occur.
The stored waste packages could be in place for many decades and it is important that, during this period, we can confirm that the performance of the packages is as expected, demonstrating control. The behaviour of the waste itself is also of interest.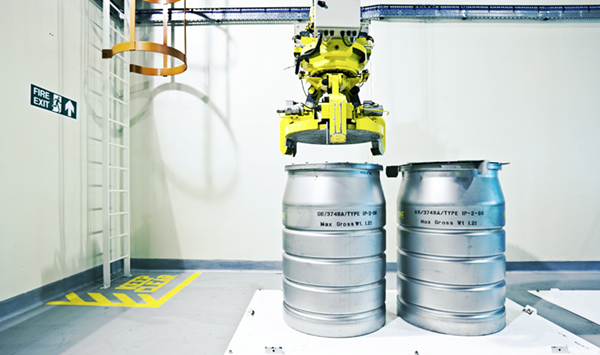 At present, the baseline position is to undertake monitoring by either:

Removing individual, suspect packages into a designated area where they are inspected manually. This is particularly time consuming and difficult.
Installing in-situ devices, the deployment of which is particularly difficult because of the complexity of the waste forms and the restrictive storage arrangements.
Introducing innovative thinking and technologies into this area of operations will, it is anticipated, bring significant benefits to Sellafield's decommissioning programme. Game Changers are looking for innovative technologies and instrumentation which could be considered, including developing 'smart' packages that monitor themselves, periodically taking devices/technologies to the packages or large area scanning e.g. hydrocarbon detection on oil refineries, atmospheric monitoring.
The benefits we are looking to achieve from any solutions include cost savings associated with over engineered packages, improved efficiencies through reduced complexity of deployment and, of course, reducing the need for human intervention where potentially hazardous materials are concerned.
A preliminary agenda for the event has been published, with keynote speaker confirmed as Sellafield Technical Lead (R&D) Steve Hepworth, with key personnel from Sellafield and National Nuclear Laboratory also making presentations.
_________________________________________________________