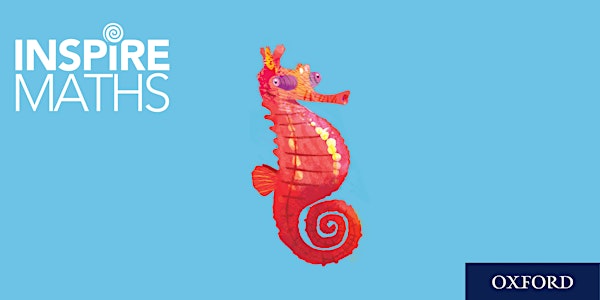 Introduction to Inspire Maths Digital Course Summer 2022 (Remote Training)
Refund policy
Contact the organiser to request a refund.
Eventbrite's fee is nonrefundable.
Delivered in 4 digital sessions by one of our expert Consultants, this training has been created to fit around you and your school schedule.
About this event
Inspire Maths Professional Development
Introduction to Inspire Maths
Already using Inspire Maths?
Are you a new teacher at a school that uses Inspire Maths? Could you benefit from having a refresher? If yes, then this digital course is perfect for you.
Session Aims - We will investigate and become more familiar with
The Singapore approach to teaching and learning mathematics
Teaching for mastery
The learning theories underpinning Inspire Maths
The four rules and multiplicative and additive reasoning
Fluency and mastery
The Inspire Maths teaching sequence
Using Inspire maths online support for teaching and planning
Bar modelling and problem solving
Planning for next steps
Who should attend?
New members of staff as an introduction; existing staff as a refresher; and Maths Leaders considering how the Singapore approach can support teaching to mastery.
Session Breakdown, Dates and Times
Please note that this cost is for a course delivered digitally over 4 sessions, delegates must attend all 4 sessions to complete the course.
In these sessions we will investigate the CPA approach, consider how we can ensure that children develop critical thinking skills, and how we can create confident learners and problem solvers who are able to use reasoning skills, make connections and have deep conceptual understanding.
By looking at the Inspire Maths programme, teaching sequence and online materials, you will understand how it will support your lesson planning and how to apply this approach in the classroom. During the course there will be intersessional tasks for you to complete which will develop your understanding of the Inspire Maths approach.
Session 1 - Monday 13th June - 12.30-3.00
Session 2 - Monday 20th June - 12.30-3.00
Session 3 - Monday 27th June - 12.30-3.00
Session 4 - Monday 4th July - 12.30-3.00
*Please note: All times are BST/GMT
Registration
Once you have booked your ticket all delegates will receive a link to the digital sessions via Microsoft Teams. The link will be sent the day before the date of each session so please keep an eye on your inboxes and check your junk folders. You will also receive a breakdown of the content in each session, as well as a list of resources or materials that you will need.
Cancellation Policy
Cancellation can be made up to 5 working days before the event by contacting us directly at globalpd@oup.com
For enquiries, email globalpd@oup.com.
For more  information about Inspire Maths, please visit www.oxfordprimary.co.uk/inspiremaths.
Privacy Policy
Our Privacy Policy sets out how Oxford University Press handles your personal information, and your rights to object to your personal information being used for marketing to you or being processed as part of our business activities.
Please note that these sessions will not be recorded by OUP and that delegates will not have permission to record the sessions.
Please note that for safeguarding reasons, we will pass on your name, email address and your school to the event host and consultant only. No other personal information will be shared.
Delegates will receive a confirmation email before the training and a follow up email will be sent after all the sessions have been completed.