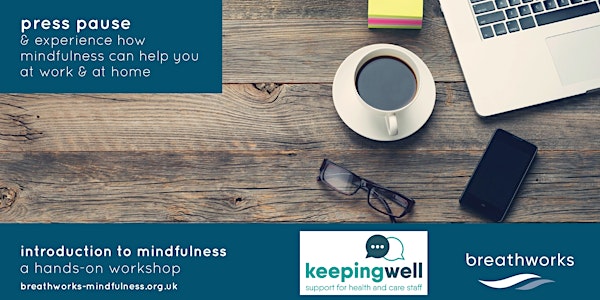 Introduction to Mindfulness with Breathworks and Keeping Well BLMK
Breathworks and Keeping Well BLMK will host two Introduction to Mindfulness sessions, for free and hosted online for health professionals.
About this event
Please note this event is now sold out. We will be running further sessions, dates to be confirmed. If you are interested please get in touch at keepingwell.blmk@nhs.net
Breathworks and Keeping Well BLMK are excited to offer two free one-hour mindfulness sessions for health professionals, key workers and local authority staff across Bedfordshire, Luton and Milton Keynes (BLMK) area.
What is Mindfulness?
You'll learn techniques, including a simple breathing practice, that you can start using straight away – at work, at home, whenever the going gets tough – to make life feel better.
The 60-minute sessions will introduce mindful approaches to everyday work challenges, such as:
how mindful awareness practice can reduce tension and stress
how to strengthen mental focus, supporting capacity for calm and clarity when under pressure in the current working environment
how to dissociate from unhelpful patterns of thought and rumination by "coming to our senses", especially dealing with Covid-19
how to practise the short breathing space meditation and how to apply it whilst hybrid working from home and/or the office
About Breathworks
Breathworks provides training for employee mental wellbeing, resilience, and stress management. They have trained experienced facilitators who will run the Introduction to Mindfulness course.
About Keeping Well BLMK
The Keeping Well BLMK service provide wellbeing and psychological support to key workers including NHS staff, staff providing care to others in the community and in residential homes and voluntary sector organisations in the Bedfordshire, Luton and Milton Keynes area. This also includes teachers plus those working in emergency services (police, ambulance service, fire brigade).
The two course dates are exclusively open to above professions across Bedfordshire, Luton and Milton Keynes. If you have any questions please get in touch at keepingwell.blmk@nhs.net
"The session was very informative and it was really nice to just close my email and practice mindfulness in the middle of the work day."