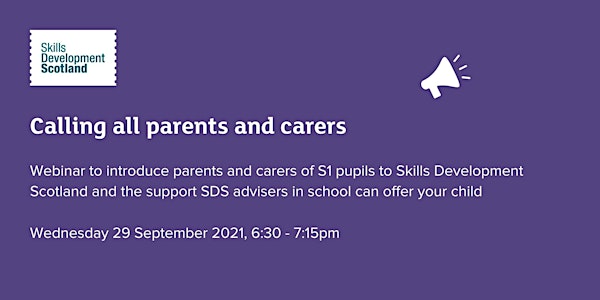 Introduction to Skills Development Scotland for parents/carers of S1 pupils
Join our Careers Advisers and find out about Skills Development Scotland, Scotland's national careers service.
About this event
Join our Careers Advisers Lesley McKay and Gordon Armstrong for our virtual session on Wednesday 29th September at 6.30pm to:
• find out more about the support available for you and your child
• hear about information to assist with career planning and career discussions
• take part in a question and answer session
In order to access this session, you will require to have downloaded the Microsoft Teams app on your device - we would advise that if you are using a mobile or tablet, you download this prior to the session.
We ask for some limited additional information so that we can help to ensure our services work for all people.
Privacy Statement: We would like to contact you after this webinar to share an information sheet and a session evaluation link. We will not contact you for any other purposes. If you'd like to find out more about how we use your information, please see www.sds.co.uk/privacy