Description
JOIN THE JD CHALLENGE
Can you add to the points to help your programme be crowned JD Challenge Champions?
This new event is for all students based in the Faculty of Science and Engineering and is your opportunity to compete as part of your course programme against other teams to win the highly coveted trophy and prize.
So, round up your course mates and compete in a variety of challenges, including:
- Team Building Activities
- Relays
- Riddles
- Sitting Volleyball
The fourth and final event of the year is being held on Monday 18th March based in John Dalton (The Street & C0.14).
The current leader board standings are: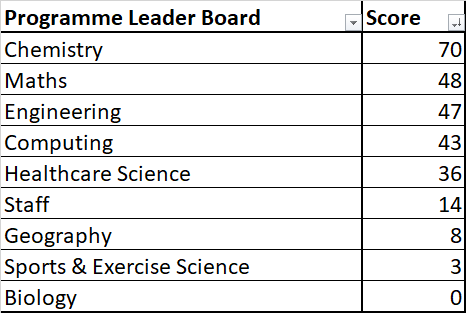 Sign up, register for your free ticket below with your details, including your course name and we'll match you to your programme team.
There will be free pizza, refreshments and activities from 16:00 onwards for everyone to get involved with before and during the event.