Description
Jewellery Making in Metal, Evening Classes - dot-art at the Bluecoat
Tuesdays 6.45pm-9pm starting 13th October 2015 (£170 for 10 sessions).
Learn the basic techniques of jewellery making in metal and make your own stunning creations! Includes how to use a jewellers piercing saw, drilling, filing and polishing metal correctly and how to create colour, texture and patinas on metal.
All materials and tools will be provided.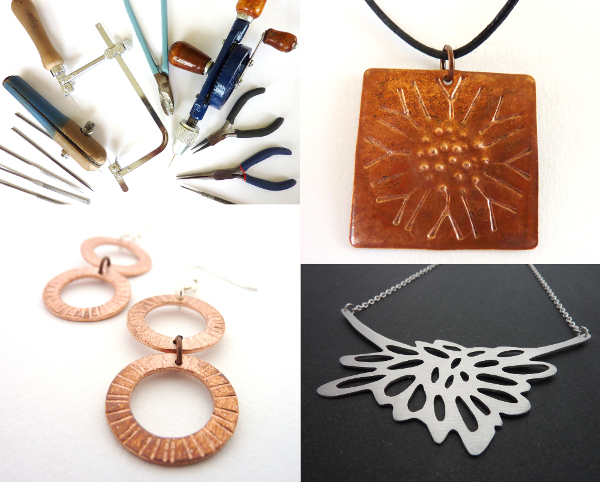 Program:
Week 1. Basic Sawing and Drilling
Learn how to install a saw blade into a piercing saw frame.

Learn about the different blades and which to use for different materials.

Practice the correct grip of the saw and learn how to cut metal using a jewellers piercing saw.

Learn how to use a drill and it's uses in cutting shapes in metal.
Week 2. Fretwork Piercing, Filing and sanding
Create a design to cut out of metal, using the techniques practiced in week 1.

Incorporate sawing curves and straight lines in the design.

Introduction to files and their correct uses.

Learn about the different grades of wet and dry sandpaper to sand and polish metal.
Week 3. Coin Pendant
Use the sawing, drilling, filing and polishing techniques to create a pendant from an old coin.
Week 4. Texturing and Hammering
Experiment with creating textures in metal using centre punches and hammers.

Use the surrounding environment to find and create textures on the surface of sheet metal.
Week 5. Colour and Pattern
Create patterns or personalisation by using letter stamps and punches onto sheet metal.

Enhance the pattern by creating patinas (colours) onto copper using a flame.

Use of pencils, paints and varnishes to colour metal.
Week 6. Tabs – Trapping Objects
Create a pendant by cutting 'tabs' into the sheet metal in order to 'trap' objects to create a pendant.
Week 7. Findings
Learn the correct use of different jewellery findings.

Using the samples created in the previous weeks to create pieces of jewellery with the different findings available.
Week 8. Design Your Own Jewellery
Design a piece of jewellery to create.

Taking inspiration from all the techniques learnt from the previous weeks.

Learn how to transfer the design onto your chosen metal.

Practice and experiment the techniques that are going to be used in the final jewellery design.
Week 9 & 10. Create and complete final jewellery design.
Trainer: Helen Leigh Dolan
"I am an artist jeweller with a degree in Design. I run my own business, creating hand-made modern, minimalist pieces.
All of my work is individually made using traditional techniques in my home studio. I mainly work in silver, copper and aluminium, allowing the hand of the maker to be seen in each piece. My jewellery can be found in a number of shops and galleries around Liverpool.
I have always loved art, craft and creativity and from a young age I was never without a sketchbook in my hand. This love of creating led to my gaining a degree in design at Liverpool Hope University. Here
I experienced a number of craft disciplines; textiles, ceramics, woodwork, but specialised in silversmithing and metalwork with which I completely fell in love!"
Autumn Session 2015, Tuesday evenings from 6.45-9pm
13th, 20th, 27th October,
3rd, 10th, 17th, 24th November,
1st, 8th, 15th December.
The Bluecoat, School Lane, Liverpool, L1 3BX
Situated in the centre of Liverpool, just behind Church Street, down Church Alley and in front of Liverpool ONE. You can enter the building via the front courtyard off School Lane, or through the garden at the back off College Lane. Nearest train station- Liverpool Central.
Cost:
£170 for the 10 week course (full course must be booked in advance)
It is possible to split this cost into two payments of £85, please call 0845 017 6660 for more details.
Notes:
There

are a maximum of

15 places available on the course

, so early booking is essential.

To avoid a booking fee and pay by card, cheque or cash, please contact dot-art Services directly on 0845 017 6660.

Cancellations / Refunds:
Once you have made your course booking your are committed to it. This is because our courses have very small student numbers, and often sell-out and are unavailable to others. Therefore any cancellations may result in a place not being filled, or a course not being able to run.
Cancellations are permitted up to six weeks before the start of a course, and a full refund will be issued. Refunds will not be made for cancellations less than six weeks before the start of a course. If you are unable to attend due to illness, personal or professional commitments you do not have the right to a refund.
If you wish to cancel your place on a course that has not yet started and you have a friend or colleague who can take your place we can accommodate this substitution.

dot-art and the Bluecoat may use your details to contact you about forthcoming events, classes or developments that may be of interest. For full details of the the Bluecoat's privacy policy, please follow this link.
Organizer of Jewellery Making in Metal, Evening Course - dot-art at the Bluecoat
dot-art supports visual artists and champions art as an integral part of everyday life

We do this by selling locally sourced, affordable art, working with businesses to put art in the workplace and public realm, running art classes and working with schools and community groups.
All this is underpinned by our unique membership scheme for artists in the North West which gives access to all the activities above and a package of support and advice, creating and developing artists' careers.
dot-art was founded in Liverpool in 2006 and specialises in affordable, high quality, locally sourced art. We work with over 100 artists to provide an unrivaled choice of original art and limited edition prints for home or business, as well as offering a range of complementary services including; commissions, art rental, art consultancy, exhibition planning and implementation, bespoke framing, art valuation and restoration and artist sourcing.
All our work supports our not-for profit arm, dot-art Services CIC, which exists to support North-West based visual artists, both emerging and established, through a range of services and opportunities designed to help them develop their careers and gain exposure and promotion for their work, as well as delivering a programme of art classes across Liverpool and dot-art Schools, our innovative inter school art competition, launched in 2012.