John Stow's Legacy - a LAMAS special lecture by Vanessa Harding, Professor of London History at Birkbeck, University of London
About this event
John Stow's Legacy
Vanessa Harding, Professor of London History at Birkbeck
John Stow's Survey of London, has been reprinted, revised, and expanded many times since its first publication in 1598, but Stow's impact on the writing of history is much wider than the Survey alone. His 'legacy' can be considered in two ways: the materials he collected and preserved for posterity, and the influence of his own writings on successors in the field. What happened to Stow's books and papers after he died in 1605? Who followed him in his endeavours? This talk will introduce Richard Smyth (1590-1675), city law officer, book collector, and independent scholar, who acquired some books once belonging to Stow, and made his own contribution to the history of London through his collection of manuscripts and information used by later writers, notably John Strype for his massively expanded edition of Stow's Survey of London published in 1720.
About the Speaker
Professor Vanessa Harding is based at the Department of History, Classics and Archaeology at Birkbeck, University of London. Her main areas of research lie in medieval and early modern London, particularly in the interaction of social life and physical environment.
About John Stow and the Changing the Quill Ceremony
John Stow was an English historian and antiquarian. He was born in 1525 when Henry VIII was on the throne of England and also lived through the reigns of Edward VI, Elizabeth I and part of James I. He came from a line of tailors, and was apprenticed as a Merchant Taylor being admitted to the Company in 1547.
He spent almost his entire life and all of his money delving into the history of the City of London. The work for which John Stow is best known is his "A Survay of London", first published in 1598, not only interesting for its quaint simplicity of style but also for its amusing descriptions and anecdotes including minute account of the buildings, social conditions and customs of London in the time of Elizabeth I.
The Merchant Taylors Company and the London and Middlesex Archaeological Society celebrate the life of John Stow every three years at the church of St Andrew Undershaft where John Stow is buried and where the monument erected by his widow, a terracotta figure of him, still remains. The quill pen held in the hand of the monument is replaced at the Service by the Lord Mayor or the Alderman of Aldgate Ward who take it in turns with the Master Merchant Taylor to replace the quill or give the Reading at the Service.
The Stow Memorial Service, which was due to take place at St Andrew's Undershaft in April 2020 was cancelled due to Covid-19. Due to the ongoing situation, the next ceremony in the church will be held in 2023 .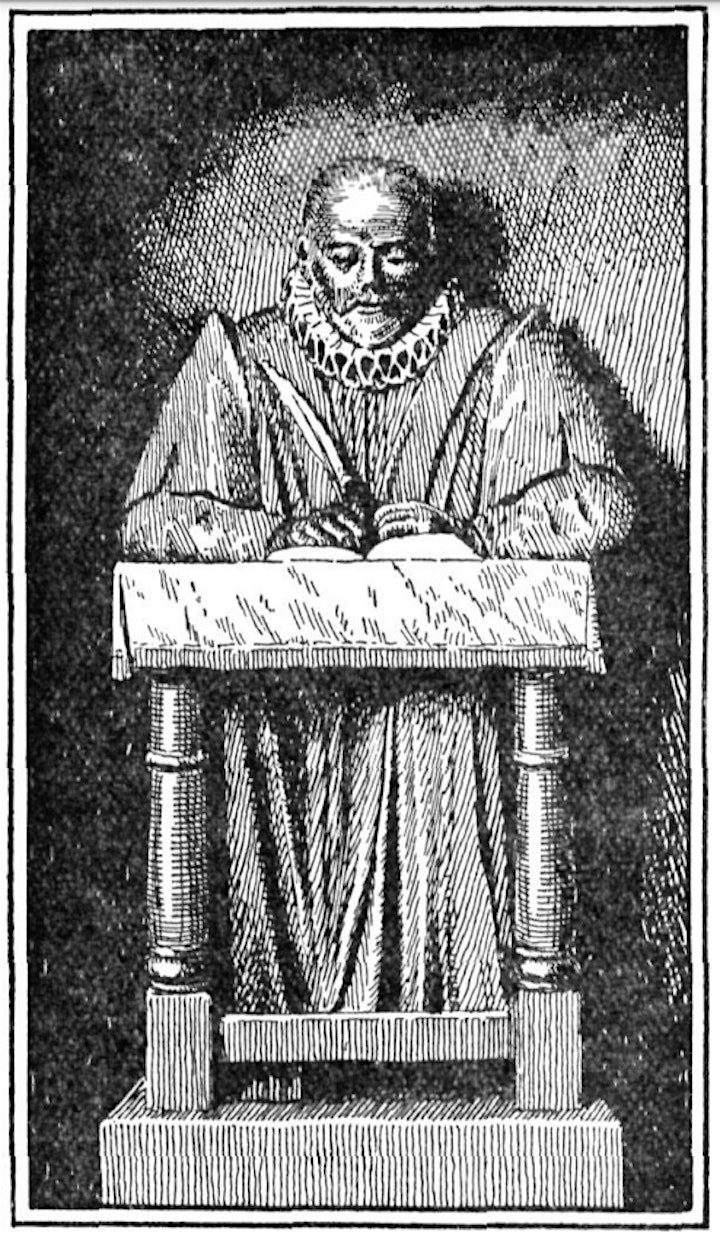 To join LAMAS and for information about future lectures visit our website