Description
Sheffield City Council's decision to remove half of the city's 35,000 trees has been met with shock and anger. The response by thousands of local people has shown just how much Sheffield's trees are valued and loved.
How can we ensure decision makers appreciate the importance of trees - especially ancient trees - for the well-being of communities, wildlife and the environment in urban landscapes?
How can local communities be consulted and supported to plant and care for trees?
PROGRAMME
13:45 Arrival & Registration

14.00 Welcome & Introduction

14.15 Speakers & Discussion

16:00 Social and drinks
17:00 Ends
International Tree Foundation's Annual Event will bring together experts and activists from a range of civil society groups to discuss the varied relationships between people and trees in the urban environment.
---
Speakers confirmed to date
Dr Nicola Dempsey, University of Sheffield: Nicola is in the Department of Landscape and her research interests relate to understanding the complex relationship between landscape and humans, focussing on sustainable landscape planning and management and its impact on quality of life and wellbeing. Her current research project is on place-keeping, which she defines as 'long-term and flexible management of green and open spaces to ensure they can be enjoyed by all users now and in the future'.
Ted Green MBE, Ancient Tree Forum: Ted is a regular broadcaster, writer and speaker at international conferences on ancient trees and fungi. He is a founder member and President of the Ancient Tree Forum and Honorary Vice President of International Tree Foundation.
Fran Halsall, Sheffield Tree Action Groups (STAG): Fran is a founder member of the Sheffield Woodland Connections project. She is a vocal advocate for urban trees and works for Sheffield Tree Action Group in communications and outreach, as well as editing the Save Sheffield Trees website.
Alison Teal, Sheffield Green Party: Alison is a Green Party Councillor on Sheffield City Council. Alison has been an active member of Save Nether Edge Trees since 2015. She has faced arrest and legal action for her attempts to protect healthy trees from felling.
Sue Pitt, Fruit-full Communities, ITF: Based in Sheffield, Sue has responsibility for delivering ITF's contribution to the Fruit-full Communities Project which is now in its third year. Sue is particularly interested in how planting and growing can promote confidence, health and wellbeing as well as providing economically and environmentally sustainable futures for communities.

Annette Taberner, Street Tree Art Sheffield (STARTS): What began as a few friends meeting on a street corner to paint a picture of a much loved, threatened street tree has blossomed into a project which has attracted hundreds of people and encouraged them to spend time appreciating trees, creating art work, making friends and raising awareness of the importance of our green environment to health and wellbeing.
Ian Dalton, Tree Officer, Bromley Borough Council: Ian works as a Tree Officer for a local authority in London. He became interested in the STAG campaign through their Facebook group and set about providing tree related advice to the campaigners. He has visited Sheffield several times in the hope of discovering the justifications for removing thousands of healthy trees and has so far been unable to find any reasons that stand up to scrutiny.
---
DIRECTIONS TO THE EVENT

The venue is the Dining Room of Freeman College, Sterling Works, 88 Arundel Street, Sheffield S1 2NG. Please enter through Fusion Café where you will be met and directed to the Dining Room.
If travelling by rail:
Leave from the main entrance of Sheffield Railway Station (not where the trams run at the back of the station) and walk up past the water feature to the main road. Cross over and head straight up the hill along Howard Street, which is pedestrianised. Turn left onto Arundel Street at the Globe Inn. Fusion café is on the right hand side, about 150m along Arundel Street.
If travelling by car:
There is a multi-story car park at the station which is easy to find if you are unfamiliar with the city by following signs to the station. On leaving the car park, walk along to the front of the station and then follow the directions above. Other cheaper car parks near the venue include Matilda Street and Sidney Street carparks which can be found here https://www.sheffield.gov.uk/home/parking/car-parks.

For further information please contact ITF info@internationaltreefoundation.org
This is a free event. Places are limited, so please book your ticket early to avoid disappointment.
Organiser of "Justified and Ancient" The Value of Trees in Cities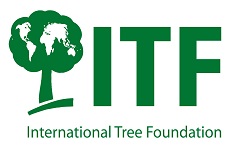 International Tree Foundation plants trees, protects and regenerates forests, combats desertification and promotes sustainable forestry. We:
conserve forests, trees, associated biodiversity and indigenous forestry knowledge internationally and in the UK
alleviate poverty through sustainable community forestry and African drylands 'regreening' projects
ITF's projects involve planting trees that provide food and income as well as improved soil and water quality for communities; our sustainable approach to community forestry simultaneously addresses poverty and environmental issues such as habitat restoration. There are often also fundamental rights issues involved in our projects such as access to ancestral land.
In the UK we focus on tree planting where there is an environmental need, and working with young people who can benefit from working with trees, often in partnership with schools.
History of ITF
ITF was founded in 1924 by Dr Richard St Barbe Baker, or "St Barbe" as he was known – a visionary and tree planter.  His environmental knowledge, passion and activism made him a vital force for tree planting and conservation.
He was generations ahead of his time in terms of environmental activism and as a campaigner he achieved much, not just to save trees, but to instil in others the love for trees that he carried wherever he went.
International Tree Foundation is a UK registered non-governmental organisation (NGO), it is one of the oldest established forestry organisations in the UK, having originally been set up in 1924. Our Patron is His Royal Highness the Prince of Wales.