This challenge is designed to help you create a simple strategy for your social media so that you can make more sales more quickly
About this Event
Are you getting the results you want from your social media? No? Then read on...
To make more sales from social media without having to pay for ads you need a few things to happen first
You need to grow your audience so that you have more people to market to
You need to know exactly who you are marketing to so that you can create content that speaks directly to them
You need to have great reach from your posts so that enough people get to know what you do and sell
You need to get more people checking out your profiles and bios so that you can answer their questions and overcome their objections BEFORE they even speak to you
You need to put a strategy together so that you are consistent with your posting, messaging and brand
Okay, that sounds like a lot - a real lot. But it's okay, I've got you covered and you'll do all that in 5 simple steps over the course of my challenge.
I give you 1 task per day to focus on and you get a whole 24 hours to complete it (although it should take you no longer than 30 minutes)
I go live twice a day 12 Noon to give you further training and support on the day's task as well as answer any questions you may have, and again at 7pm to answer more general questions around social media.
There are bonus tasks each day for those who want more and there are prizes for those who achieve certain things throughout the week (I tell you all about that in the welcome livestream on the Saturday before the challenge starts.
The challenge takes place in my private Facebook group and you will be asked to request to join it once you have registered your place on the challenge. Please click here, or the link below to register.
These challenges only take place 4 times a year Jan/Apr/Jul/Oct and once your register you will be invited to take part in the next one - you'll get emails from me explaining everything and I will remind you just before we start so you won't forget or miss it.
I've been running these challenges now for 2 years or so and hundreds of people have already improved the results they get from social media and you can too.
I've included some testimonials below because, well you know, social proof and all...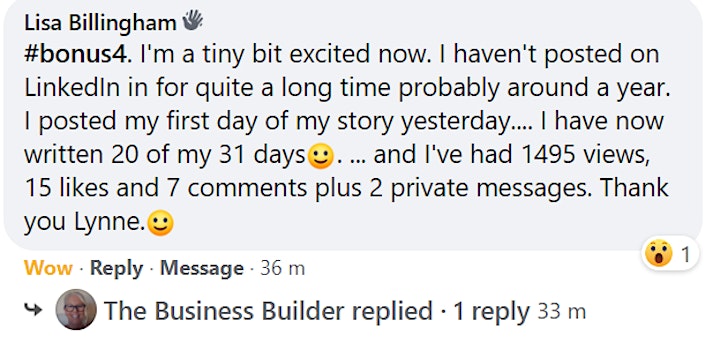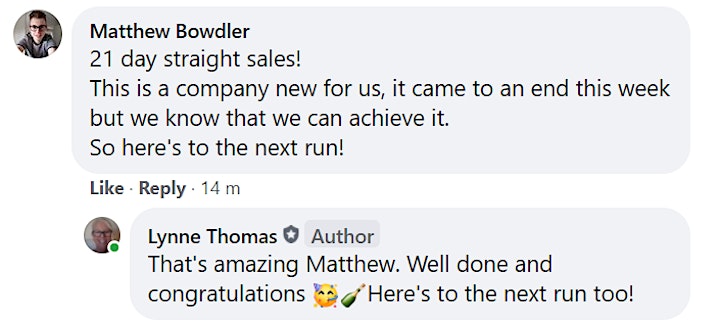 So, what are you waiting for? Click the link and get signed up IT'S TOTALLY FREE!!!