Location
The Canvas Cafe
42 Hanbury Street
London
E1 5JL
United Kingdom
Description



Join us to celebrate World Laughter Day of Happiness in The Canvas Cafe, London's first Happy Cafe!
Choose any playshops you wish! Take your pick from whatever you fancy…
There's Laughter Yoga, Happy Meditation, fun group Rapping, Games, Values Embodiment, a talk on the Neuroscience of Laughter and fun with Ukulele...the list goes on!
When you arrive, you'll be greeted with a smile from one of our friendly volunteers. Make your way through the back of the cafe in a new room which is in the garden, a few minutes before your playshop starts to ensure you get your place.
Some playshops are calming and relaxing, cultivating a sense of contentment. Others are energetic, playful and uplifting.
Lots to choose from on a jam-packed Funday Sunday!
Don't worry if you find it daunting, or don't enjoy the experience - if you decide it's not for you, you're welcome to leave at any point. So no harm in giving it a try!
Timetable
11am - Happy Meditation with Shamash Alidina, Author of Mindfulness for Dummies - that's me!
12 noon - Exploring Values through Embodiment with Chi Phan, Professional Co-Active Coach

1pm - Together we Shine Laughter Yoga with Melanie Bloch - She's the one who had the idea for this event!
2pm - Stand up Comedy with a few comedians curated by Martin Willis
3pm - Neuroscience of Laughter by Gabija Toleikyte - she's awesome and we're very lucky to have her
4pm - Games playshop organised by our very good friends at Antidote
5pm - Have a go at doing some Playful Rapping (vocal, not present wrapping!)
6pm - Yukulele Playshop with Power of Uke
Tickets

We have 'gift' and 'pay it forward' tickets. Both types of tickets enable you to attend. So pay whatever feels good to you, and come along! :)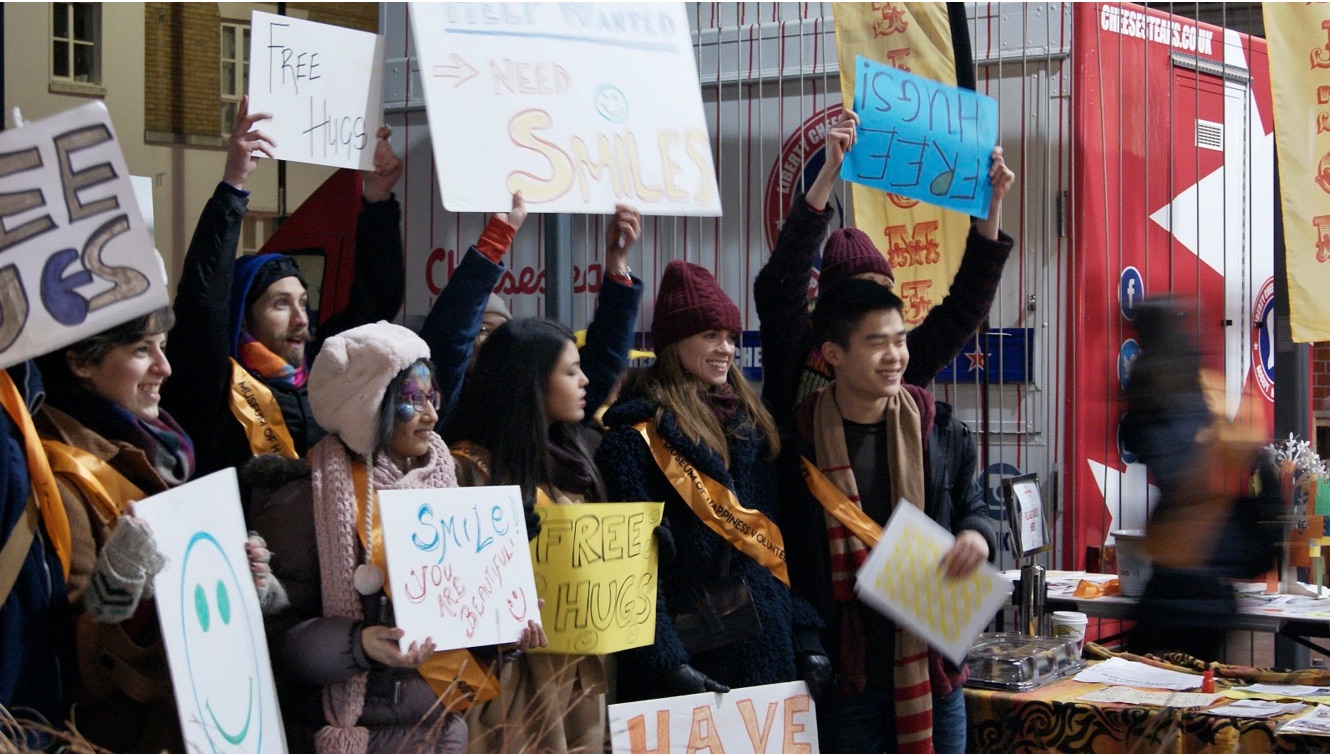 What if I can't make it? Can I join in online, live?
Yes! Follow us on Twitter and Periscope, and we shall attempt to broadcast at 15 minutes past every hour during the day for 3 minutes.
What can I do between Playshops?
The cafe will be running as normal. So please consider purchasing a meal or drink in The Canvas Cafe and support Ruth and her team.
The Canvas Cafe is a non-profit organisation just like us, that supports events in emotional health and well being, and depends upon your support to keep sharing the love.
Please remember not to bring in any outside food or drink. Thank you kindly! :)
FAQ
I'm a bit shy or on my own…should I still come?
Yes, why not? You can come in for just one workshop - whichever one that sounds nice to you. Get it quick before it sells out! And then maybe have a coffee, do a bit of colouring in and be on your way! Or who know, maybe you might getting chatting to someone and make a new friend. If you don't try, you'll never know. So have a go…and if you're really nervous, come and talk to Shamash/Vicky/Kieran who run Museum of Happiness or Ruth the cafe owner - they are really nice and friendly...that's us! :)
How do you manage to run these events for free or just donations?
Whether you register a gift ticket or pay-it-forward ticket, YOU can come. Tickets are tickets to attend!
Through the sheer kindness of the teachers, volunteers and venue owners and anonymous donations from people like you! This is a gift from us all to you. We have all donated our time and money and experience to bring this event to you. If you're moved to do so, consider donating to us and/or making a purchase at the cafe. Thanks so much for considering to come along! If the experience lifts your spirit and helps you to share that with others, we're honored to have played our part in that process.
We will be giving any profit from ticket sales to the venue owner to help her cover the running costs and repay her generosity. :-)
What is the Museum of Happiness?
You can find out more about The Museum of Happiness here.
What's the hashtags for the event?
#worldlaughterday and #MoHLondon or #MuseumofHappiness
What's the small print, dude?
We will only be releasing 30 tickets for each workshop on a first-come, first-served basis. Playshops are subject to some change and adjustment. Check the listing for the latest updates. Activities are for fun, if you have any medical conditions, check with your doctor first. We will be taking photos and videos and sharing them - by attending the event you are giving us permission for this. Tickets are refundable if you want your donation back, but only if you do it through following the instructions via Eventbrite and PayPal systems as we find the whole thing quite confusing. Did you know that people who read small print are super cool? :)