LETTERS FROM BAGHDAD (with Directors Q&A)

Tuesday, April 18, 2017 at 7:00 PM (BST)
Event Details
SPECIAL SCREENING INTRODUCED BY THE DIRECTORS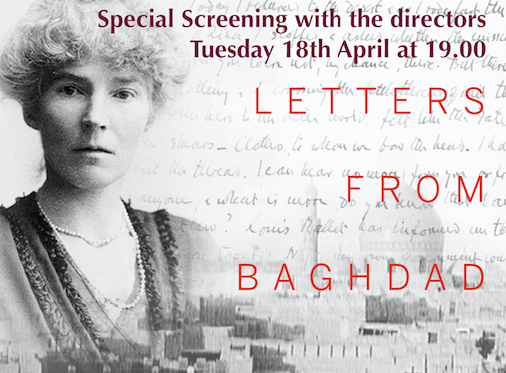 LETTERS FROM BAGHDAD

Dir.: ZEVA OELBAUM and SABINE KRAYENBÜHL

The interviews featuring in this film have been staged and filmed at Sands Films: We are very proud and happy to welcome the filmmakers for this special preview ahead of the theatrical release of the film on Friday 21st.
Letters from Baghdad tells the extraordinary and dramatic story of Gertrude Bell, the most powerful woman in the British Empire in her day. She shaped the modern Middle East after World War I in ways that still reverberate today. More influential than her friend and colleague Lawrence of Arabia, Bell helped draw the borders of Iraq and established the Iraq Museum. Why has she been written out of history?
SABINE KRAYENBÜHL  Sabine Krayenbühl is an award winning editor with over 20 theatrical documentaries and narrative features to her credit, many of which have premiered at prestigious festivals around the world. Her work includes Oscar and Independent Spirit Award nominated My Architect for which she received an American Cinema Editors (ACE) Eddie Award nomination. Other credits include Mad Hot Ballroom, one of the top twenty highest grossing documentaries, The Bridge produced by IFC, Picasso and Braque go to the Movies, produced by Martin Scorsese, Virgin Tales, Ahead of Time, Jennifer Fox's Emmy nominated My Reincarnation, Salinger on which she consulted and most recently Eric Steel's Kiss the Water, co-produced by BBC Films. Krayenbühl has a BFA from NYU's Tisch School of the Arts and is a long-term member of New York Women in Film and Television. 
ZEVA OELBAUM  Zeva Oelbaum is an award winning producer and photographer. She recently produced Ahead of Time, a feature documentary about centenarian journalist Ruth Gruber which premiered at the Toronto International Film Festival before garnering six Best Documentary awards. The film opened theatrically across the U.S. and was broadcast on Showtime Channel. Oelbaum was also executive producer of the feature documentary, Rene and I. She comes to film from a career as a still photographer and her work has been extensively published in periodicals such as The New York Times Magazine. Her photographs are in international public collections including the Bibliothèque nationale de France and The Brooklyn Museum and two monographs of her work have been published by Rizzoli Int'l Publishers. She is a magna cum laude graduate of Brandeis University with a degree in anthropology, and a member of the Producer's Guild.
The films will be introduced by the directors:
and they will stay for a Q&A after the screening
This is a special event arranged by Verve Pictures. 
Please do not eat in the cinema
 .
Please DO NOT book a seat if you are not sure of your availability! Seats are limited and each booking reduces the number of seats available to others. If you cannot attend, please cancel your reservation as soon as possible by going to "MY TICKETS" on the email from Eventbrite: this will release your seat to someone else.

If the film is SOLD OUT, there will be an automated waiting list, which will contact you if/when a seat becomes available.

Upon leaving the cinema, please make a donation towards our running costs and support your club.  Thank you!

When & Where

Sands Films Cinema
82 Saint Marychurch Street
SE16 4HZ London
United Kingdom


Tuesday, April 18, 2017 at 7:00 PM (BST)
Add to my calendar
Organizer
Sands Films is a busy film studio and production facility set up in an 18C warehouse
in Rotherhithe since 1975.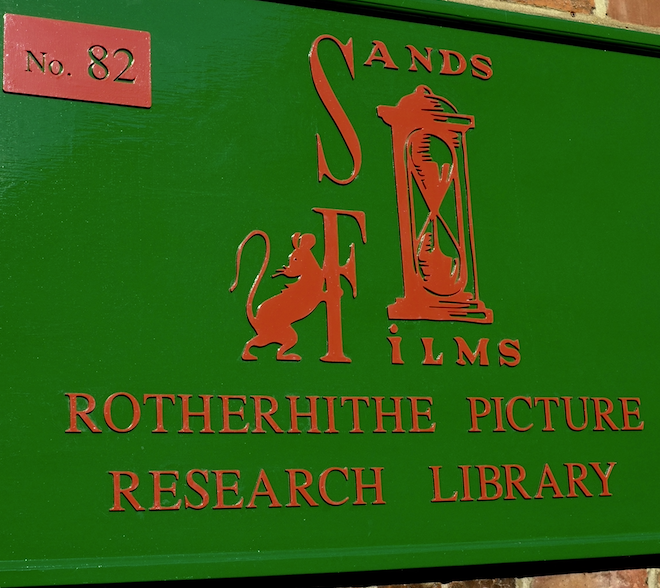 In 2005 Sands Films started a Cinema Club in its screening room.
The popularity of these weekly sceenings has triggered more screenings and events open to the public.
All bookable events or screenings are listed here:
CINEMA CLUB
ANGLO-RUSSIAN CULTURE CLUB
LIVE STAGE STAGE PRODUCTIONS
CONCERTS
Most screenings are free but donations are welcome: the loo paper, the business rates and the power all still have to be paid!
Live events have a charge to pay performers.
To join the weekly mailing list:  http://eepurl.com/h8aTE
Private and corporate events can also be booked.
LETTERS FROM BAGHDAD (with Directors Q&A)