Description
Join NatWest Business Growth Enablers for LGBT Inclusion in Business.
Inclusion (noun)
the action or state of including or of being included within a group or structure.
As a business owner join us to discuss how you can create an inclusive cuture within your organisation and what it means to be truly inclusive.
---


Speakers
Marc Reace-Coles Inclusion Manager, LGBT lead (RBS)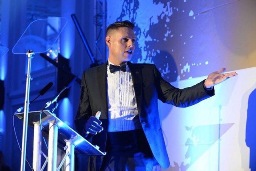 Marc has worked for RBS, in total, for 14 years. Most of his financial services career, has been in retail banking. Marc moved into the inclusion team three years ago.
Marc leads on the LGBT agenda for the bank and as a gay man he is proud of the progress the bank has been making over a number of years on the LGBT+ agenda.
Marc's main focus is for the bank to be truly LGBT innovative for both customer and colleague, driving change in processes, education and support for both LGBT and non-LGBT people.
Already in 2017, RBS have removed the need to ask for a customer's gender on the online banking registration form, removed the need for the customer to supply evidence when updating their gender on bank records, improving the processes to support colleagues who gender transition. RBS has also achieved their best ever ranking, of 13th, in the 2017 Stonewall Workplace Equality Index and continued to be ranked as a Top Global employer in the Stonewall Global Workplace Index.
Externally Marc is an ambassador for the Transgender and non-binary charity, Trans*formation, that supports organisations to be more trans inclusive. Marc is also a role model for the charity, Diversity Role Models, that tackles homophobic, biphobic and transphobic behaviour in schools.
Joanne Lockwood Founder (See Change Happen)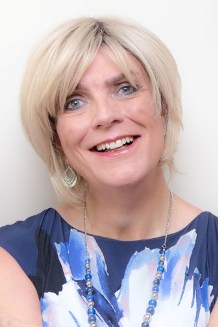 Joanne is the First Openly Transgender Past National President of the 90 year old "Men's Club", The Round Table.
She joined the Royal Air Force straight from school as an electronics apprentice before moving back in to Civilian life and developing her own self-taught career in computer networking. Joanne worked for a well known International Private Bank and traveled the world deploying computer systems to some pretty far out and exotic places.
As her young family started to grow up, she decided it was important to spend more time with them and set up her first IT Support business in Hampshire in the late 90s.
Throughout a number of business iterations, she worked on a number of high profile projects including two Cable TV startups and deployment of systems to call centers around the UK for a large Insurance Company. At the peak, Joanne's business turned over £3m and employed 25 staff.
Joanne spent 18 years as a Round Tabler, involved with the community and various fund raising activities, this culminated in her becoming the National President in 2008. This role involved meeting with Members and Clubs throughout the UK and Worldwide, supporting and promoting the organisation. It gave Joanne the opportunity talk at After Dinner and Keynote Speaking events and fundraisers.
Joanne speaks openly about the challenges she has overcome during her life and recent journey whilst maintaining her 30 year marriage, family relationships, and close friends.
Having spent the majority of her adult life significantly overweight, she also uncovers the strategies she used to loose and sustain a drop of third of her body weight, and how she managed to complete the Portsmouth Great South Run in 2008 and in 2016, 8 years apart and 8 stone lighter.
She is a Trustee and NED of three high profile charities, and is focusing her energy to inspire others to escape from the cage that is holding them back, to learn how to smile, to overcome their own impostor syndrome and to tackle their fears.
Joanne has an authentic and engaging personality, a breadth of life experiences and is passionate about promoting equality, diversity and inclusion. Her talks are about her own experiences in life and business, and how she has overcome the prejudices she has faced. She explores her own mental chains and fears that once held her back from becoming the person she is today.
She has inspired many others with her journey, her reinvention and her recent weight loss, using the mantra "Smile, Engage and Educate" – with some of her unique perspectives, insights and strategies you will learn how to achieve your own goals, escape your cage and make the difference to your own life that you wish to achieve.
In 2017 she founded SEE Change Happen, a ED&I Practice focusing on LGBT+ and more specifically Transgender support to organisations and business.
She is an avid blogger and works tirelessly to support others, especially in the transgender community.
You will even learn how to smile!
Panellists
Jacquelyn Guderley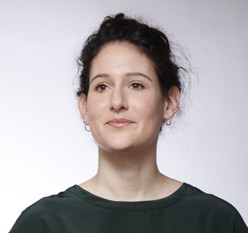 Jacquelyn is a gender equality advocate and social entrepreneur, and listed as one of the UK's most influential Women in Tech in 2017 by Computer Weekly and one of the top 50 champions of women in business 2017 by the Financial Times & HERoes. She began her career as a management consultant in the technology sector, at Accenture, where she played a key role in company-wide gender initiatives, including piloting and launching Accenture's Girls in Tech programme. She went on to become co-founder of Stemettes, an award-winning social enterprise that inspires girls and young women to pursue careers in Science, Technology, Engineering & Maths (STEM), working with over 10,000 girls and young women over three years to change their perceptions of the STEM industries. She is now Founder and CEO of Salomé, the literary magazine for emerging female writers, a platform that aims to tackle gender inequality in publishing. Jacquelyn is also on the steering committee for the Tech Talent Charter, which brings together industries and organisations to drive diversity and address gender imbalance in technology roles.
Laura Willoughby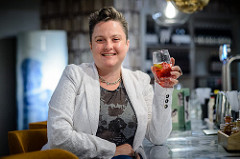 Laura Willoughby MBE loves a campaign, and over the years has led her fair share from being a councillor in Islington for 12 years, working at Stonewall in the early 2000's through to promoting bank account switching. She gave up drinking 5 years ago, and realised that there were few options out there for people wanting to take a self-guided journey to kick their drinking habit. She set up Club Soda committed to creating a world where nobody feels out of place if they are not drinking. They have 11,000 members, have built a pub guide and run the Mindful Drinking Festival. They also run the monthly event Queers without Beers.
Matt Ellison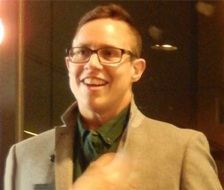 Founder of a small but thriving guitar school Matt is a transgender male who four years ago successfully negotiated gender transition within his business. Unsure what to expect when letting all his students, parents and staff members know of his transition he found every person was 100% supportive (many of those students are still with him now). He feels this was in part due to the way he handled things.
With the number of people coming forward to transition doubling every 3 years this topic is relevant to all businesses who will no doubt encounter gender transition at some point.
Matt is knowledgeable on the Gender Recognition Act as well as best practices for making transition comfortable and most importantly safe for those involved around this sensitive topic.

He was co-chair of FTM London (FTM = Female to Male) for two years, probably the UK's largest support group for transmen which meet once a month in Camden, he's participated in meetings with NHS England on the topic of trans care and is also active on many trans forums. So he has repeatedly seen the many struggles that are all so familiar for trans folk when dealing with employers, colleagues, and service providers etc, which is usually due to lack of knowledge and information, or confusion around gender recognition certificates.

All information used in this presentation you are registering for is produced by the speaker(s) for information purposes only and is for the sole use of the attendees at the presentation.
Whilst we feel this topic is beneficial to business owners, the views and information have not been issued by NatWest. Any views expressed in the presentation are not necessarily those of NatWest and should not be viewed as individual advice or as a recommendation. You should seek independent advice in respect of issues that are of concern to you.
To the maximum extent permitted by law we expressly disclaim all representations, warranties, or assurance of any kind, expressed or implied, that are made to the accuracy or completeness of the information contained in this presentation and no member of NatWest accepts any obligation to update or correct any information contained herein.