Come join us and learn how to use community developed image editing software & make ace flyers, posters, stickers, booklets, zines & more.
About this event
In our July & August sessions we plan to do an open discussion of all the things we've covered so far about Gimp, Inkscape and Scribus. All 3 are available for Windows, Mac and Linux. To get the most out of the session, please take a moment to download and install it in advance and check our libregraphics.club archive for info on previous sessions.
In order to experiment further with our co-learning , we're changing the format to more participation - so come with questions and we'll prepare & share files for live online practice.
All welcome and you're an artist, a community organiser or an activist interested in Libre Graphics but not sure where to start, we'd be delighted to have you around.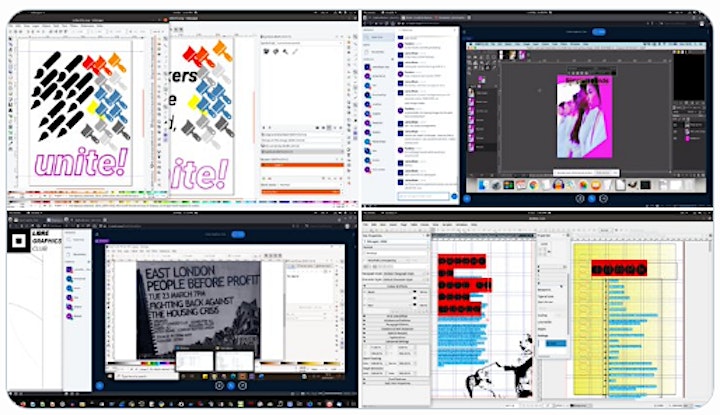 About LGC
Libre Graphics is a broad ecosystem of digital tools and creative practises in the areas of design, illustration, typography, layout, art, photography, publishing, cartography, animation and video.
Libre Graphics Club is an artist-led pilot project to develop and deliver a series of free workshops and open access online educational resource for experimentation with free/libre arts & technologies.
In collaboration with Furtherfield, Access Space, Common House and Antiuniversity, the project provides artist, community organisers and activists with exciting opportunities to explore Libre Graphics tools above and beyond those taught within the conventional art/design curricula, so all can do more to enchant practice in these extraordinary times.
Looking forward to seeing you there!
Keep up with us on instagram&twitter: @wheel_o_values