Multiple Dates
Live UNAPOLOGETICALLY BLACK YOGA for Black People, outdoors in the park
Sales Have Ended
Registrations are closed
Thank you for taking time to join us in the park. Our location in Brockwell Park will be sent out the day before our class. Don't forget your ticket. I look forward to your presence with us Oya Heart Warrior
Sales Have Ended
Registrations are closed
Thank you for taking time to join us in the park. Our location in Brockwell Park will be sent out the day before our class. Don't forget your ticket. I look forward to your presence with us Oya Heart Warrior
My Beautiful Black people of the African diaspora, join us for UNAPOLOGETICALLY BLACK yoga for Black People - LIVE OUTDOORS in the Park
About this event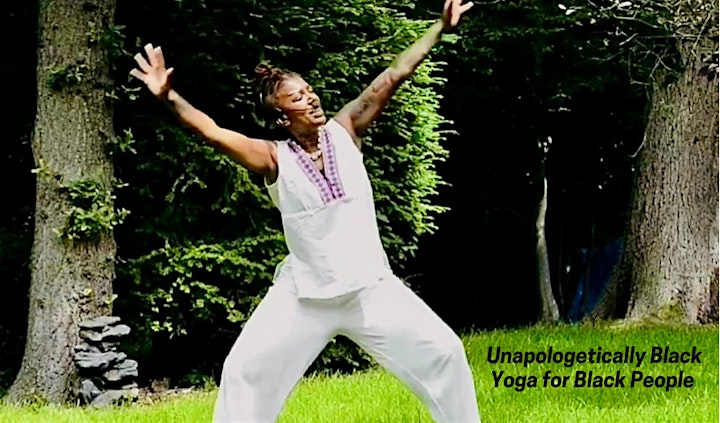 Come join us in beautiful nature for our therapeutic yoga for Black people. We move and breathe freely together. This unique practice of kind, therapeutic movement, offers restorative energy and relaxing meditation to ease the body and mind. We honour ourselves & each other in a positively, loving Black space. This is a small gathering for us to meet together safely outdoors.
Find out more about us https://unapologeticallyblackyoga.co.uk/
There will be comprehensive, accessible exercises for joint mobility, muscle flexibility, physical fitness, organ nutrition, pain relief, heart health, mental soothing, and self love for our Black body/mind.
I encourage you to take up space unapologetically, unlocking breathing patterns and ways of moving to release stress. We connect to our resources in a collective space that reflects our light and vibration.
You don't have to be flexible, thin, fit, look, or be a certain 'Black way', feel political, spiritual, or have done yoga before. All Black body identities and abilities are welcome here.
This yoga is accessible by being non standard. It's designed to bring the taste of joy and pride to being in our Black skin, whilst not being contained by it. You are always invited to do what feels good for you and to take away or add what feels right. Your wisdom and choice is priority here.
This is a unique expression of Yoga that I don't think you will find anywhere else.
We also have a free online yoga class for the Black community every Sunday - https://www.eventbrite.co.uk/e/moving-together-unapologetically-black-therapeutic-yoga-for-black-people-registration-135170541729?utm-campaign=social&utm-content=attendeeshare&utm-medium=discovery&utm-term=listing&utm-source=cp&aff=escb
Organiser of Live UNAPOLOGETICALLY BLACK YOGA for Black People, outdoors in the park
I founded Unapologetically Black Yoga to build compassionate spaces for Black people of African descent to feel a deep sense of belonging and move and breathe freely. As an experienced, racial trauma, trained yoga teacher, I believe it is vital to have choice and non linear movements to give the Black body a felt sense of freedom. My studies in advanced yoga therapy brings a perspective of holistic wellbeing rather than body sculpting and over stretching to my practice. As a somatic dancer, I believe the body can guide us into healing and liberation when we allow it to move us.
I have worked as a therapist in mental health for many years, specialising in Black people's mental health experience and VAWG. I proudly integrate my African, Caribbean & Black British heritage into my free movement and yoga philosophy. I am a life long student of meditation and sacred dance. I believe in the powerful wisdom of our heart and the truth in our body, to bring us home to our highest state of balance and wellbeing.
Sometimes I wobble in tree pose.
Sometimes I have hot flushes as I steer through my second spring.
Sometimes I sing when I'm not listening to the reasons not to.
Https://unapologeticallyblackyoga.co.uk/