Event Information
Location
Royal Albert Dock Liverpool
Mast Site
Liverpool
L3 4AA
United Kingdom
Choose to walk, run or cycle along the Riverside walkway. We also have an opportunity to take part in fun activities on the water.
About this event
Hype Mersyside in partnership with Canal and River Trust aim to get more people, more active more often, on Sunday mornings by taking in the beautiful scenery along the Riverside walkway and around the Royal Albert Dock.
Participants can walk, run or cycle the 2.5m distance however we do have 2 checkpoints along the route so can turn back at any point.
Free tea, coffee or bottled water is available for all particpants!
Simply claim your wristband from one of our staff on arrival at your chosen checkpoint which entitles you to a free tea, coffee or soft drink. Bottled water is also provided by HYPE at checkpoints along the way.
Walk Run Cycle Play was founded by HYPE Merseyside, with the mission of encouraging more people to participate in leisure activities which nourish both body and mind.
You can choose your preferred activity - either walk, run or cycle and start from any of the check points where our team members will be waiting to greet you with a smile.
Our routes are specifically designed to appeal to every level of personal fitness, so you can decide to join at one checkpoint and finish at another, or you can choose to continue along the full route – it is up to you because the objective of WRCP is to make getting active fun.
The play element of our initiative is equally important to our vision, as we understand that play encourages children's creativity and fires their imaginations!
Getting regular exercise has never been more important and there are huge benefits to exercising outdoors on a regular basis, so we are excited to launch our new autumn Walk Run Cycle Play event programme soon, with several new events planned throughout September and October.
Each group will have a maximum of 100 participants, and we will be staggering our sessions to ensure a safe environment which is fully compliant with COVID – 19 guidelines.
Our objective is to make improving your fitness fun for all the family, so with this in mind we have partnered with Liverpool Watersports to add the option of canoeing and kayaking to our Liverpool sessions.
#HYPEwalkruncycleplay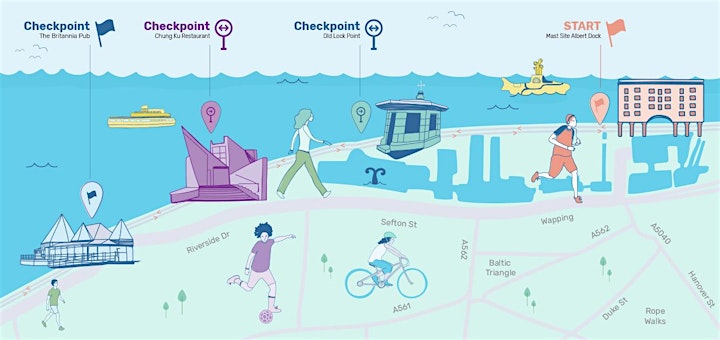 Date and time
Location
Royal Albert Dock Liverpool
Mast Site
Liverpool
L3 4AA
United Kingdom