Description
Maker Assembly Edinburgh will be a special edition of Maker Assembly, developed in collaboration with the British Council.
More than ever before, we will be expanding Maker Assembly's reach to an international audience. We have invited makers, thinkers and doers from around the world, including representatives from the UK, South Africa, China, Nigeria, Turkey, Mexico and Ukraine, to participate in the day's discussions and to share their knowledge, skills and experiences. In addition to the day's sessions and activities, we will have the opportunity to hear more about the British Council's Maker Library Network and Hello Shenzhen programmes.
Maker Assembly is a gathering of people interested in making*. We bring people together to have a critical conversation about cultures of making: their meaning, politics, history and future. We encourage everyone to participate by combining short talks and workshop activities with contributions from attendees. It is peer-to-peer, informal and conversational.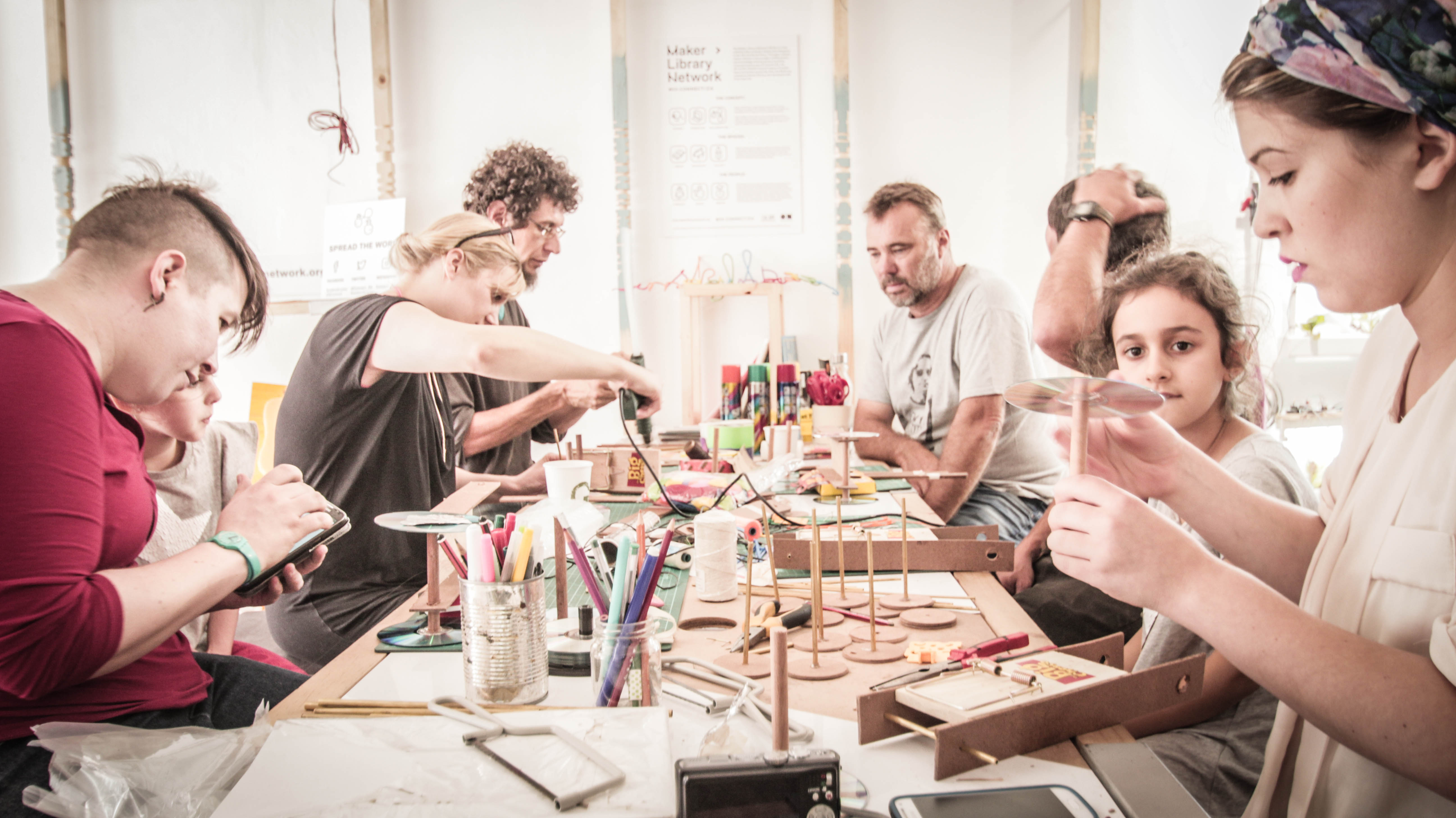 Schedule
09.30 - Arrival and registration
10.00 - Welcome address by Liz Corbin (Institute of Making)

10.15 – Session one: Networks
Fi Scott (Make Works)
Mara Balestrini (The Bristol Approach)
Maker Library Network Legacy
Chaired by Andrew Sleigh (Lighthouse)
11.30 – Coffee break
11.45 – Session two: Designer-Maker
Jasleen Kaur (Jasleen Kaur)
Micaella Pedros (Micaella Pedros)
Silo Studio (Silo Studio)
Helen Steer (Do it Kits)
Chaired by Irini Papadimitriou (V&A)
13.30 – Lunch and chats
Lunchtime Activity: The Incomplete and Crowdsourced History of UK Maker Culture.
Explore and add to the on-going Maker Assembly timeline of UK maker culture.
14.45 - Session three: Making in the open
Hannah Fox (Derby Museum, The Silk Mill)
Jo Ashbridge (AzuKo)
Janet Gunter (Restart Project)
Chaired by Phoenix Perry (Code Liberation Foundation)

16.15 - Coffee break
16:30 - Keynote address: What is the role of making in the 21st century? In conversation with Daniel Charny (From Now On) and Alice Rawsthorn (Author and Design Critic). Chaired by Sarah Mann (British Council).

17.15 - Closing remarks by Clive Gillman (Creative Scotland)
17.30 - Drinks reception
18.30 - Traditional Scottish ceilidh (closing at 21.00)
Venue
Custom Lane, Custom Wharf, 67 Commercial Street, Leith, Edinburgh EH6 6LH,
Tickets
As we have limited capacity, we ask that you please cancel your ticket if you unable to attend. Your ticket also includes a communal lunch and refreshments throughout the day.
About Maker Assembly
If you'd like to find out about previous Maker Assemblies, check out our events in London, Belfast, Sheffield and Manchester.
Maker Assembly is a community-run event, produced by Andrew Sleigh, Irini Papadimitriou, Liz Corbin, Marc Barto and Tom Lynch. We are supported by Lighthouse, Victoria & Albert Museum, Institute of Making (UCL) and with funding from Comino Foundation and British Council.

We want everyone who attends our event to enjoy the day and feel able to express their views. As such, we expect all attendees to follow The Ada Initiative Code of Conduct.
Follow us on twitter - @MakerAssemblyUK - and join the conversation by using #MakerAssembly.
* What do we mean by 'making'? We're talking about people who craft, design, manufacture, tinker with, engineer, fabricate, and repair physical things. Art, craft, electronics, textiles, products, robots, hi-tech and low-tech, amateur and professional, young and old, with digital tools or by hand. Historical perspectives, what's happening here and now, and how things might change in the future. We aim to be diverse and inclusive. If what you make, or how you see yourself, is a little bit on the fringes, you're doubly welcome.
Photos by Dan Sumption and Keziah Suskin.
About the British Council
The British Council is the United Kingdom's international organisation for cultural relations and educational opportunities. We create friendly knowledge and understanding between the people of the UK and other countries. We do this by making a positive contribution to the UK and the countries we work with – changing lives by creating opportunities, building connections and engendering trust.
We work with over 100 countries across the world in the fields of arts and culture, English language, education and civil society. Each year we reach over 20 million people face-to-face and more than 500 million people online, via broadcasts and publications. Founded in 1934, we are a UK charity governed by Royal Charter and a UK public body.
Arts is a cornerstone of the British Council's mission to create a friendly knowledge and understanding between the people of the UK and the wider world. We find new ways of connecting with and understanding each other through the arts, to develop stronger creative sectors around the world that are better connected with the UK.
Maker Assembly Edinburgh is supported by: