Making The UN International Decade For People Of African Descent (IDPAD) Wo...
Sales Have Ended
Registrations are closed
We look forward to meeting you. Don't bother printing ticket(s). Name(s) will be on the register by door
Sales Have Ended
Registrations are closed
We look forward to meeting you. Don't bother printing ticket(s). Name(s) will be on the register by door
Description
Africans For JC Values & BTWSC/African Histories Revisited present the Making The UN International Decade For People Of African Descent (IDPAD) Work For Us Conference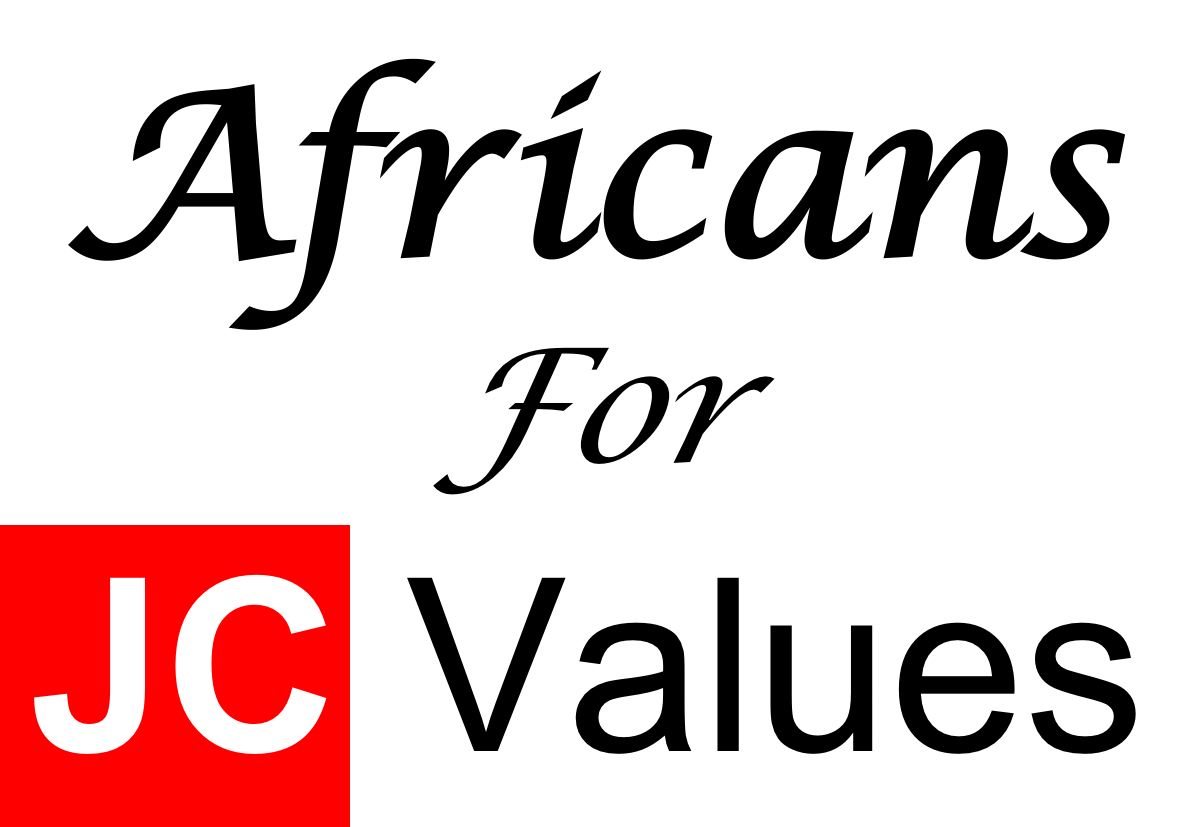 Presents in association with BTWSC/African Histories Revisited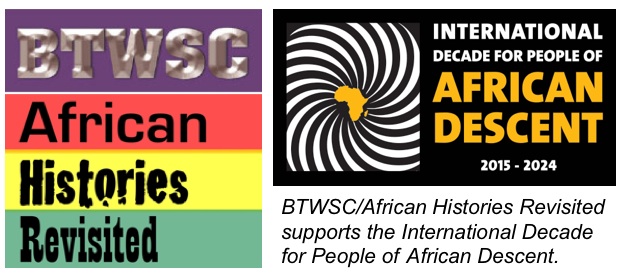 Africans For JC Values presents in association with BTWSC/African Histories Revisited: Making The UN International Decade For People Of African Descent (IDPAD) Work For Us Conference

What: A meeting looking at a) how the Decade can enhance work African people and African-led organisations (UK & International) are already doing, b) what we would like to come out of the UN's IDPAD 2015-24 Resolution by highlighting specific outcomes, and c) networking, hearing from and learning from what individual Africans and African-led organisations are doing or plan doing in furtherance of the IDPAD 2015-24 Resolution.

Interested persons are welcome to send their four SMART (specific, measurable, achievable, realistic, time-specific) strategies or policies they would like to see within the Decade by 8th November to africansfor@gmail.com.

The information from the SMART survey will be collated and discussed on 12th November within 3 workshops covering Justice, Recognition and Development. Strategies agreed at workshops will be fed back to plenary session.

Feedback from 12th November meeting will be shared with IDPAD Coalition UK and related UK and international organisations.

When: Saturday 12th November: 1pm to 4pm

Where: Unite The Union Building, 128 Theobalds Road, London WC1X 8TN

PLEASE NOTE:

This event is open to all African individuals and African-led organisation in and outside London, including those who are non-UK based

There will be a small selection of books & DVDs on sale, and also vegan soup and roti.

African Histories Revisited researches, organises and delivers history events, and publishes books and DVDs on global African history, with a particular focus on the African British experience.
Africans For JC Values (formerly Africans For Momentum) aims to galvanise Africans* who believe in a new kind of politics and society, subscribe to the Jeremy Corbyn (JC) 10 point policy (see organiser details), and would like to see JC elected Prime Minister in 2020. AFM/AFJCV provides a platform for Africans to have a voice and highlight issues of particular concern to them.
*African refers to Africans from the continent of Africa and Africans from the Diaspora.
Please note:
AFM/AFJCV contact: Awula Serwah, secretary africansfor@gmail.com

AFM/AFJCV background video: http://bit.ly/AFMVid
AFM/AFJCV launch video: https://youtu.be/tx6ncg0GGHg
AFM/AFJCV Launch Harrow Times coverage: http://www.harrowtimes.co.uk/news/14318946.Young_people_from_Harrow_discuss_Africa_in_Westminster/?ref=mr&lp=14
Croydon networking article: http://www.the-latest.com/uks-africans-declare-support-labour-leader-jeremy-corbyn

The Momentum website is http://www.peoplesmomentum.com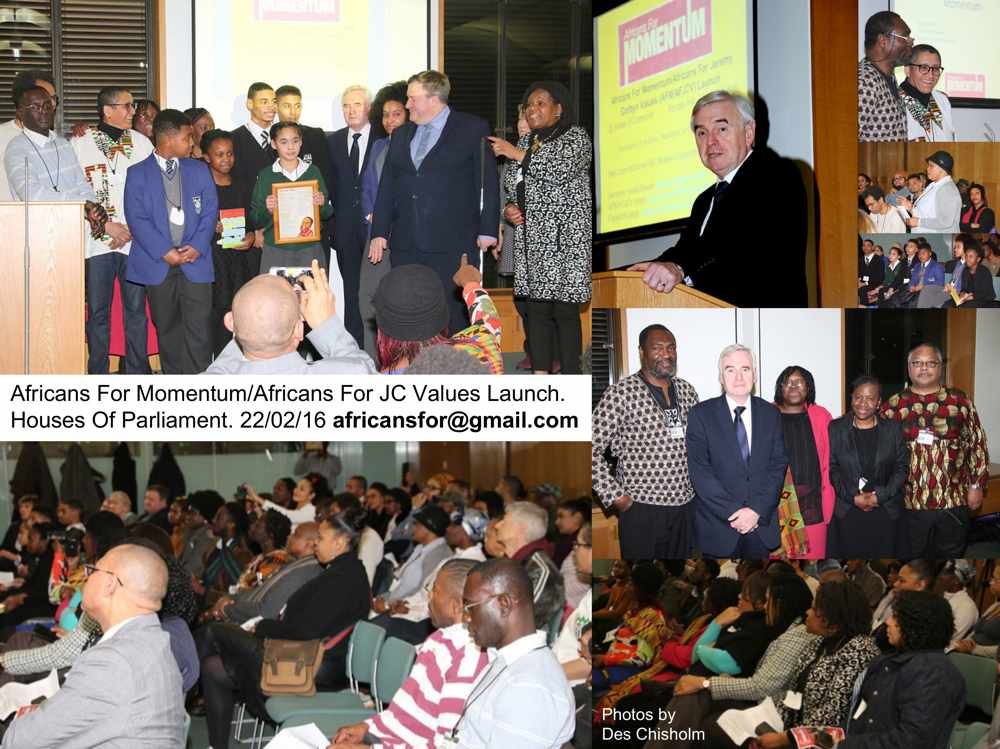 AFM/AFJCV Launch montage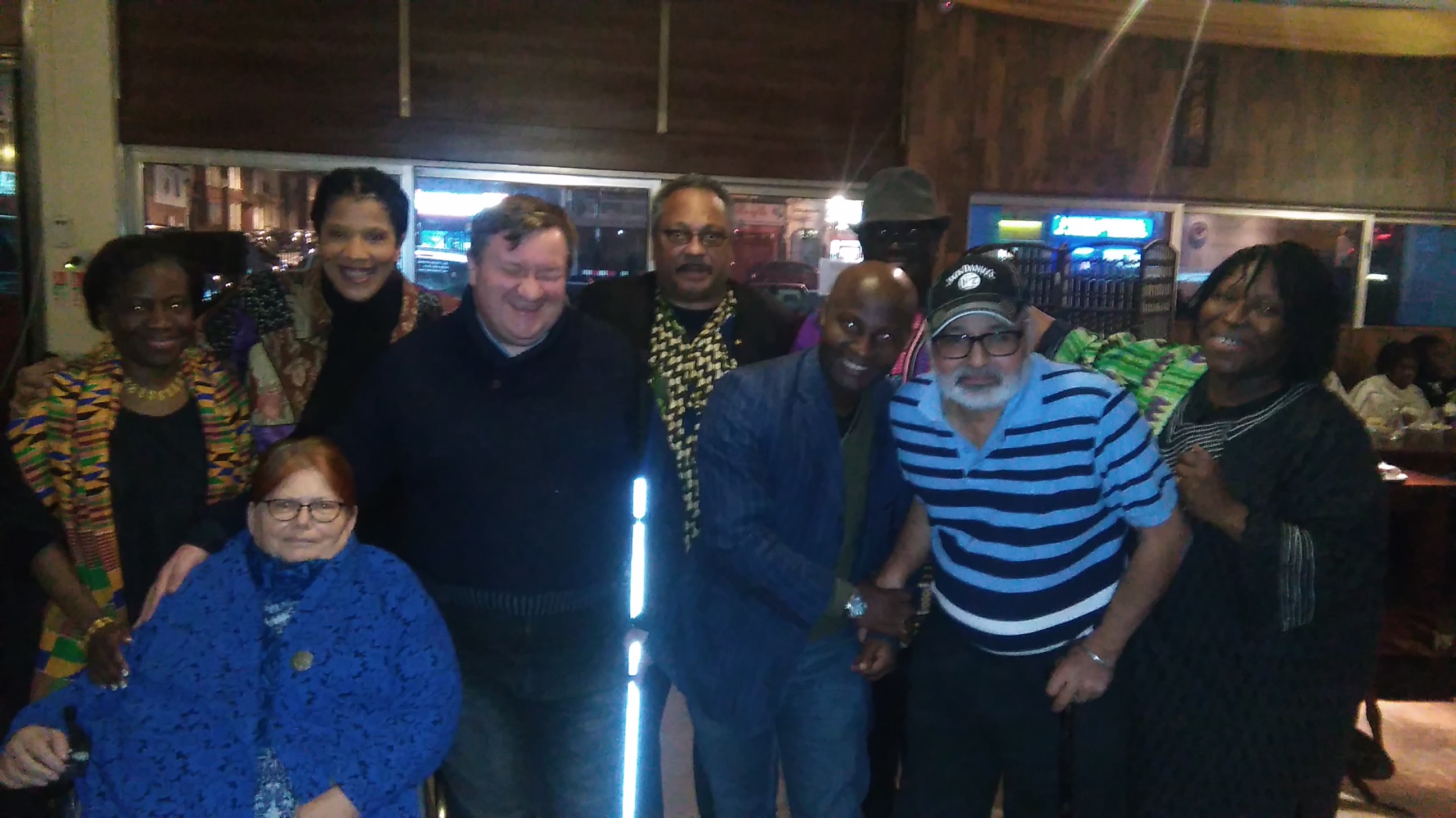 Representatives of AFM/AFJCV and other Momentums at AFM Networking in Croydon Jan. 16 2016



PRESS RELEASE for TL: Africans For Momentum Launched At Houses Of Parliament

March 4 2016

Africans staked their claim in the Labour Party Momentum movement with the recent launch of Africans for Momentum (AFM) at the Houses of Parliament.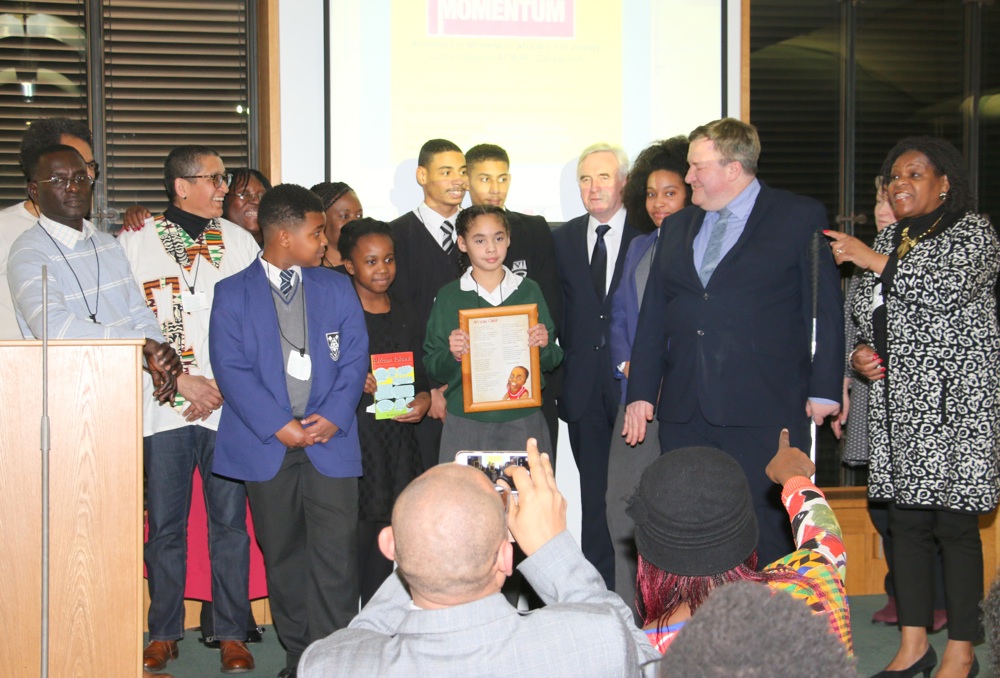 The well attended event, which was hosted by the shadow Chancellor of the Exchequer John McDonnell MP, attracted a cross section of people from different backgrounds and ages. Guests ranged from the octogenarian photographer Nii Aflah James Barnor, who has covered notable personalities in Ghana and the UK, to ten year old Harrovians Destiny Phillip and Mariah Afuah Konadu Nimo.

AFM which was formed last year, aims to galvanise people not normally involved in politics to engage in working towards a fairer Britain.

Guests included representatives of the Labour Party's Black Sections, magistrates, community leaders, community groups, parents, entrepreneurs, filmmakers, charity workers, pensioners and representatives of the Unite trade union, Trade Unionist and Socialist Coalition (TUSC), Momentum Black ConneXions, and Disabled People for Momentum London Caucus.

"Two of the things that we run throughout the campaign was equality and social justice," said McDonnell, talking about the ethos behind his campaign for Jeremy Corbyn's Labour Party leadership bid, and now Momentum's legacy.

"We want to create a society that is radically fairer, more equal, more democratic, that is based upon prosperity, but a prosperity that is shared by everybody.

"So Africans For Momentum I think is a really good initiative, because if you look at our work over the years, it's been about confronting racism, discrimination in all its forms in society, but also argue not just for equality, but for social justice as well.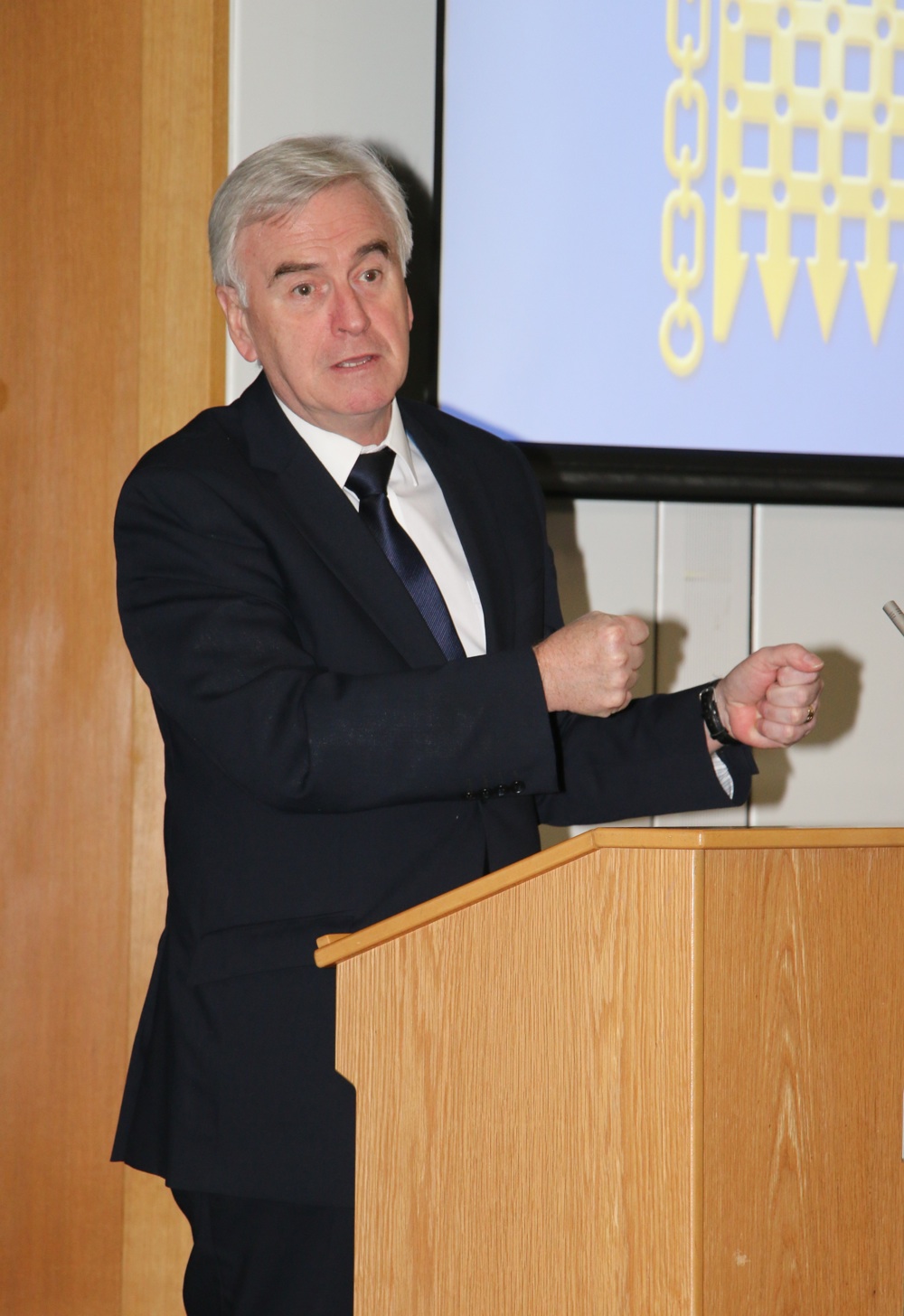 "As many of you have been involved in this over the years, it is making sure that in addition to securing that social justice for ourselves, making sure that we assist others in securing that social justice. It's on that basis of solidarity that we've come together. So I really welcome this initiative. I think there's a real opportunity."

The audience was treated to the recital of the 'African Child' poem by 11 year old Kobi and 13 year old Ebony Akins, whilst Mariah Afuah Konadu Nimo recited the 'What They Said I Should Be' poem.

AFM chairperson Ms Nana Asante gave an overview of the 10 points Jeremy Corbyn is standing to deliver and the importance of a 2020 Labour win with Jeremy Corbyn as Prime Minister and John McDonnell as Chancellor. 13 year old Marcel gave his perspective on Point 10 Education - a life-long national education service for decent skills and opportunities throughout our lives, whilst his brother 15 year old Antonio Phillip spoke on Point 3 Action on climate change for the long-term interest of the planet, rather than the short-term interests of corporate profits.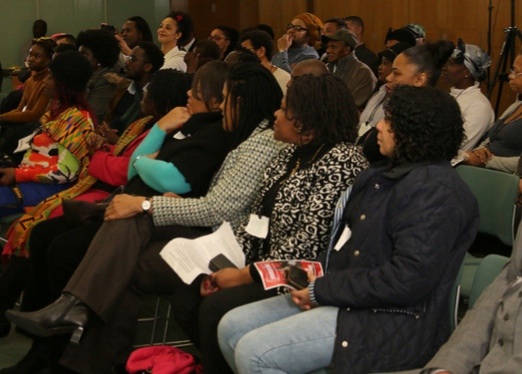 Destiny Phillip read a quote by African American writer Alice Walker in 'African Voices: Quotations By People Of African Descent', and reminded guests that "The most common way people give up their power is by thinking they don't have any."

There were solidarity greetings from Unite's Kwasi Agyemang-Prempeh, Disabled People for Momentum London Caucus' Mike Higgins, TUSC's Hugo Pierre, and Black ConneXions Momentum's Professor Cecil Wright.

Former Lambeth Council leader Linda Bellos OBE, and journalist and former chair of the Black Sections Marc Wadsworth were recognised for their work in Labour Party's Black Sections, which brought about the first African MPs in 1987.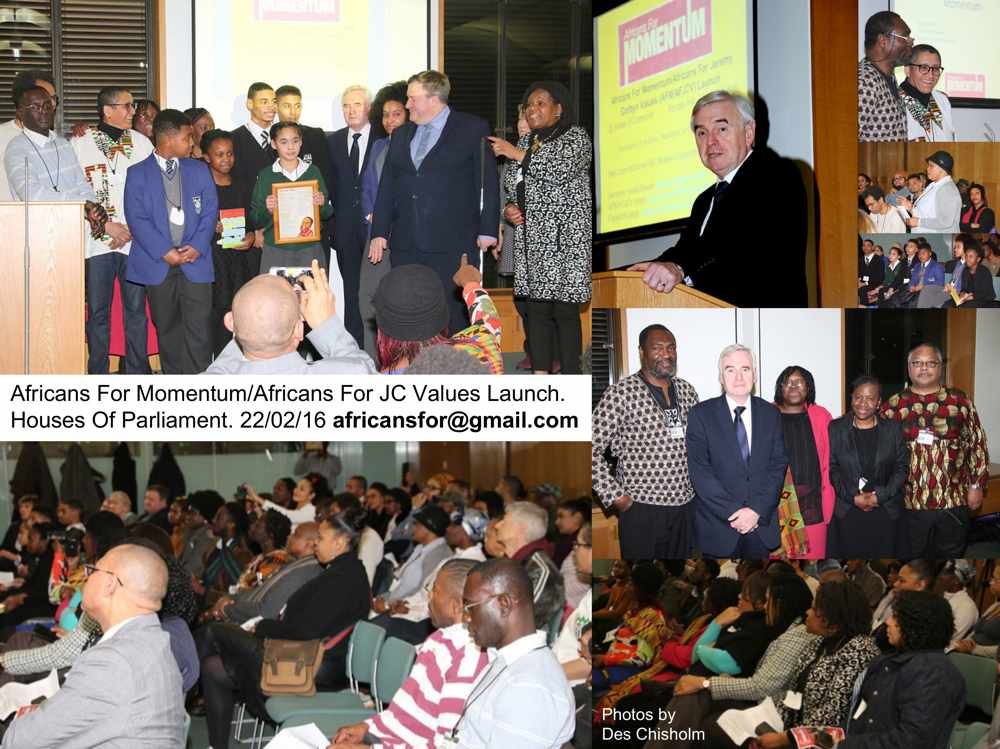 Bellos highlighted the importance of "specificity" within the Momentum movement, and hence the need for AFM, which is to create a space to articulate issues of particular interest to Africans, be they from the African continent or its diaspora.

"It was good to see so many people from different backgrounds and age groups united in the quest for a fairer Britain based on Jeremy Corbyn's 10 point policy," added AFM secretary Awula Serwah.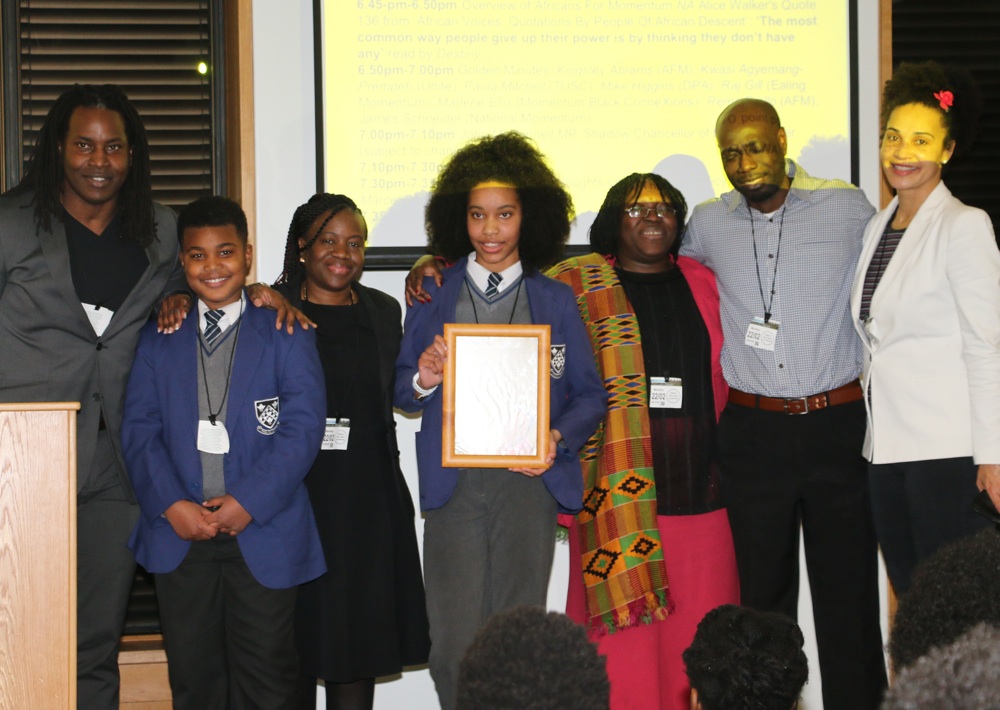 In his presentation, McDonnell highlighted the importance of challenging negative policies not personalities. He also urged support for the Corbyn leadership in order to weather the onslaught from the establishment, press, other political parties, and some within the Labour Party "who hadn't yet come to terms with Jeremy being the leader."

The next AFM event is Networking & Ghana Day Jollof Pop Up Restaurant which takes place on Saturday March 12, 12.30-3.30pm at Stanmore Baptist Church. For more details: www.bit.ly/HarJollof.


ENDS

Awula Serwah
africansfor@gmail.com

Photos by Des Chisholm
Hi-res available on request

To book AFJCV Conference on Saturday April 30 2016, 3-6pm: www.bit.ly/AFJCVConf