Location
Museum of London Docklands, Quayside room
No.1 Warehouse, West India Quay, Canary Wharf
London
E14 4AL
United Kingdom
Description
Historians, archaeologists, urbanists and musicologists will be working with coders, data scientists and graphical information system (GIS) specialists to create a river-centric analysis of commercial life on the River Thames and its shoreside parishes.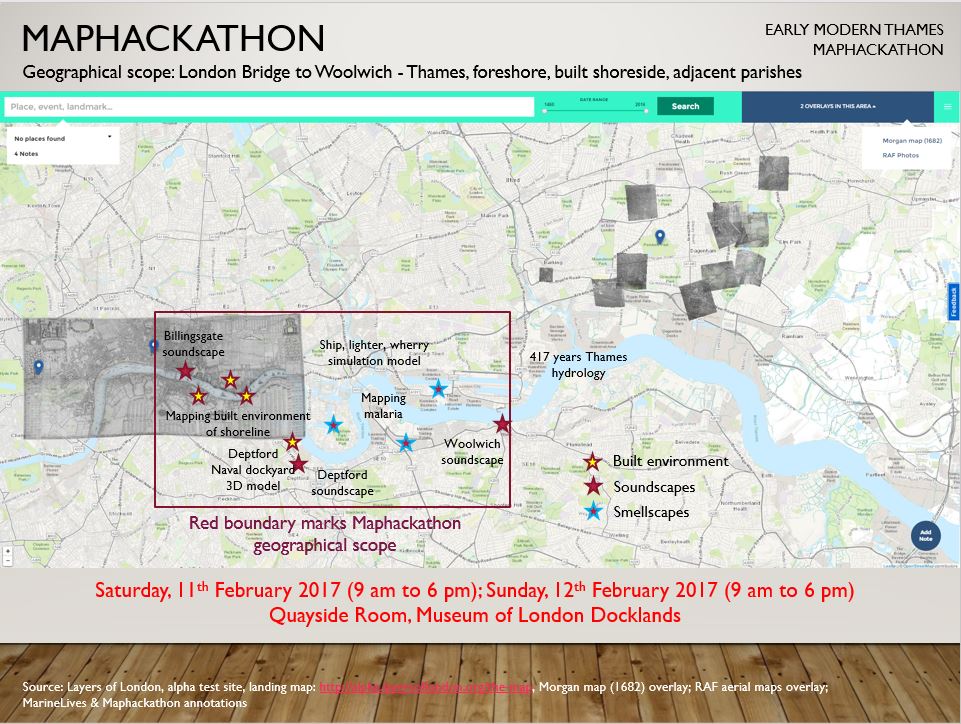 The event is the Early Modern Thames Maphackathon, which is taking place at the Museum of London Docklands on Saturday, February 11th and Sunday, February 12th, 2017 (9 am to 6 pm, both days).
Participation in Maphackathon is very flexible. You can take part in the Saturday morning data and tools fair only, the Saturday afternoon free workshops only, all day Saturday only, all day Sunday only, or the whole weekend.
The Maphackathon event is a not-for-profit event, with the cost of room hire and other related expenses covered by our five financial sponsors. A small charge is being made for admission to cover refreshments during the event. Participation in the Saturday afternoon workshops is free as is all day Sunday.
The geographic area we are looking at is from old London Bridge to Woolwich - the River Thames, the tidal foreshore, the shoreline itself and the parishes immediately adjacent to the River Thames upon both the north and south banks. The area we are working on is roughly five miles by one mile. It takes in some of the poorest (and richest) parts of modern London - Tower Hamlets, Newham, Southwark, Lewisham and Greenwich, together with a small rivershore slice of the City of London. The period is 1600 to 1750, with slices taken every fifty years.
The three themes of the event are modelling and mapping the built environment of the Early Modern Thames foreshore; modelling and mapping the Early Modern Thames soundscape; and modelling and mapping the Early Modern Thames smellscape.
The event will create maps, visualisations, soundscapes and smellscapes as tangible outputs. These will be placed in the commons for all to see, hear and experience, and will be published on the Maphackathon website.

Maphackathon sponsors and partners
Financial sponsors are Tideway (Gold tier sponsor), MarineLives (Gold tier sponsor), Klokan Technologies GmbH (Silver tier sponsor), Bishop Grosseteste University (Silver tier sponsor) and Mansfield Advisors LLP (Malaria mapping hack team sponsor)
Technical partners are Klokan Technologies GmbH, London Sound Survey, MOLA and Tideway
Knowledge partners are British Library Labs, Fjordr, Manitoba Museum and MProve
Data partners and providers are British Library Labs, CITiZAN, GB1900.ORG, MarineLives, MOLA, Thames Discovery Programme, Tideway, The National Archives
Teams in formation
Eleven teams are currently in formation and are looking for people to join them at the weekend event. We are open to additional ideas for teams. Each team should be from three to five people in size and should contain a mixture of technical and domain specialists. We welcome preformed teams, but will also help individuals find the right fit with the right team for them.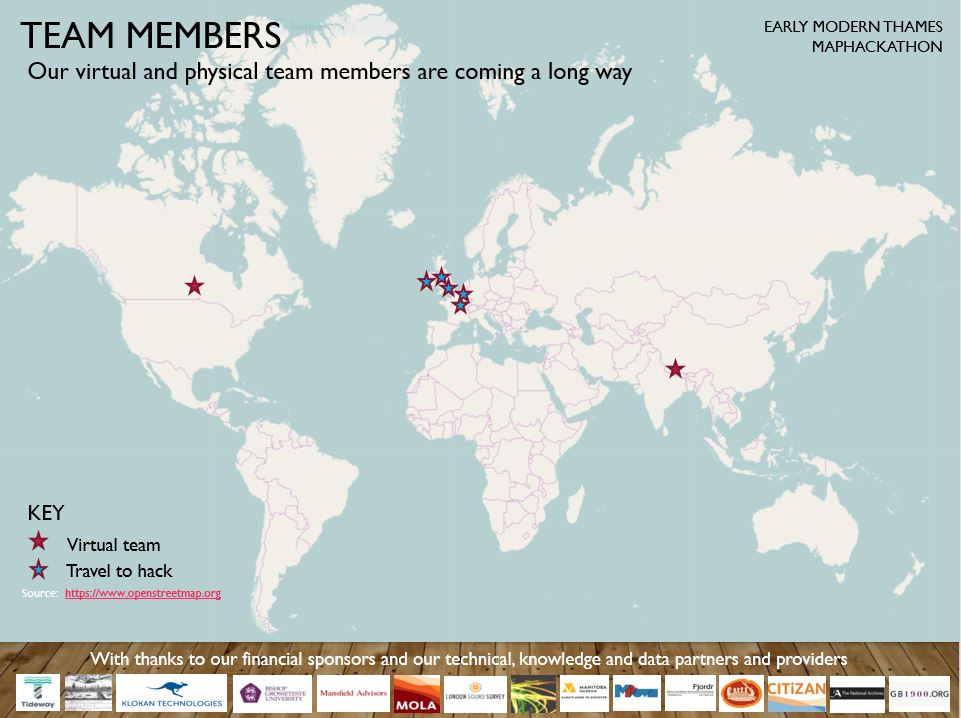 There will be a central team of five, containing technical and domain experts, to support all the hack teams.
We are coordinating the development of the teams in advance of the event with channels on our Maphackathon slack team and for the more technical oriented hack ideas with teams in our Maphackathon Github organisation:
Hack 1: billingsgate - C17th/C18th Billingsgate fish market soundscape
Hack 2: deptfordcreek - Deptford Creek ship repair & refitting yards, 1669 soundscape & physical map
Hack 3: deptfordnavalyard - Royal Naval shipyard at Deptford, late C17th 3D model
Hack 4: woolwichsound - Directional & ambient riverine & shore sounds at Woolwich, November 1662
Hack 5: thameshydrology - Mapping 417 years of River Thames hydrology
Hack 6: thamessimulation - Mapping ship, lighter & wherry movements on River Thames in C17th & C18th
Hack 7: malariamap - Mapping the incidence of malaria in marshlands and levels of Early Modern River Thames
Hack 8: builtenvironmentmodel - Mapping the built environment of the Thames shoreline in C17th & C18th
Hack 9: cartopop - Modifying David Rumsey cartography plug-in
Hack 10: picturemash - Integrating large #maphackathon Pinterest board with images pulled via APIs from the British Library and The National Archives, and from other GLAM institutions, and mapping the images in time and space
Hack 11: nametag - Early Modern Thames geolocated gazeteer for automatic geotagging of places, buildings & topographical features, to be used to increase geospatial searchability of text corpora and scanned maps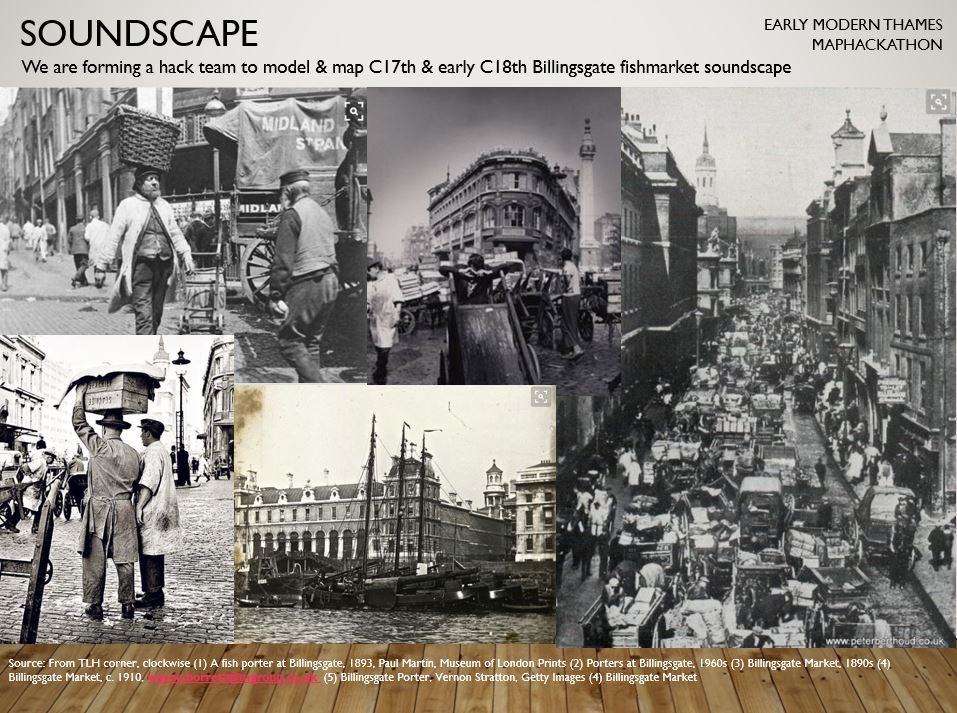 FAQs
What are my transport/parking options for getting to and from the event?
The nearest stations on the London Transport underground and Dockland Light Railway systems are Canary Wharf.
What can I bring into the event?
The Early Modern Thames Maphackathon is a hack event, which will make extensive use of digital data in the form of text, maps, image files and sound files. It is therefore strongly recommended that all participants in the full two day event should bring their laptops, together with rechargers and cables. We are targeting fifty percent technically proficient coders, data scientists and GIS-specialists and fifty percent domain specialists and enthusiasts (historians, archaeologists, urbanists, musicologists and Thames mudlarks). We certainly don't expect everyone to be able to code, but we do expect everyone to be interested in sourcing and working with digital data sets.
How can I contact the organiser with any questions?
Questions about this event should be addressed to Colin Greenstreet, one of the four co-producers of the Early Modern Thames Maphackathon, using the MarineLives contact form or the contact button at the bottom of this page.

What's the refund policy?
Tickets for the Saturday data and tools fair and for the whole weekend event are not refundable.