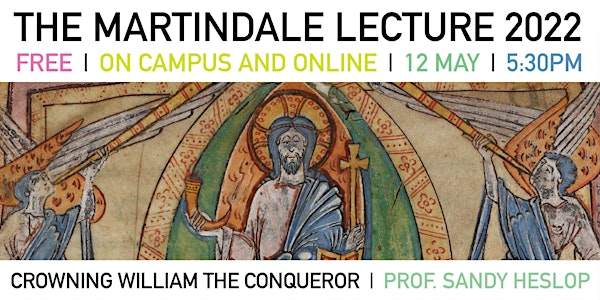 Martindale Lecture 2022: Crowning William The Conqueror (Prof Sandy Heslop)
Location
University of East Anglia
Lecture Theatre 4
University of East Anglia
Norwich
NR4 7TJ
United Kingdom
The Martindale Lecture: UEA's annual lecture from a world-renowned expert in medieval and renaissance art
About this event
UEA's Martindale Lecture 2022
CROWNING WILLIAM THE CONQUEROR: ARCHBISHOP STIGAND AND THE TIBERIUS PSALTER
PROF SANDY HESLOP (UEA)
Free
In Person at UEA's Lecture Theatre 4
Or join online here using Microsoft Teams:
https://teams.microsoft.com/l/meetup-join/19%3ameeting_YzUyYTljYzYtZThlNy00MjQxLThjMTMtOGRkMjExODFjNjcz%40thread.v2/0?context=%7b%22Tid%22%3a%22c65f8795-ba3d-4351-8a07-0865e5d8f090%22%2c%22Oid%22%3a%22be77a6c5-b4fe-4c23-82e0-3846d8d859a0%22%7d
-----
1066 was a momentous year in English history: two invasions, two bloody battles and two coronations. The trauma has been written into the national narrative ever since, but we rarely have much insight into the mentality of the individuals involved. The Tiberius Psalter offers an exception, illuminating the character and predicament of Archbishop Stigand of Canterbury, a leading player in the drama.
-----
The Department of Art History & World Art Studies is pleased to invite you to this year's Martindale Lecture 2022, given by UEA's own Prof Sandy Heslop.
The lecture will begin at 17:30 UK-time (BST) and will be followed by a drinks reception to toast Prof. Heslop on his retirement from the department. All are welcome!
-----
The lecture will take place in UEA's Lecture Theatre 4, a short walk from the UEA Car Park. For those unable to attend in person, we will be streaming the lecture using Microsoft Teams. Please select an 'online' ticket when booking and we will share a link to the lecture with you via email a day before the event.
-----
The lecture will follow UEA's Covid Safety Protocol and we would be grateful if all attendees would join us in continuing to protect the vulnerable in UEA's community. Please wear a mask for the duration of the lecture and, if possible, take a lateral flow test before attending. If you are feeling unwell and showing Covid symptoms, please do not attend the event.